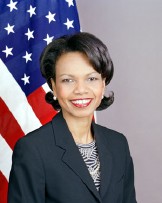 Born 14 November 1954 in Birmingham, Alabama
U.S. Secretary of State (2005-2009); National Security Adviser (2001-2004); university administrator, scholar of international relations.
Biography • Literature & Sources
Biography
Condoleezza Rice, the first African American woman to serve as U.S. secretary of state, was named "the most powerful woman in the world" by Forbes Magazine in 2004 and 2005. The successful academic (she was the first female, first black and youngest Provost of Stanford University) had originally specialized in the Soviet Union and served as an adviser to George H. W. Bush. The close relationship that developed with the Bush family led to Rice's role as foreign policy adviser to son George W. during his first presidential campaign and her subsequent appointment as his national security adviser. As Secretary of State in Bush's second term, Rice initially raised hopes that diplomacy would play a greater role in U.S. foreign policy; her skill at combining tact and firmness and her desire to restore good relations with "old Europe" co-existed, however, with her unwavering loyalty to the "Bush doctrine" of aggressive promotion of democracy around the world and of America's pre-eminent role as sole super-power.
Condoleezza Rice, the only child of Angelina Ray and John Wesley Rice, was born into a middle-class black community in segregation-era Birmingham, where education was emphasized as the path to success. Her mother, a school music teacher, took a year off work to home-school her talented daughter, who studied piano, French and ballet from an early age. From her father, a high school guidance counselor, coach, part-time Presbyterian minister and later college administrator, she absorbed a love of football and sports; in high school Condi trained as a figure skater. While she was aware of the civil rights movement emerging around her—she knew one of the four black girls killed when the 16th Street Baptist Church was bombed on September 15, 1963—Rice's parents tried to shelter her from the worst injustices of racism and segregation. They encouraged her to be the best at everything the dominant white culture valued and instilled values of discipline, responsibility, faith and pride; Condi grew up believing she could be anything she wanted.
When John Rice took an administrative position at the University of Denver Condi attended an integrated school for the first time; at St. Mary's Academy, a private, all-girls Catholic high school, she received a rigorous and disciplined education. After graduating she studied to become a concert pianist at the University of Denver's Lamont School of Music. Though successful in her classes and numerous competitions, Rice eventually realized that she would probably not be among the top ranks of concert performers and decided to change course. A class in international politics taught by former Czech diplomat Josef Korbel (father of Madeleine Albright) inspired her to shift her major to political science with an emphasis on the Soviet Union. After graduating with honors, Rice took a master's degree in government and international studies at Notre Dame University in just one year, and then returned to Denver, where she received her Ph.D. in international studies from the University of Denver. The registered Democrat shifted parties when she found Jimmy Carter's response to the Soviet Union's invasion of Afghanistan too weak: "I was attracted to Reagan's strength."
A one-year fellowship to Stanford's Center for International Study and Arms Control in Palo Alto, California—Rice was the first woman ever admitted—led to a position as assistant professor of political science at Stanford University. Through the influence of Reagan adviser Brent Scowcroft (later National Security Adviser under Bush I), whom she had impressed at Stanford, Rice served in 1986-7 as the special assistant to the Director-Joint Chiefs of Staff at the Pentagon. During Bush senior's administration she was called back to be the president's chief expert on the Soviet Union (1989-91). Rice returned to Stanford in 1991 and was appointed provost of the university by President Gerhard Casper; her six-year tenure in this position was marked by controversy over unpopular cuts in programs and personnel—and by the successful reversal of a $40 million deficit. She continued her scholarly work, authoring or co-authoring three books on international political developments (see below). During this time Rice also served on the boards of directors for Chevron, TransAmerica Corporation, and Hewlett Packard; Chevron named a tanker in honor of her.
Rice took a leave from Stanford to advise George W. Bush on foreign policy during his first presidential campaign in 1999, and in 2001 became the first female national security adviser. She faced criticism for her handling of counterterrorism prior to the 9-11 attacks, and for her supportive role in the run-up to the Iraq war. She famously warned of Saddam Hussein's (non-existent) "weapons of mass destruction": "The problem here is that there will always be some uncertainty about how quickly he can acquire nuclear weapons. But we don't want the smoking gun to be a mushroom cloud." Rice initially tried to harmonize conflicting views within Republican inner circles between balance-of-power realists and neoconservative idealists who urged the spread of democracy as a foreign policy priority. She increasingly tilted toward the latter position and as secretary of state remained a reliable spokesperson for a Bush foreign policy of a "never-ending battle against terrorism" (James Mann).
In her years as secretary of state "Condi" nonetheless enjoyed greater popularity than other members of the administration, as poll numbers in support of its policies fell. She advocated strengthening and expanding democratic governments around the world and logged more miles travelling on diplomatic missions than any other secretary of state. She also reformed and restructured the State Department and foreign service as part of an effort to promote her policy of "transformational diplomacy."
Following her term as secretary of state, Rice has served as Director of the Hoover Institution and a senior fellow on public policy. She is the Denning Professor in Global Business and the Economy at the Stanford Graduat School of Business and a founding partner of Rice, Hadley, Gates and Manuel LLC, an international strategic consulting firm. She continues to serve on many boards, such as C3.AI, an AI software company, and Makena Capital Management, a private endowment firm. In addition, she is Vice Chair of the Borard of Governors of the Boys & Girls Clubs of America and a trustee of the Aspen Institute. Rice has contined to publish on international policy and has written memoirs (see below).
Rice continues to be an admired and highly effective professional, whose story of an ascent from a segregated minority community appeals to many, along with her emphasis on individual responsibility and self-discipline. She is athletically fit, plays classical piano (she performed with cellist Yo-Yo Ma in 2002), and stresses values of family and religious faith. Rice has had her critics, who point to her earlier extreme loyalty to George W. Bush and question her independence, or even (as in her appearance before the 9/11 commission in 2004) her credibility. Nevertheless, some observers still see in her a viable candidate for vice president in 2024.
Author: Joey Horsley
Literature & Sources
Primary Sources in English
Rice, Condoleezza (1984). The Soviet Union and the Czechoslovak Army: Uncertain Allegiance. Princeton University Press. ISBN 0-691-06921-2
Rice, Condoleezza & Dallin, Alexander (eds.) (1986). The Gorbachev Era. Stanford Alumni Association, trade paperback (1986), ISBN 0-916318-18-4; Garland Publishing, Incorporated, hardcover (1992), 376 pages, ISBN 0-8153-0571-0.
Rice, Condoleezza with Zelikow, Philip D. (1995). Germany Unified and Europe Transformed: A Study in Statecraft. Harvard University Press. (1995), 520 pp., ISBN 0-674-35324-2, 0-674-35325-0.
Rice, Condoleezza, "Campaign 2000: Promoting the National Interest" in Foreign Affairs, 2000.
Rice, Condoleezza, with Kiron K. Skinner, Serhiy Kudelia, and Bruce Bueno de Mesquita(2007). The Strategy of Campaigning: Lessons from Ronald Reagan and Boris Yeltsin, paperback, 356 pp., ISBN 978-0-472-03319-5. University of Michigan Press, Ann Arbor.
Rice, Condoleezza (2010), Extraordinary, Ordinary People: A Memoir of Family, Crown Archetype, ISBN 978-0-307-58787-9
Rice, Condoleezza (2011), No Higher Honor: A Memoir of My Years in Washington. Crown Archetype, ISBN 978-0-307-58786-2
Rice, Condoleezza (2017), Democracy: Stories from the Long Road to Freedom, Twelve, 496 pp., ISBN 978-1455540181.
Rice, Condoleezza; Zegart, Amy (2018). Political Risk: How Businesses and Organizations Can Anticipate Global Insecurity. New York: Twelve. ISBN 978-1455542352. OCLC 1019846069.
Secondary Sources in English
"Condoleezza Rice." Gale. Free Resources. Women's History. Biography. (2002).
"Condoleezza Rice." Official State Department biography.
"Condoleezza Rice." Wikipedia.
https://www.hoover.org/profiles/condoleezza-rice
Felix, Antonia. 2005, 2002. Condi: The Condoleezza Rice Story. New updated edition. New York: Newmarket Press.
——- "Condi, the Girl who cracked the ice." Timesonline. The Sunday Times. Nov. 21, 2004. (Extracted from Condi: The Condoleezza Rice Story, first edition,)
Lemann, Nicholas. 2002. "Without a Doubt: How the White House changed Condoleezza Rice." The New Yorker. October 14 & 21, 2002. 164-179.
Mann, James. "In Mideast, It's Condi's Fight Now." The Washington Post. Outlook. 13 August 2006.
If you hold the rights to one or more of the images on this page and object to its/their appearance here, please contact Fembio.
---