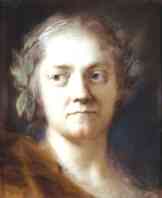 nasce il 17 ottobre 1675a Venezia
muore il 15 aprile 1757 a Venezia
pittrice italiana
Quando soggiornano a Venezia, re, principi e innumerevoli rappresentanti dell'aristocrazia europea non mancano di recarsi in visita presso lo studio di Rosalba Carriera, per essere da lei ritratti o per acquistare alcuni dei suoi dipinti. La collezione più ricca è posseduta da Augusto III, elettore di Sassonia e re di Polonia, che nei suoi ultimi anni raccoglie in una apposita "Sala Rosalba", a Dresda, più di centocinquanta pastelli dell'artista veneziana. Le richieste sono all'epoca così numerose che Rosalba si fa aiutare, oltre che dalla sorella minore Giovanna, da varie pittrici più giovani. La particolare tecnica del pastello da lei messa a punto si accorda mirabilmente con il gusto prevalente al tempo del rococò, e grande ammirazione suscita la sua maestria nel rendere lo splendore delle vesti, lo sfavillare degli ornamenti, i fiori nei capelli. Nella sua arte trovano espressione il fascino e l'eleganza di una società che si compiace di giocare e civettare. Eppure nei ritratti, sempre rispettosi del soggetto, l'artista con si limita a lusingare la vanità del committente ma, soprattutto nei pastelli più tardi, ha cura di trasmettere attraverso la fisionomia anche lo spirito del personaggio.
Rosalba Carriera e le sorelle nascono in una famiglia amante delle arti, quantunque impoverita. Tutte acquisiscono una cultura fuori del comune e conoscono bene latino e francese: molto dotate per la musica e le belle arti, rivelano grande intelligenza. Ancora bambina, Rosalba disegna modelli per la madre, che crea per passione i celebri pizzi veneziani. Poi, quando inizia a lavorare, dipinge miniature all'interno del coperchio della tabacchiere – allora di gran moda – coinvolgendo sapientemente nella composizione la bade d'avorio. Compie tre lunghi viaggi e per un anno si trattiene a Parigi, dove riscuote grande successo e dove intreccia intensi rapporti di scambio con artiste e artisti: l'arte francese del pastelle riceve da lei un impulso decisivo. Lei stessa non corrisponde affatto all'ideale di bellezza del suo tempo: negli autoritratti rivolge all'osservatore uno sguardo vigile, quasi critico, e nelle opere tarde non nasconde in alcun modo la sua età. Nondimeno ha i suoi corteggiatori, ma non a torto teme che un legame e in particolare i doveri della maternità possano ostacolarla nel lavoro e sottrarle autonomia. Nel 1737, a sessantadue anni, perde l'amata sorella Giovanna e l'anno successivo la madre. La disperazione è tale che non riesce quasi più a lavorare. Inoltre, un grave disturbo alla vista rende ancora più difficile dipingere e nel 1746, sebbene si sia sottoposta a dolorosi interventi, diventa completamente cieca. Accudita dall'unica sorella rimasta, vivrà ancora undici anni: non già, come spesso si è detto, turbata nella mente, bensì secondo le sue parole "ne bugio della notte".
(Traduzione Maria Gregorio)
Per immagini e bibliografia vedere la versione tedesca.
Author: Adriane von Hoop
Zusatzseite I Titel 3. Sprache
If you hold the rights to one or more of the images on this page and object to its/their appearance here, please contact Fembio.
---