Fembio Specials Black History Maya Angelou
Fembio Special: Black History
Maya Angelou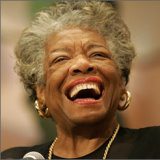 (geb./née Marguerite Ann Johnson)
born April 4, 1928 St. Louis, Missouri
died on May 28, 2014 in Winston-Salem, North Carolina
American writer, singer, actress and civil rights activist
Biography • Literature & Sources
Biography
Maya Angelou is perhaps best known for her critically acclaimed and internationally popular series of six autobiographies. Angelou's compelling, conversational, eloquent narratives present her personal journey of survival, growth and self-definition as an African-American woman, woven together with the collective social and political experience of Black America of the 20th century. Themes sustained across the series include motherhood, the strength of Black women, and being Black in a racist society. This true renaissance woman has achieved wide-ranging success and won international honor in many areas in addition to her autobiographies. Her prolific poetry, reflecting similar social and political themes, has broad general appeal. Her first collection of poems, Just Give Me a Cool Drink of Water 'Fore I Diiie, received a Pulitzer nomination in 1972. Angelou enchants audiences with her performances of poetry, enhanced by her rich, expressive voice and elegant dancer's stage presence. Angelou received national recognition as both poet and social activist when she read her poem "On the Pulse of Morning" calling for national unity and renewed efforts toward social justice at the first inauguration of President Clinton in 1993. In 2006 she was given the Quill Award for her poetry. Her humanitarian efforts have earned her the Spingard Medal, the highest award of the NAACP, in 1994 and the Mother Teresa Award in 2006. Since 1981 she has held the lifetime appointment as Reynolds Professor of American Studies at Wake Forest University in North Carolina. Angelou has received countless honorary degrees and is in high demand as a lecturer.
During her early years Angelou was raised with her brother Bailey in the racially segregated South by her paternal grandmother, Annie "Momma" Henderson, as told in I Know Why the Caged Bird Sings (1974). Momma, with her strength and independence during tough Depression times, was a powerful role model and source of inspiration for young Maya. She nevertheless quickly internalized the significance of being Black in a racist society. "It was awful to be a Negro and have no control over my life" (Caged Bird). As a young girl she felt her mother's absence painfully.
Summoned to live with her mother in St. Louis at age 7, she was raped by her mother's boyfriend. After his trial, conviction, and murder, Angelou retreated into a voluntary silence, which lasted 5 years. Sent back to Stamps, Angelou was sustained and helped to heal by two strong women, Momma and Mrs. Bertha Flowers, a local educated Black woman, who instilled in the still silent Angelou a love of poetry and drew her out of silence.
Angelou later joined her mother in San Francisco, where she also pursued drama and dance on a scholarship. As she struggled to find her identity, these adolescent years were turbulent ones, including a month living with homeless children in a car lot. She credits that experience with really teaching her tolerance for the first time. At sixteen, Angelou unintentionally became pregnant and gave birth to her son Clyde "Guy" Bailey Johnson, which was "the best thing that ever happened to me." In Gather Together in my Name (1974), determined to support herself and her son independently, Angelou takes on a variety of jobs, becoming the first Black woman streetcar collector in San Francisco, as well as working as a nightclub waitress, a Creole cook, and a madam. In her young 20s, Angelou spun into a risky period of experimentation, including brief forays into prostitution and hard drug use. These uncertain years also found her involved in destructive, unfulfilling relationships with men. As recounted in Singin' and Swingin' and Gettin' Merry Like Christmas (1976), her interracial marriage at age 22 to white sailor Tosh Angelos, from whom she adopted the surname Angelou, soon ended as she found herself chafing at her limited independence. Meanwhile, Angelou's career as a nightclub performer gathered momentum as she gained confidence in herself. From 1954-55 she toured Europe in Porgy and Bess, entrusting her son to the care of her mother. Tormented by the conflicting demands of motherhood, forced to leave him behind in order to support him financially, Angelou returned home, determined never to part from her son again. She took him with her as she continued to perform and travel during the end of the 1950s.
In her 30s, treated in the fourth volume, The Heart of a Woman (1981), Angelou began to pursue writing seriously and became increasingly involved with social activism and the civil rights movement, including working for Martin Luther King Jr. Attending weekly meetings of the Harlem Writer's Guild with such writers as James Baldwin and Paule Marshall, she honed her skills through hard work and listening openly to criticism. "I had to to learn technique and surrender my ignorance." In 1961, Angelou moved with her son to Cairo to live with Vusumi Make, a South African freedom fighter who swept her off her feet. Though the relationship inspired Angelou initially with confidence and romance, after she took on work in Egypt to help pay the bills, Make was furious with her. His sexual infidelities and refusal to accept her independence ultimately led to the end of the relationship. In 1962, Angelou and Guy moved to Ghana, where she worked as an editor, freelance writer, teacher at the University of Ghana, and played the title role in Mother Courage. During her time in Ghana, Angelou developed several important friendships with African women, African-American writers and expatriates, and explored both her heritage as a descendent of enslaved Africans and her cultural identity as an American woman. Angelou returned to the US in 1965 to work for Malcolm X, who was assassinated two days after she arrived home. Her experiences in Ghana between 1963-66 are told in All God's Children Need Travelling Shoes (1986).
During the mid-60s Angelou developed her writing and confirmed her commitment to social activism and promoting civil rights, as reflected in the last autobiographical volume A Song Flung Up To Heaven (2002). Encouraged by friends such as James Baldwin, Angelou began to write her first autobiography. Published in 1970, the highly-acclaimed I Know Why the Caged Bird Sings was nominated for the National Book Award in 1974, and in 1979, Angelou helped adapt it for a television movie script. Angelou produced the subsequent volumes between 1974 - 2002. She apparently intends the most recent volume, which closes with the writing of Caged Bird, to be the end of the series.
Since the late 1960s, the multi-talented Angelou has put her hand to a wide variety of projects. She was appointed by Presidents Ford and Carter to different cultural commissions. She has written frequently for television and film, becoming the first black woman to get a screenplay produced in 1972 with Georgia, Georgia. She earned an Emmy nomination for her role in the television drama Roots in 1977, and she has continued to appear in television and films. Angelou had her film directorial debut with Down in the Delta in 1998. She has written several children's picture books, contributed essays, articles, and short stories to various periodicals, and in 2006 she began to host a radio talk show "Oprah and Friends". She dedicated her 1993 collection of essays Wouldn't Take Nothing for My Journey Now to Oprah Winfrey. Angelou has made numerous recordings of scores and spoken word albums and received awards for her recordings of her poetry and her most recent autobiography.
Quotes:
"Many readers will think Eleanor Holmes Norton was just born with power, like you're born with a hand. Or that I was born with it. But if you happen to have the blessing to have been born Black and the extra blessing to have been born a female and an American, then each filament of power you have, you have laid it and layered it carefully, not like someone from a family whose name makes people shiver in the marketplace – Rockefeller, DuPont, Kennedy. So I would say the power I have first comes directly from being a descendant of people whose powerful history makes me humble." (Essence Magazine, August 1998 interview with Eleanor Holmes Norton by Lisa Funderberg).
On deciding to write: "I love it, I love, I love it. I believe literature has the power, the ability to move men's and women's souls. The work is so tedious, but I love the feeling of putting together a few nouns, pronouns, adverbs, adjectives and rolling them together; I just do." (Interview with Ellen Kanner in BookPage 2002)
"In all my work, in the movies I write, the lyrics, the poetry, the prose, the essays, I am saying that we may encounter many defeats – maybe it's imperative that we encounter the defeats – but we are much stronger than we appear to be, and maybe much better than we allow ourselves to be." (Interview with George Plimpton in Paris Review 1990).
"Once I got into it I realized I was following a tradition established by Frederick Doglass – the slave narrative – speaking in the first-person singular talking about the first-person plural, always saying I meaning "we." And what a responsibility. Trying to work with that form, the autobiographical mode, to change it, to make it bigger, richer, finer, and more inclusive in the twentieth century has been a great challenge for me." (Interview with George Plimpton in Paris Review 1990).
"Image making is very important for every human being. It is especially important for black America women in that we are, by being black, a minority in the United States, and by being female, the less powerful of the genders…If we look out of our eyes at the immediate world around us, we see whites and males in dominant roles. We need to see our mothers, aunts, our sisters, and grandmothers." (To Claudia Tate in Black Women Writers at Work)
Author: Katherine E. Horsley
Literature & Sources
Works by Maya Angelou:
CHILDREN'S BOOKS Mrs. Flowers: A Moment of Friendship Life Doesn't Frighten Me (1993) My Painted House, My Friendly Chicken, and Me (1994) Kofi and His Magic (1996) MAYA'S WORLD: Izak of Lapland (2004) MAYA'S WORLD: Angelia of Italy (2004) MAYA'S WORLD: Renée Marie of France (2004) MAYA'S WORLD: Mikale of Hawaii (2004)




AUTOBIOGRAPHIES I Know Why the Caged Bird Sings (1970) Gather Together in My Name (1974) Singin' and Swingin' and Gettin' Merry Like Christmas (1976) The Heart of a Woman (1981) All God's Children Need Travelling Shoes (1986) A Song Flung Up To Heaven (2002)




POETRY Just Give Me a Cool Drink of Water 'Fore I Diiie 1971 Oh Pray My Wings Are Gonna Fit Me Well 1975 And Still I Rise 1978 Shaker, Why Don't You Sing? 1983 Poems 1986 I Shall Not Be Moved 1991 "On the Pulse of Morning" 1993 Phenomenal Woman 1994 A Brave and Startling Truth 1995 Even the Stars Look Lonesome 1997







Sources:
Lupton, Mary Jane Lupton, "Singing the Black Mother: Maya Angelou and Autobiographical Continuity", Black American Literature Forum, Volume 24, Number 2 (Summer 1990)
"Maya Angelou." American Decades. Gale Research, 1998. Reproduced in Biography Resource Center. Farmington Hills, Mich.: Thomson Gale, 2007.
"Maya Angelou" American Writers Suppl IV Part I. New York:Charles Scribner's Sons, 1996.
"Maya Angelou." Concise Dictionary of American Literary Biography Supplement: Modern Writers, 1900-1998. Gale Research 1998. Reproduced in Biography Resource Center. Farmington Hills, Mich.: Thomson Gale, 2007.
"Maya Angelou." Contemporary Authors Online, Thomson Gale, 2006. Reproduced in Biography Resource Center. Farmington Hills, Mich.: Thomson Gale, 2007.
"Maya Angelou." Contemporary Black Biography, Volume 15. Gale Research 1997. Reproduced in Biography Resource Center. Farmington Hills, Mich.: Thomson Gale, 2007.
"Maya Angelou." Major Authors and Illustrators for Children and Young Adults, 2nd ed., 8 vols. Gale Group 2002. Reproduced in Biography Resource Center. Farmington Hills, Mich.: Thomson Gale, 2007.
"Maya Angelou." Notable Black American Women, Book 1. Gale Research 1992. Reproduced in Biography Resource Center. Farmington Hills, Mich.: Thomson Gale, 2007.
Pettis, Joyce. African American Poets: Lives, Works, and Sources. Westport, CT: Greenwood Press, 2002.





If you hold the rights to one or more of the images on this page and object to its/their appearance here, please contact Fembio.
---