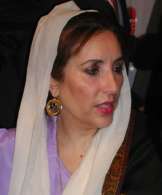 born on June 21, 1953 in Karachi, Pakistan
died (assassinated) on December 27, 2007, in Rawalpindi, Pakistan
Pakistani politician, opposition leader, and prime minister (1988-1990 and 1993-1996)
70th birthday on June 21, 2023
Biography
As with many female politicians in the developing world, Benazir Bhutto's career began with an appalling death: She was 25 in 1979 when her father, Zulfikar Ali Bhutto, until then Pakistan's only democratically elected prime minister, was sentenced to death and executed under the regime of his successor, General Zia-ul-Haq. From then on, Benazir and her mother committed themselves to restoring democracy in Pakistan, and Nusrat Bhutto took over the leadership of her assassinated husband's Pakistan People's Party (PPP). Both women were arrested several times and placed under house arrest. From self-exile in London starting in 1984, Benazir organized the resistance until her return to Pakistan in 1986.
Benazir brought with her excellent prerequisites for a political career. As the firstborn and her father's favorite daughter, she had received an outstanding education, studied political science at Harvard University and Oxford, and had accompanied him to negotiations abroad while still a very young woman. It was nevertheless a sensation when she was elected prime minister in 1988 after Zia's death; it was the first time a woman was to head a modern Islamic state, and at 35 she was also one of the youngest leaders ever elected.
Her self-confidence when speaking in public (also while pregnant during the 1988 election campaign), her international connections, and her Western-oriented mindset all stood in stark contrast to traditional Pakistani society, which had been marked by increasing Islamization during the eleven years of military rule. That she nevertheless had to succumb to still powerful social constraints is evidenced by her agreement shortly before the election to an arranged marriage with the businessman Asif Ali Zardari. This union was to prove extremely damaging to her career.
During her initial twenty-month rule, she pursued the country's return to civil society, lifted the bans on trade unions and student organizations, and launched programs to improve the living conditions of the rural population and workers. Despite opposition from fundamentalists, she achieved some improvements in the situation of women including the admission of women to higher legal offices and the launch of a campaign against domestic violence. However, this was too little in the eyes of feminists, who had hoped for more from the modern young head of government.
In August 1990, her government was dissolved by President Ishaq Khan, and Bhutto was dismissed on grounds of "incompetence" and suspected corruption. In 1993, however, the PPP again won the elections, and Bhutto led the government for another three years until she was dismissed for the second time in 1996. She and in particular her husband were accused of personal enrichment and of accepting bribes from foreign companies, and Zardari was accused of involvement in murder plots against political opponents. Bhutto fled into self-exile in Dubai to evade a looming arrest.
Whether she could have made a political comeback in the 2008 elections would have depended to a considerable extent on the position of the United States, whose anti-terrorism pact with Pakistan gave the military regime under General Musharraf ill-fated international recognition.
On December 27, 2007 Benazir Bhutto was shot dead after an election rally, presumably by a suicide bomber who blew himself up after the act, taking 15 other people with him. Elections that had originally been scheduled to take place on January 8, 2008 were postponed until February 18, 2008.
(Text from 2011; translated with DeepL.com, edited by Ramona Fararo)
For additional information (pictures, sources, videos, bibliography) please consult the German version.
Author: Andrea Schweers
Quotes
When my flight lands in Pakistan next month, I know I will be greeted with joy by the people. I do not know what awaits me, personally or politically, once I leave the airport. I pray for the best and prepare for the worst. But in any case, I am going home to fight for the restoration of Pakistan's place in the community of democratic nations.
(Benazir Bhutto, in: The Washington Post, September 20, 2007.)
If you hold the rights to one or more of the images on this page and object to its/their appearance here, please contact Fembio.
---