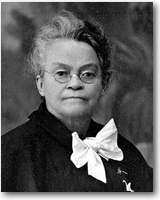 (Naperville Amelia Moore [Geburtsname]; Carrie Amelia Nation)
born November 25, 1846 in Garrard County, KY
died June 9, 1911 in Leavenworth, KS
US-American temperance reformer
175th birthday on November 25, 2021
Biography • Quotes • Literature & Sources
Biography
Carry Nation, the fiery opponent of alcohol, was often called a madwoman for vandalizing taverns (saloons) with an axe and stones, but she did more to make the American Temperance Movement and its fight for Prohibition (banning the sale and manufacture of alcohol) nationally known than anyone else.
Carry spent an unhappy childhood with a mentally ill mother, who thought she was Queen Victoria and alternately pursued her daughter with hatred or smothered her with affection. At the age of ten, Carry underwent a spectacular religious conversion and was convinced throughout her life that her decisions were directly guided by God. Although her schooling was mediocre, she eventually passed a teacher's exam.
Her marriage to a doctor and Civil War veteran lasted only a few months until she left him because of his alcoholism, from which he soon died soon. She worked as a teacher for four years to keep herself, her daughter and her mother-in-law afloat. A second marriage to David Nation, a lawyer 19 years her senior, brought Carry from Missouri to Texas, where she worked as a hotel manager to support the family. Ten years later, they moved to Medicine Lodge, Kansas, and Carry began her work in the temperance movement as a co-founder of a subdivision of the Woman's Christian Temperance Union (WCTU). When she began her more radical protest activities, her husband divorced her.
Alcohol sales were banned in the state of Kansas, but there were many saloons (called "joints") that were only superficially disguised. Nation felt saloons that acted against the law were thereby placing themselves outside the protection of the law and launched protests. At first, she sang temperance songs in the saloons, but soon her actions became more and more violent - using an axe and bricks, she eventually smashed bottles, furniture and indecent images in the "joints." The powerful, black-clad woman with the axe, almost six feet tall, finished off dozens of saloons in Kansas, often went to jail and became known throughout the country.
To make money and help her cause, she went on speaking tours from New York to San Francisco, selling small axes that read, "Carry Nation, Joint Smasher." She went after people of higher class and standing with particular enthusiasm: Once she had to be forcibly removed from the gallery of the U.S. Senate, where she had shouted out her opinions about the senators. Because of her controversial practices, Carry Nation never won the undivided support of the WCTU, but she inspired like-minded groups of activists and is still America's best-known campaigner against alcohol.
(Text from 1995)
Translated with www.DeepL.com/Translator (free version), edited by Luise F. Pusch and Joey Horsley
Author: Joey Horsley
Quotes
Men are nicotine soaked, beer besmirched, whiskey greased, red-eyed devils. (Carry Nation)
Literature & Sources
Numerous pictures, links, and detailed literature references can be found on the German Carry-Nation page (click top right).
If you hold the rights to one or more of the images on this page and object to its/their appearance here, please contact Fembio.
---