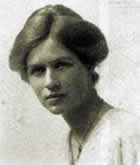 Born January 31, 1893 in Paris
died May 9, 1993 in Asolo, Italy
British traveller and explorer of the Middle East, travel author
Biography • Literature & Sources
Biography
Raised in Italy and England by liberal-minded parents, Freya Stark already spoke several languages as a child. Riding and mountaineering were part of her education, and with her mother and grandmother as role models she developed into an unconventional woman who was as at home in elegant salons as she was able to deal with poverty and physical exertion.
In spite of her delicate and sickly constitution, Freya Stark was tough and tenacious. In 1912 she began her studies in history at Bedford College in London, but broke them off with the onset of the First World War, when she left for Bologna to work as a nurse.
She had problems with self-esteem, feeling awkward and unattractive because she had to wear clothes tailored by her mother. Later in life, when she had her own money, she was known for her elegant and extravagant clothes/outfits.
Her engagement to a physician from Bologna was short-lived. Shocked, Freya moved to London, where for a time she worked as a censor of international correspondence – good preparation for her later collaboration with the Ministry of Information in London, where she would be employed as an expert on the Middle East during the Second World War.
Author: Sibylle Duda
Literature & Sources
Geniesse, Jane Fletcher. 2001. Passionate Nomad: The Life of Freya Stark. Modern Library.
Robinson, Jane. 1991. Wayward Women: A Guide to Women Travellers. Oxford; New York. Oxford University Press,
Stark, Freya. 1961. Dust in the Lion's Paw. Autobiography 1939-1946. London. John Murray.<
Stark, Freya. 1995. Freya Stark in Southern Arabia (Freya Stark Archives). Hg. Malise Ruthven. Garnet Publishing.
Stark, Freya. 1996. Baghdad Sketches. Einleitung Barbara Kreiger. Northwestern University Press.
Stark, Freya. 2001. The Southern Gates of Arabia: A Journey in the Hadhramaut. Modern Library.
If you hold the rights to one or more of the images on this page and object to its/their appearance here, please contact Fembio.
---