Biographies Niki de Saint Phalle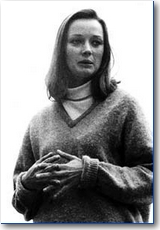 (Catherine Marie-Agnès Fal de Saint Phalle [eigentlicher Name])
US-American Sculptor
born 29 October 1930 in Neuilly-sur-Seine
died 22 May 2002 in San Diego, California
Biography • Literature & Sources
Biography
In the summer of 2000 Niki de Saint Phalle gave the city of Hanover a magnificent gift: she presented the Sprengel Museum with 300 of her works and re-established at the same time an old connection. For in 1969 she had held one of her first large one-woman shows in Hanover, and in 1974 the city had bought three of her glowingly colorful, voluminous female figures and positioned the Nanas prominently on the bank of the Leine, where they have since become a familiar trademark of Hanover.
Niki de Saint Phalle was a citizen of the world: she was born near Paris, raised in New York, traveled in Europe and later worked in Switzerland, France, Israel, Italy, and finally California.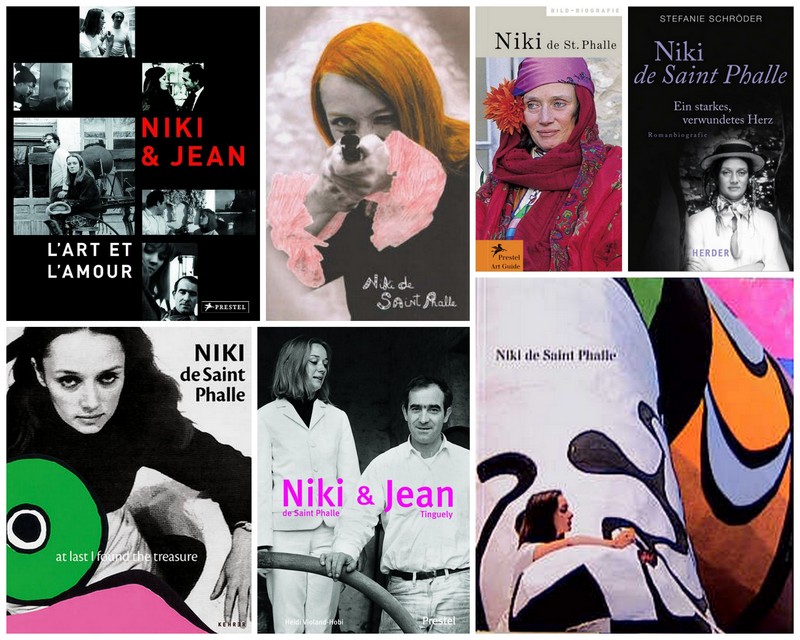 Her passionately lived life provides the raw material for her works. Driven in part by aggressiveness, in part by the joy of life and love, and infused with humor and an enormous capacity for work, de Saint Phalle has been able to make the wounds of life productive for her art.
After her childhood in an upper middle-class family and a strict Catholic education in an American convent-school, among other schools she attended, Niki eloped at eighteen with a young American, Harry Mathews, and had two children. Following a psychological breakdown she used painting as therapy while still in the mental hospital—her early art was thus the attempt of an autodidact to transform her dreams and terrors into images.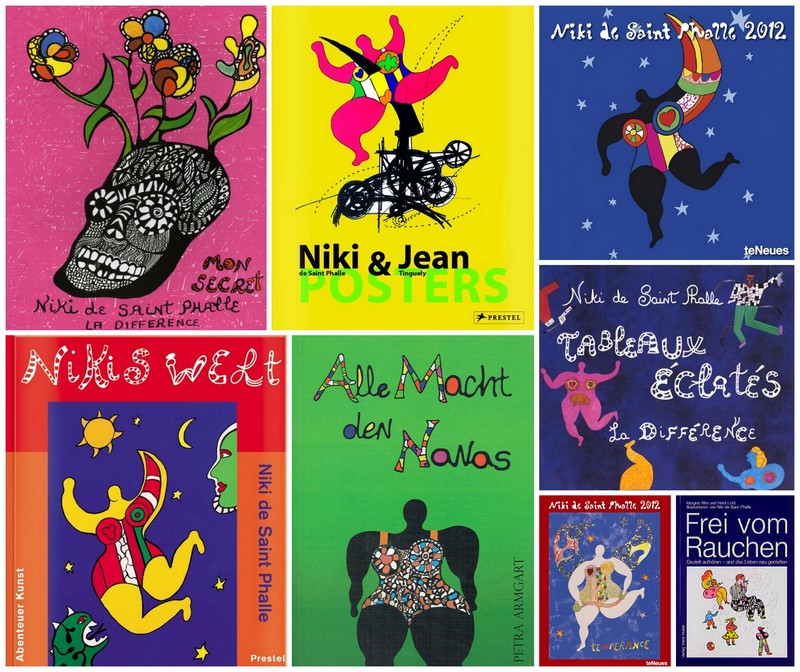 In 1955 she met the Swiss metal sculptor Jean Tinguely—"He was the person I was destined to meet"—and entered into a working and life partnership with him. The idea of the "shooting paintings" evolved: white sculptures and assemblages with enclosed containers of paint which would be shot at, thus releasing aggression and causing the paint to pour over the image. The "shooting paintings" attracted attention and were de Saint Phalle's first success. She said of them: "In 1961 I shot at Papa, at all men, at important men, fat men, men, my brother, society, the church, the convent, school, my family, my mother…." The campaign of liberation carried out in the "shooting paintings" reached its conclusion with the monumental image King Kong. Now Niki de Saint Phalle could turn to a new topic, women's roles, which she explored in an unusual way from 1962 on. She created reliefs and assemblages of female figures such as The Red Witch, The Bride, The Pink Birth, and The Monster.
And then there were the Nanas, which made their creator famous. The first figures, still made of wire and fabric, were exhibited in Paris in 1964. In 1966 the first large project followed in Stockholm's Moderna Museet: a 27-meter-long reclining female figure which could be walked through, entering via the vagina. She was the original mother of all the Nanas to follow; monstrous, serenely happy, brightly painted, provocative and outrageous, the Nanas would soon captivate the world. With her motto "Power to the Nanas!" Niki de St. Phalle connected with ideas of the women's movement which were in the air at the time. The Nanas, at first created as larger-than-life polyester figures, soon became a symbol of female strength and self-confidence in whatever form they appeared—as jewelry, perfume bottles, or on posters.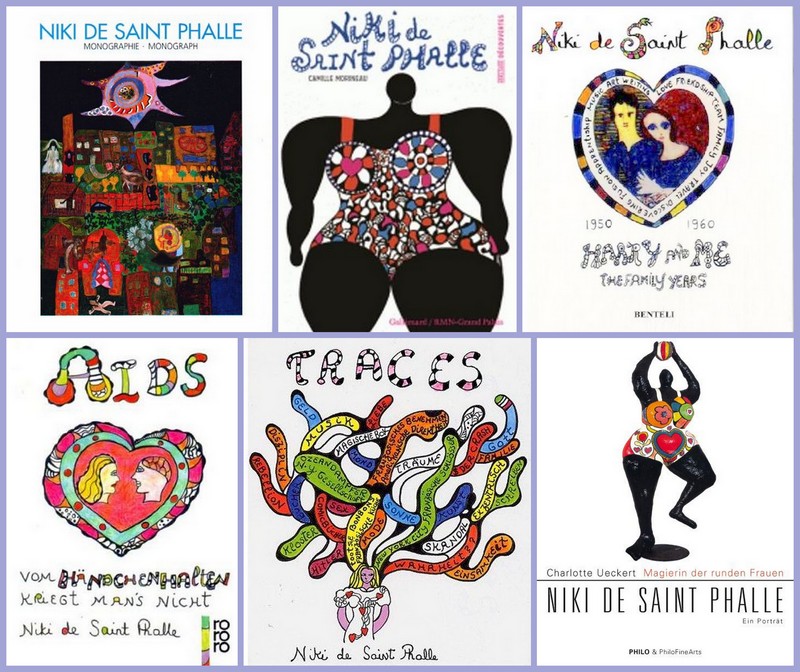 Tinguely was Niki's congenial adviser and helper in all following major projects, such as Paradis fantastique for the 1967 Expo in Montreal or the Golem, a playground for children in Jerusalem. Among their best-known collaborative works was the Stravinsky Fountain in Paris, in which St. Phalle's colorful polyester figures combine marvellously with Tinguely's kinetic metal objects.
In the 70's several new series were developed—the Giant Heads, the Couples, the Devouring Mothers, two films, a theater piece, and finally the Skinnies—transparent sculptures which also re-appear in her Tarot Garden in south Tuscany. She began this, her largest and most comprehensive project at the end of the 1970's. Inspired by the fantastic baroque gardens of Tuscany (Bomarzo and Villa d'Este) and the figures of the tarot, St. Phalle worked with Tinguely and many assistants for fifteen years to create a park landscape full of monumental sculptures which could be entered and inhabited. While the figures represent tarot motifs—the tower, the ruler, death—she uses mosaic stones in the tradition of old Italian artisans for the colorful glowing and reflective surfaces. In 1996 the garden was first opened to the public and has since become a great tourist attraction in the region.
While the Tarot Garden was still being completed, Niki de St. Phalle turned to a number of smaller, more personal projects. She illustrated with her cheerfully colorful, almost naïve-seeming drawings a very seriously intended educational book, AIDS: You Can't Catch It Holding Hands, after she had lost one of her closest friends and co-workers. And she finally wrote her book My Secret, in which she unsparingly comes to terms with the traumatic experience of her childhood, sexual abuse at the hands of her father.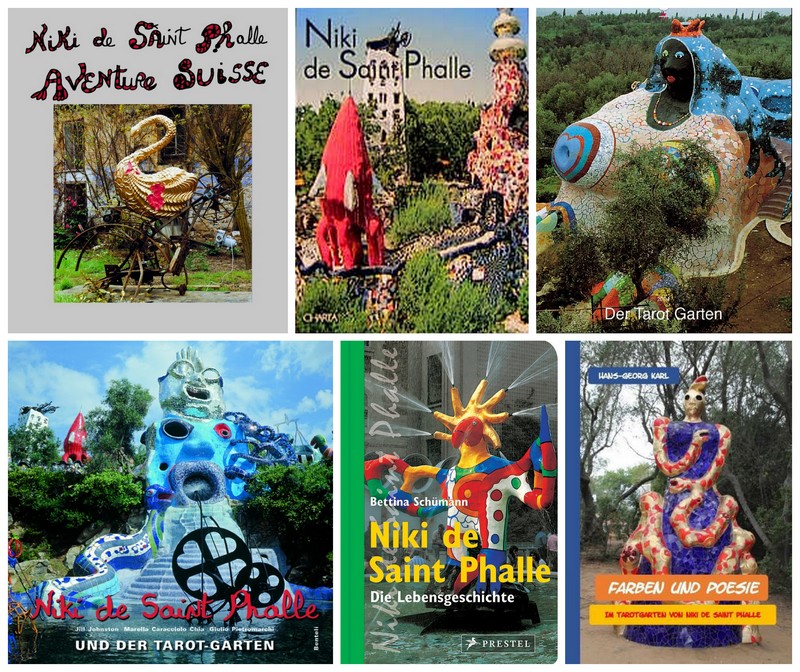 Following her doctor's advice St. Phalle moved in 1994 to the milder climate of California. Her health, damaged by many years of dangerous polyester fumes, was now at stake. Eight years later she died there of emphysema. She dedicated her last great series to her companion Tinguely, who had died in 1991. The Exploding Pictures disintegrate, controlled by photoelectric cells, into their separate parts and then recombine, a playful hommage to Tinguely's kinetic sculptures.
(translated by Joey Horsley)
For additional information please consult the German version.
Author: Renate Rochner
Literature & Sources
De Saint Phalle, Niki. 1993. Tableaux Éclatés. Paris. Éditions de la Difference.
De Saint Phalle, Niki. 1994. Mon Secret. Paris. Éditions de la Difference.
Reinhardt, Brigitte. Hg. 1999. Niki de Saint Phalle: Liebe, Protest, Phantasie. Ausstellungskatalog Ulm, Ludwigshafen, Emden.
Ueckert, Charlotte. 2007. Niki de Saint Phalle – Magierin der runden Frauen – Ein Porträt. Berlin. Philo.
If you hold the rights to one or more of the images on this page and object to its/their appearance here, please contact Fembio.
---