Fembio Specials Women from Vienna Constanze Mozart
Fembio Special: Women from Vienna
Constanze Mozart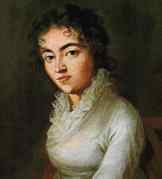 (Constanze Mozart, née Weber, remarried Nissen)
born 5 January 1762 in Zell (Wiesental)
died 6 March 1842 in Salzburg
wife of W. A. Mozart
Biography • Quotes • Weblinks • Literature & Sources
Biography
Hardly any woman has been as ostracized in music literature as Constanze Mozart. Yet the Mozarts led a harmonious and - if Wolfgang's letters are to be believed - sexually fulfilling marriage. She is said to have had a dull libidinousness - however, there is still no evidence of any infidelity on her part. Wolfgang's adulteries, on the other hand, are smilingly recorded as "Mannsbilderspäße" (Paumgartner).
She is described as a bad housewife, but her father-in-law Leopold, who was not particularly fond of her, praised her housekeeping as "highly economical. Biographers claim that she simulated illness, overlooking the fact that a woman who bore six children in eight years was drained of energy. According to her sister Sophie, she suffered from a life-threatening leg disease that confined her to bed for eight months.
The popular accusation that Constance's unkindness was the reason for Wolfgang's burial in a mass grave has been refuted by research into burial customs of the time. When Wolfgang died, he left her with two children, debts, an unfinished score of the Requiem for which he had been fully paid, and a pile of disorganized and sometimes incomplete musical autographs. Despite poverty and hardship, she did not sell the manuscripts, for which she would have received immediate money, but carefully guarded them. Only in 1799 did she sell them to the publisher André. It is therefore largely thanks to her that Wolfgang's autographs are not scattered all over the world. Nevertheless, she is still defamed today as a fraudulent businesswoman.
She was certainly no angel; she never forgave her father-in-law for the humiliations he inflicted on her and her mother. She was not, however, the libidinous, loveless, callous and disloyal person that she is made out to be.
(Eva Rieger, 1991)
Constanze Mozart, remarried Nissen
What happened after Wolfgang's death?
Mozart died on December 5, 1791, and Constanze, who was barely 30 years old, had to live alone after quite happy years of marriage - with a mountain of debts, many unsorted manuscripts and the two small children. Franz Xaver had only been born in July, the second surviving of six children in eight years of marriage.
At first, Constanze placed these two children with the Duschek couple, who were friends and had no offspring of their own and offered to help.
From this time on, she organized many concerts in her musical salon, also in order to be able to support herself. In 1795/96 she even undertook a concert tour with Mozart's works. Constanze, like her sister Aloisia, was a talented soprano.
She did not immediately sell Mozart's numerous autographs, although this would have been a lucrative source of money to quickly alleviate her financial hardship. Instead, in contact with various publishers, she tried to achieve the edition of a complete Mozart edition.
At Constanze Mozart's instigation, a piano reduction of the opera "Idomeneo" was prepared and published in 1795.
Even before that, in 1793, she had met the ardent Mozart admirer Georg Nikolaus Nissen. The Danish diplomat lived in her household from 1798 and was a great help in sifting through and documenting the Mozart estate.
In 1800, they finally sold all the remaining autographs, including the operas "Figaro" and "The Magic Flute" as well as "Eine kleine Nachtmusik", to the publisher Johann Anton André, who took great care in publishing them.
Finally married, the Nissen couple moved to Copenhagen in 1810. There they lived for 10 years. From 1820, they traveled extensively and finally settled in Salzburg in 1824. Georg Nikolaus Nissen had long since begun work on a Mozart biography with Constance's help. However, it was not until two years after the death of her second husband that Constanze was able to complete it and finally obtain publication by Breitkopf & Härtel in Leipzig in 1828.
The last years of her life were spent together with her younger sister Sophie. The latter nursed Constanze, who had been ailing for several years, just as she had nursed Wolfgang Amadeus years before. Incidentally, Sophie also wrote the description of Mozart's last hours in Nissen's biography.
Constanze Nissen, née Weber, Mozart's widow, died on March 6, 1842 at the age of 80. She carried the name Nissen the longest and probably experienced the greatest happiness during this time. Without her constant commitment to the work of her first husband, however, with whom she had spent only about 10 years of her long life, we would hardly have such unrestricted access to Mozart's work.
(Anja Weinberger, 2021)
Translated with www.DeepL.com/Translator (free version)
Author: Eva Rieger und Anja Weinberger
Quotes
He (Wolfgang) began to love Constanze because it had decided in him to do so. One had to be it and she was. (Wolfgang Hildesheimer)
Constanze's fame consists in the fact that Mozart loved her and thus took her with him into eternity, just as Bernstein does the fly ... (Alfred Einstein)
Constanze was "a libidinous, sensual, primitive, capricious, fun-loving female, his Papagena." (Arthur Schurig)

Translated with www.DeepL.com/Translator (free version)
Links
www.constanze-mozart.de
Information from her birthplace Zell im Wiesenthal about the Mozarts' six children (four died as infants) and Constanze Mozart's relatives (among others her cousin Carl Maria von Weber).
Literature & Sources
Carr, Francis. 1983. Mozart & Constanze. London. John Murray.
Finke, Gesa. 2013. Die Komponistenwitwe Constanze Mozart. Köln.
Gärtner, Heinz. 1986. Mozarts "Requiem" und die Geschäfte der Constanze Mozart. München.
Rieger, Eva. 2005. Nannerl Mozart: Das Leben einer Künstlerin. Erweiterte Neuausgabe. Frankfurt/M. Insel.
Schurig, Arthur. 1922. Konstanze Mozart: Briefe, Aufzeichnungen, Dokumente 1782-1842. Dresden. Aretz.
Unseld, Melanie. 2005. Mozarts Frauen. Reinbek b. Hamburg. Rowohlt TB.
Wagner, Renate. 1990. "Schicksale im Schatten: Die Frauen um Wolfgang Amadeus". In: Csobádi, Peter (Hg.); Wolfgang Amadeus. Summa summarum. Das Phänomen Mozart: Leben, Werk, Wirkung. Wien. Neff.
Welsh, Renate. 1997. Constanze Mozart: An Unimportant Woman. Vorwort Gerhard Weiss . Übs. und Nachwort Beth Bjorklund. Riverside, CA. Ariadne Press.
Weissensteiner, Friedrich. 2001. Die Frauen der Genies. Wien; Frankfurt/M. Deuticke.
If you hold the rights to one or more of the images on this page and object to its/their appearance here, please contact Fembio.
---