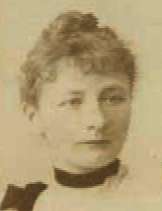 born on April 15, 1858 in Oschwand, Canton of Bern
died on December 22, 1941 in Herzogenbuchsee, Canton of Bern
Swiss teacher, world traveler and travel writer
80th anniversary of death on December 22, 2021
Biography
In 1904, first in English, then two years later in German, the report of the Swiss teacher Lina Bögli "who had traveled around the world all alone and without any other means than those she earned on the way" in ten years, from 1892-1902, appeared under the title Vorwärts! The new edition of 1990 bears the title Talofa - that is the Samoan greeting. Bögli had particularly enjoyed it on Samoa.
In 1858 - the same year as Duse, Selma Lagerlöf and Emmeline Pankhurst - Lina Bögli was born as the youngest child of a poor family of small farmers in the village of Oschwand not far from Herzogenbuchsee in the canton of Bern. In retrospect, she judges that the hard experiences during childhood were a good preparation for the many hardships she later had to endure on her travels.
At the age of twelve she was sent to the Jura as a "child maid" to learn French and relieve the family. She discovered in herself early on the "peculiar gift of keeping children in order." From 17, she worked for three years as a maid and nanny for a wealthy Swiss family in Naples. It was there that she learned her German, she says later.
Finally, she finds a good job as a governess in a Polish aristocratic family. After eight years, she had saved enough money to take her teaching diploma in Switzerland after two years of study. A stay in England completed her education.
The certificates were to serve her well during her trip around the world. First she went by ship from Brindisi to Sydney. There she worked as a teacher in private schools. She stayed in Australia for four and a half years, also traveling through the interior of the country and putting money aside for the onward journey (end of 1896) to New Zealand. She continues to the Samoa Islands and via Hawaii, where she stays for a year, to San Francisco. Four years in California, then across the U.S. to the East Coast to Canada and finally back to Europe On July 12, 1902, exactly ten years after her departure, she arrives in Krakow. A Polish officer, who had asked her to marry him ten years earlier, awaits her on the platform. She refuses his proposal a second time.
This much was known until 1999, when Judith Arlt investigated the story of Lina Bögli in Poland. She found out that the Polish admirer's name was Bijak and that he was not killed on the field of honor in 1914, as had been assumed until then, but that he even outlived Bögli by one year. According to Lina Bögli's own admission, he was the great love of her life, but she kept this secret all her life: Diary entry 1914: "... "Death of the only man I have ever loved, whom I did not want to marry out of pure love, so as not to destroy his career, who became my fate, so to speak, because without having known and loved him I would never have thought of a trip around the world, since I only left to escape from him and myself." They couldn't get married because they lacked the officer's bond, "a paltry fifty thousand crowns that American billionaires spend on flower arrangements alone at their festivities."
After the runaway success of her first travel book, she set out a second time in 1910, taking the Trans-Siberian Railway via Vladivostok to Japan and China. Always Forward (published by Huber in 1915 in the midst of the war), however, falls far short of the resonance of the "original."
Lina Bögli's travel books are marked by the racist prejudices of her time, but her great interest in the living conditions of women and girls in foreign countries was anything but typical of the time. And her extraordinary spirit of enterprise, coupled with determination, bravery and optimism, impressed her readers and gave them courage.
In 1914, at the age of 56 and after almost 40 years in a foreign country, the well-traveled woman returned to her homeland. She had saved enough to continue living a completely independent, if simple, life: She rents a room in the Kreuz in Herzogenbuchsee with the first alcohol-free inn in Switzerland, founded by the feminist Amélie Moser as a center for charitable endeavors. There she lives quietly amidst her mementos of her world travels, gives lectures, teaches languages, cares for the needy and for the education of her nieces, and probably only rarely thinks of the Polish officer she could not marry - for whatever reason.
(Text from 2007, translated with www.DeepL.com/Translator (free version). Translation edited by Luise F. Pusch)
(Links and literature references can be found on the German Bögli page (click top right)).
Author: Luise F. Pusch
If you hold the rights to one or more of the images on this page and object to its/their appearance here, please contact Fembio.
---