Biographies Elizabeth Cady Stanton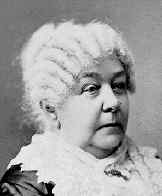 born 12 November 1815 in Johnstown, New York
died 26 October 1902 in New York, New York
Pioneer of U.S. Women's Rights Movement
200th Birthday on 12 November 2015
Biography • Quotes • Weblinks • Literature & Sources
Biography
Along with Susan B. Anthony, Elizabeth Cady Stanton is regarded as the leading mind and spirit of the American Women's Rights Movement in the 19th century. The two friends and partners in struggle campaigned tirelessly and without compromise for more than forty years so that women might gain the right to vote. Stanton's brilliant, radical critique of the legal, political and religious discrimination against women, which she formulated in countless speeches, manifestos, letters and books, inspired the early women's rights movement and gave it powerful arguments – all largely valid even today. Stanton regarded the flourishing of a woman's individual personality, including in marriage and motherhood, as an absolute right and her first priority. She also believed that women were generally much too modest and undervalued their own deeds. With The History of Woman Suffrage, a magisterial work begun in 1880, she wanted to heal them of this weakness and provide a monument to their achievements, even though it would require another 40 years to finally win the vote.
Elizabeth Cady was the eighth of eleven children of the well-to-do couple Margaret Livingston and Daniel Cady. Five of her siblings died very early, and her only surviving brother died at twenty. Elizabeth tried for years to make up through her own accomplishments for this loss to her father, a respected lawyer and elected representative. But Judge Cady responded to her courage and intelligence with sadness at best – after all, what use were these qualities in a girl? Nonetheless, he awakened in her an early and lively interest in legal questions; from the start she was outraged at the total absence of a woman's legal rights within marriage.
At the progressive Troy Female Seminary Elizabeth received what was for its time an excellent education. And at the home of her liberally minded cousin Gerritt Smith she got to know not only a host of radical new ideas but also her future husband. Henry Stanton was working at the time as an orator and activist for the abolition of slavery and had no regular income. In 1840 Elizabeth and Henry married, against the will of her father, who was worried about his daughter's financial future. In the same year the young couple traveled to London for the World Anti-Slavery Convention, where Elizabeth encountered the famous Quaker abolitionist and "dangerous person" Lucretia Mott. Mott's influence – she gave Elizabeth Mary Wollstonecraft to read – and the fact that female delegates could only "participate" at the congress from behind a curtain strengthened her conviction that women had first of all to fight for their own rights.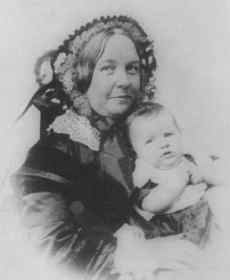 Henry Stanton became a lawyer now after all and took a position in Boston, where Elizabeth soon got to know the most important women of the anti-slavery movement such as Angelina und Sarah Grimké . Between 1842 and 1859 she bore seven children, and although she found motherhood deeply satisfying, it gradually became clear to her that women were also disadvantaged by this role. After the family moved in 1846 to Seneca Falls, a small town in New York state, she felt isolated and discouraged: "I suffered from mental hunger, which, like an empty stomach, is very depressing" (Quoted in Forster 219). When Lucretia Mott came to the area to visit her sister in 1848, the two women met and together with two others decided to organize a convention, whose purpose would be to discuss the rights of women publicly for the first time. During the convention 68 women and 32 men signed Stanton's Declaration of Sentiments, which proclaimed the equality of the sexes and demanded rights for women, including the right to vote. Similar gatherings and declarations followed all over the country. Stanton supported all forms of a new female consciousness – from the shorter hairstye and Bloomer outfit to demands for equal educational, occupational and professiional opportunities for women.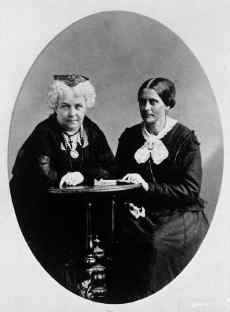 In 1851 she met Susan B. Anthony, a teacher and temperance activist five years her junior; the legendary, decades-long friendship and political partnership, to which the women's cause would owe so much, had begun. First the two took on the legal subordination of women in the state of New York and won for married women the right to own property as well as custody rights for mothers and rights for widows. At the beginning Stanton was limited by her children to the household, so Anthony took charge of the organizing while her friend composed the speeches, policy statements and articles that advanced the movement. Later Stanton too traveled throughout the entire country, gave lectures and inspired the masses. Not only a brilliant orator, she was also a charming, appealing figure; petite, pretty and smartly dressed, Stanton contradicted the stereotype of the "bitter," "masculine-appearing" suffragist.
During the U.S. Civil War (1861-65) Stanton and Anthony founded the first nationwide political women's organization, the Women's Loyal National League, which mobilized 5,000 women to collect 40,000 signatures calling for rapid emancipation of the slaves. After the war, however, they experienced their greates disappointment: their former allies demanded the franchise for male blacks, but expected women to be patient: "It is the Negro's hour." Stanton was so furious at this that she wrote and spoke against giving the vote to black men.
In 1869 Stanton and Anthony formed the National Woman Suffrage Association, an organization which attempted to gain the vote for women by amending the constitution of the United States. Stanton's proposed amendment was presented to the Senate for the first time in 1878. For over 40 years it was re-introduced in every session until 1920, when the 19th amendment to the constitution finally gave the women of America the right to vote.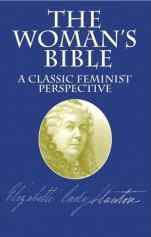 In contrast to Anthony, for whom the franchise was the central issue, Stanton campaigned in her speeches and writings for a diverse program to advance the rights of women; she demanded reforms in marriage and divorce laws, in women's attire, and in educational opportunities for women. And she protested against their oppression by the church. In her Women's Bible (1895-98) she fearlessly analyzed and "corrected" the misogynous interpretations of many Bible passages which were cited by clerics as God-given arguments against women's emancipation. The book was an instant best-seller, but it also polarized the suffrage movement, for whose more conservative members it was, like its author more often than not, too radical.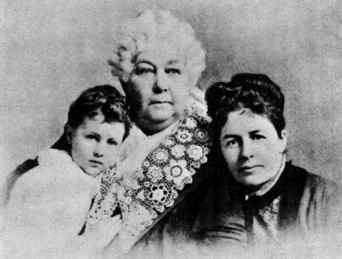 Author: Joey Horsley
Quotes
The history of mankind is a history of repeated injuries and usurpations on the part of man toward woman. Declaration of Sentiments, Seneca Falls Convention (July 19-20, 1848)
No matter how much women prefer to lean, to be protected and supported, nor how much men desire to have them do so, they must make the voyage of life alone, and for safety in an emergency they must know something of the laws of navigation. Solitude of Self, 1892
Men think that self-sacrifice is the most charming of all the cardinal virtues for women, and in order to keep it in healthy working order, they make opportunities for its illustration as often as possible. I would fain teach women that self-development is a higher duty than self-sacrifice. The Woman's Bible, 1898
Links
Fundgrube der PBS (auch über Susan B. Anthony)
Project Gutenberg (Autobiographie, The Woman's Bible)
The Elizabeth Cady Stanton & Susan B. Anthony Papers Project at Rutgers University
Multimedia (Audio/Video) zu Stanton & Anthony
Brief von Lucretia Mott an Stanton, 1855, mit Transkription
Stanton-Porträt von Anna Klumpke, der Partnerin von Rosa Bonheur, 1889
Literature & Sources
Baker, Jean H. 2005. Sisters: The Lives of America's Suffragists. New York: Hill & Wang.
Banner, Lois. 1980. Elizabeth Cady Stanton: A Radical for Women's Rights. Glenview, IL: Scott Foresman.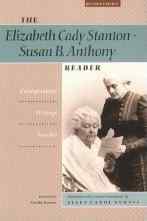 DuBois, Ellen C. Hg. 1992. The Elizabeth Cady Stanton - Susan B. Anthony Reader: Correspondence, Writing, Speeches. Vorwort Gerda Lerner. Boston. Northeastern UP.
Forster, Margaret. 1989, "Elizabeth Cady Stanton," In her Significant Sisters: The Grassroots of Active Feminism 1839-1939. New York: Oxford UP. 203-238.
Ginzberg, Lori D. 2009. Elizabth Cady Stanton: an American Life. New York. Hill & Wang.
Griffith, Elizabeth. 1984. In Her Own Right: The Life of Elizabeth Cady Stanton. New York: Oxford.
Lutz, Alma. 1971. "Elizabeth Cady Stanton." in: Notable American Women: A Biographical Dictionary. 1971. Hg. Edward T. James, Janet Wilson James & Paul S. Boyer. 3 Bde. Cambridge, MA. The Belknap Press of Harvard UP. Band III, 342-347.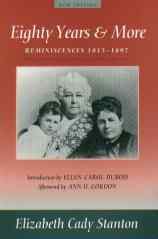 Stanton, Elizabeth Cady, Susan B. Anthony & Matilda Joslyn Gage. Hg. 1985 (1881-1922). The History of Woman Suffrage. In 6 vols (Vol. 4 edited by S.B. Anthony and I.H. Harper; v. 5-6 edited by I.H. Harper.) Salem, NH: Ayer.
Stanton, Elizabeth Cady. 1993 (1895-98). The Woman's Bible. Boston: Northeastern.
Stanton, Elizabeth Cady. 1993 (1898). Eighty Years and More: Reminiscences 1815-1897. Boston: Northeastern. Hier online.
Stanton, Elizabeth Cady & Susan B. Anthony. 1997-2006. The Selected Papers of Elizabeth Cady Stanton and Susan B. Anthony. Ed. Ann D. Gordon. Vol. 1. In the School of Anti-Slavery, 1840 to 1866. Vol. 2. Against an Aristocracy of Sex, 1866 to 1873. Vol. 3. National Protection for National Citizens, 1873 to 1880. Vol. 4. When Clowns make laws for Queens, 1880-1887. New Brunswick, NJ. Rutgers University Press.
Ward, Geoffrey C. & Ken Burns. 2001. Not For Ourselves Alone: The Story of Elizabeth Cady Stanton and Susan B. Anthony. New York. Knopf.
If you hold the rights to one or more of the images on this page and object to its/their appearance here, please contact Fembio.
---