(Dietlinde (Lilli) Gruber Charmelot)
Born 19 April 1957 in Bolzano/Bozen, South Tyrol, Italy
Italian journalist, author and delegate to the European Parliament
Biography
My sister Dietlinde Gruber was born on April 19, 1957 in Bolzano and very soon was called Lilli by our father. "He taught me that success is only possible through hard work. And he awakened in me the desire for freedom and independence." (Lilli Gruber) In the early 1960's the family moved to Verona, where our father built up his business. We spoke German at home, since Mother always emphasized the importance of maintaining a connection to our "homeland" of South Tyrol. We "Tedeschi" (Germans) didn't always have an easy time of it in the convent school "Piccole figlie di San Giuseppe" (Little Daughters of Saint Joseph); those were the years of bomb attacks in South Tyrol and we often became the object of nasty innuendos. At times we literally had to "defend ourselves," and every member of the family had her or his own encounters with narrow-mindedness and bigotry. Mother was once publicly admonished by our priest to cover her head or leave the church.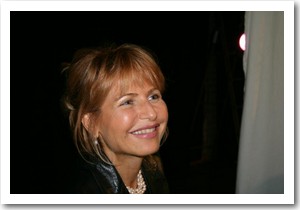 A veil to cover one's femaleness in our Western world? Lilli was made aware of equal rights and women's issues very early and was opposed to misogyny, oppression, exclusion. In her books »Tschador« (2005; Chador) and »Figlie dell'Islam« (2007; Daughters of Islam) she illuminates the path of Muslim women to new self-awareness. Avoiding the common clichés, she describes in these books the many facets of female emancipation in Islamic countries and the committed struggle of the daughters of Islam for human rights and for a new interpretation of the Koran which will allow women to become the motor for change of the predominantly archaic macho-structures.
The woman of today has much in common with the little girl Lilli from the Kalterersee (Lake Kaltern or Caldaro): an independent mind, an unshakeable belief in herself, purposeful determination and willingness to work hard to reach her goal. Her aspirations have always guided her, and she has often chosen the more difficult path, undeterred even by danger.
In 1986 Lilli moved to Rome, where she became a television star overnight in 1987 as the first female news anchorwoman for Italian public television. From then on sought after and often the object of political or industry efforts to influence her work, she rigorously refused all such "immoral" offers; she would not allow herself to be bought or her independence subverted by anyone, no matter how powerful. She held unwaveringly to her conviction that it is the task of a journalist to provide free, unbiased and maximally objective reporting, free of external influence. Especially during her last years at the public television network she increasingly had to resist manipulaton and censorship and fought to maintain her autonomy.
My sister's integrity was rewarded not only with numerous prizes for her journalistic activity. In 2004 the credibility of "Lilli la Rossa" (Lilli the Red) swept her into the European Parliament with an upset record vote – as leader of the Olive Tree List in Central Italy she received twice as many votes (Vorzugsstimmen) as then Prime Minister Berlusconi. At the EU she was immediately elected chairwoman of the delegation for relations with the Gulf States, including Yemen. Thanks to her relevant experience she was also appointed as rapporteur on relations with Iran and on legal migration. In Brussels and Strasbourg she developed what was, by Italian standards, a new political style. With her perfect fluency in four languages and her transcendence of party politics she has been a reliable contact and resource for many colleagues and journalists on issues extending far beyond those that pertain to Italy.
Besides her responsibilities for the European Parliament Lilli continues to write books, which allows her to remain active as a jounalist.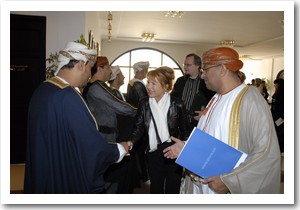 Lilli has always known how to be in the right place at the right time, when world history is being written. For example, she was in Berlin on November 9th, 1989, when the Wall fell, and published her reports for RAI, national Italian television, in her first book »Quei giorni a Berlino« (Those Days in Berlin; Co-Autor Paolo Borella). During the 1990 Gulf War she reported from Amman and Bagdad. Here she met Jacques Charmelot, a correspondent with the French news agency AFP, whom she married in the summer of 2000. As a foreign correspondent she reported on the travels of Pope John Paul II, the breakup of the Soviet Union, the Palestinian-Israeli conflict, the 9-11 terrorist attacks, the Iraq crisis and finally the war against Iraq. In 2003 she documented this latest experience in her first best-seller, »I miei giorni a Bagdad« (My Days in Bagdad). Over the years Lilli has worked abroad for CBS and the German television channels SWR and PRO7, where she anchored the news show "Focus TV" in 1996. For her reporting on the Iraq war she earned seven awards in 2004, as well as an honorary doctorate from the American University of Rome.
Her survey of Schi'a Muslims, »L'altro Islam« (The Other Islam), appeared in the same year; it was also translated into French. In 2005 she spent a month in Iran, observed the election of President Ahmadinejad and published her impressions in »Chador« (which appeared in German as »Tschador«). In 2006, five years after the terrorist attack in New York and shortly before the midterm elections, Lilli investigated that segment of the U.S. population that resists Bush-administration policies and represents a different, more democratic American tradition. In »America Anno Zero« (America in Year Zero) she summarizes her impressions and suggests a forecast of the post-Bush era.
In one of our recent conversations – which are always lively and heartfelt, even when, as often happens, we disagree ¬– I asked my sister what great dreams she might still hold for the future. She looked up, visibly displeased, from a group photo of a European summit meeting in which virtually no women are present and said, "So long as women's many abilities count for so little I will never stop supporting that issue. It's not only a question of justice, it's simply politically stupid to continue excluding women from the centers of power. And one thing is clear: I won't just dream of it, I'll fight for it."
(January 2008)
For more information see the German version!
Author: Micki Gruber
Quotes
I'm grateful to my parents most of all for teaching me to be open to the rest of the world. They always told us children, "You have to know where you come from, where your cultural and geographic roots are; but then you should move out into the world, get to know other languages and cultures." (Lilli Gruber in an interview in 2004)
At any rate one can say that equal status has been achieved when women, like men, are still allowed to appear on television when they're old, with all their wrinkles. There's practically no age-limit for men, you know. (Lilli Gruber in an interview in 2004)

If you hold the rights to one or more of the images on this page and object to its/their appearance here, please contact Fembio.
---