Biographies Mary (Victoria Maria Augusta) of Teck
George Grantham Bain collection at the Library of Congress
born May 26, 1867 in London
died March 24, 1953 in London
Queen of Great Britain and Ireland
155th birthday on May 26, 2022
Biography
Queen Mary, the grandmother of British Queen Elizabeth II and mother of the Duke of Windsor and King George VI, was a dedicated queen. Unlike almost all members of the royal family, she had more than a polite interest in social and artistic matters.
Born the daughter of the Duke and Duchess of Teck, May (as she was known) was very shy throughout her life, but this never prevented her from "doing what had to be done."
When her parents could no longer afford the expensive lifestyle in London, the whole family went to Florence for two years in 1884. Here the foundation was laid for May's strong artistic interest and her openness to the world.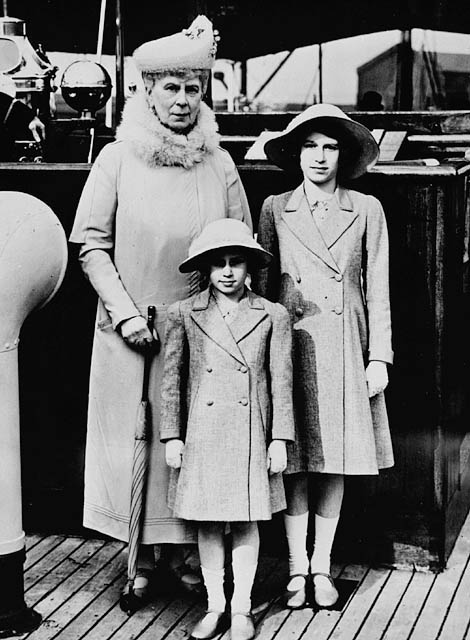 Mary, who was almost 20 years old, feared that she was not educated enough. Her governess, the well-read, cosmopolitan and pedagogically gifted Madame Bricka, drew up a work program: six hours a day - Mary kept to it until her wedding eight years later.
At the side of her husband, King George V, Mary was crowned queen on June 22, 1911. She prepared thoroughly for her representational duties and always impressed with her excellent expertise. She attached particular importance to becoming personally acquainted with the living conditions of the workers. That is why, after the outbreak of the First World War, she was aware of the great difficulties in which the war threw women workers in particular. Queen Mary sought to remedy the situation by founding a "Committee for the Provision of Work for Unemployed Women" - it was staffed by women of different political attitudes and backgrounds.
Until her old age - she lived to be 85 - Queen Mary took an active part in political and public life. She devoted herself above all to the establishment of welfare and charitable institutions.
Queen Mary gave birth to six children. In 1921, Oxford University awarded her an honorary doctorate, the first woman to do so.
Text from 1991, translated with www.DeepL.com/Translator (free version), edited by Almut Nitzsche, May 2022.
Author: Birgit Rabofski
If you hold the rights to one or more of the images on this page and object to its/their appearance here, please contact Fembio.
---