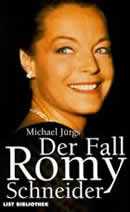 Austrian-German-French actress
born September 23, 1938 in Vienna
died May 29, 1982 in Paris
85th birthday, September 23, 2023
Biography
"If it were up to me, I would become an actress right away. Just like Mommy," confided the fourteen-year-old Rosemarie Magdalena Albach to her diary in 1952. One year later she did appear in her first role in Wenn der weiße Flieder wieder blüht (When the White Lilac Blooms Again), together with her mother, Magda Schneider. Thereupon she left school. Between 1954 and 1957 she appeared in four films in the role that would stick with her for the rest of her life: "Sissi sticks to me just like oatmeal." [Sissi (originally Sisi), the wife of 19th-century Austrian Emperor Franz Josef, was made into the romantic heroine of a series of sentimental and immensely popular German "Sissi-films" in the 1950's]. Romy's career was cleverly managed and marketed by her stepfather, the gastronomical entrepreneur Hans-Herbert Blatzheim. And at every public appearance, "Mom stands behind one and whispers: Smile now, smile…." It would be twenty years before she could articulate that "Daddy" was also pursuing her sexually at this time: "Il a clairement proposé de coucher avec moi." (He clearly asked me to sleep with him.)
In 1958 she made Mädchen in Uniform (Girls in Uniform) among other films, and – her first foreign production – Christine with Alain Delon. She fell in love with him, liberated herself from her familial constraints and moved to Paris. Euphorically she wrote, "I want to be completely French in the way I live, love, sleep and dress." And somewhat later she summed things up: "There are three people who definitively transformed my life: Alain, Visconti and Coco Chanel." Chanel had made an elegant Parisienne out of the "healthy little dumpling." But "then nothing happened. I was already written off in Germany, not yet taken seriously in France. I was known as the cheerful companion of the up-and-coming superstar Alain Delon …. I thought: One day you can work with Visconti perhaps, one day with René Clément … but when?"
In fact, she worked with Visconti for the first time in 1961. Under his direction she appeared with Alain Delon at the Théatre de Paris in Dommage qu'elle soit une Putain ('Tis Pity She's a Whore), a play by the 17th-century English dramatist John Ford. It was also in 1961 that Visconti made Boccaccio 70 with her. She was, he said, one of the most brilliant actresses in Europe. She became an actrice française. Kafka's Prozeß (The Trial) under the direction of Orson Welles gave her her due recognition in Germany as well. For her role as Leni she received the prize for "Best Foreign Actress" in France; this marked her artistic breakthrough there. In 1962 she went to Hollywood. Paris Match wrote in 1971: "Forty years after Greta and Marlene, fifteen years after Marilyn, the screen again has a great star." The woman who had never had acting lessons had by then already made forty films; by the end of her life it would be 61. Twice, in 1979 and 1981, she was awarded the coveted César.
In her private life Romy Schneider was less fortunate. The relationship with Delon failed as did her marriage with the Berlin theater director Harry Meyen, who was the father of her son David-Christopher, born in 1966. "You ask whether my life has changed much? Let's put it differently: I finally have one," she said after David's birth. The marriage with her private secretary Daniel Biasini – their daughter Sarah Magdalena was born in 1977 – ended in disaster.
"Stick your childhood in your pocket and take off, 'cause that's all you have!" wrote her father Wolf Albach-Retty, when she made her first film. Romy had spent her first fourteen years with her grandparents and in a boarding school. Now her own son would have to live mostly with Biasini's parents rather than his mother. On July 5th, 1981 David had a fatal accident in front of their house.
"I can do nothing in life, but anything on screen." She had already been drinking and taking sleeping pills and stimulants. On the 29th of May, 1982 she died in her Paris apartment. "Death due to natural causes, following a heart attack," reads the death certificate. "But," argued Magda Schneider, "what in Heaven's name is natural about the death of a beautiful young woman of 43?"
(translated by Joey Horsley)
Author: Susanne Gretter
Quotes
Sissi – I've not been Sissi for a long time now … I am an unhappy 42-year-old woman and my name is Romy Schneider. (April 23, 1981)
If you hold the rights to one or more of the images on this page and object to its/their appearance here, please contact Fembio.
---