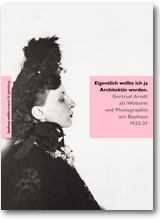 (Gertrud Arndt née Hantschk)
born on September 20, 1903 in Ratibor/Upper Silesia (today: Racibórz/Poland)
died on July 10, 2000 in Darmstadt/Germany
German textile artist, designer and photographer
120th birthday on September 20, 2023
Biography
"All these threads" – she really didn't like them (Gertrud Arndt, quoted in Müller p. 56). Only half-heartedly did Gertrud Arndt begin her training as a weaver at the Bauhaus in Weimar. After completing the prep course, most of the female students at the coveted art school had had no choice but to study weaving "whether they wanted to or not" (Gertrud Arndt, quoted in Leßmann, Zwischen Sachlichkeit ..., p. 9). Arndt had originally planned to build ultra-modern houses; yet it was a blue-and-yellow-checkered carpet that brought her widespread admiration. Titled Carpet 2 and showcased on the floor in the office of Bauhaus director Walter Gropius, it was a stunning debut for a woman who had just turned 22. Nevertheless, it was in the field of photography where Gertrud Arndt made art history: her 43 Mask Portraits (Maskenphotos), self-portraits in which she drifts back and forth between multiple roles, are included in almost every volume on the photography of the Weimar Republic. And this despite the fact that Arndt never saw herself as a photographer.
"EVERYONE OPENS THEIR MOUTH AT SOME POINT AND BARES THEIR TEETH": A START IN LIFE
Gertrud Arndt, née Hantschk, had always found stifling conventions horrifying: "Everyone opens their mouth at some point and bares their teeth" (quoted in Das Verborgene Museum, 1994, p. 32), she would later say about the self-portraits where she made faces. As a girl, she had rebelled by cutting off her braids; mother Antoinette (née Ziegler) had then reportedly refused to speak to her for weeks. Born into modest financial circumstances as the youngest of four children (father Johann was a foreman in the leather industry), Gertrud and her family moved several times before they settled in Erfurt in 1916. She was involved in the Wandervogel youth movement, left the church, and followed the Bircher-Benner diet of raw fruits and vegetables. In 1919 she decided to enter a male domain: with the aim of becoming an architect, she enrolled in classes at the School of Design (Kunstgewerbeschule) and at the same time began a three-year apprenticeship in the Erfurt architecture firm of Karl Meinhardt, a contemporary of Walter Gropius. The director of the Angermuseum, Walter Kaesbach, noticed her talent and arranged a scholarship for her from the city of Erfurt at the Bauhaus, founded in 1919 in nearby Weimar.
"...WITHOUT REGARD TO AGE OR SEX": WOMEN'S POLITICS AT THE EARLY BAUHAUS
On August 11, 1919, Article 109 of the Weimar Constitution declared that "men and women have in principle the same civic rights and duties." The government-funded Bauhaus in Weimar had loftily proclaimed already four months earlier that "any person of good repute, without regard to age or sex" would be admitted (Gropius, 1919, p. 50). Gropius had second thoughts when shortly thereafter enrollments at the Bauhaus in fact consisted of 84 women, but "only" 79 men. He demanded the "reduction" of the "over-represented female sex" (quoted in Droste 2006, p. 40) and subsequently specified that he was "fundamentally opposed to the training of female architects" (quoted in Baumhoff, 1999, p. 102). Three years later, the founder and director of the Bauhaus had achieved his objective: by 1922 there were only 25 women among the 120 students.
Although the Bauhaus crew had officially renounced the conventions of imperial times, some of the masters held fast to traditional clichés about women as artists. Johannes Itten, for example, believed that women were not capable of 3-dimensional spatial perception. In 1908 the publicist Karl Scheffler had come to the conclusion that the "female spirit" lacked an "artistic sense of space" and the "talent of women" was only good enough for the "decorative and ornamental" (Die Frau und die Kunst), a view that had already been severely criticized at the time of its publication. Yet over a decade later and at the supposedly progressive Bauhaus the stereotyping continued and the general approach was one of "no experimenting" (cited in Droste 2006, p. 40). Most female students were relegated to the "more women-friendly" weaving workshop. Bauhaus researcher Anja Baumhoff explains this in part as a conscious and strategic act undertaken to protect men's jobs. The labor market of the Weimar Republic was tight, and the women could have matured into serious competition for the men if they had received training in other fields. In contrast, the textile industry was an uncontroversial choice as most men considered that work undesirable. Jobs in that branch were moreover considered under threat in view of the increasing industrialization.
"LET'S MAKE A CARPET OUT OF IT": A LIFELONG DREAM IS SHATTERED
When at the age of 20, just under 5 feet tall and weighing a mere 90 pounds, Gertrud Arndt arrived in Weimar to begin her studies in the winter semester of 1923/24, she was hoping that the scholarship meant her financial worries were over and that she would soon be earning her own living as a trained architect. She had no idea of the misogyny awaiting her.
As a separate architecture department did not yet exist at the Bauhaus, she enthusiastically signed up for a course in architecture with Adolf Meyer, but she immediately felt out of place as the only woman in the class. In the end, she too landed in the weaving workshop after another instructor, Georg Muche, eyed her first color compositions on paper and muttered, "Let's make a carpet out of it" (quoted in Leßmann, Zwischen Sachlichkeit ..., p.8). The delicate woman detested the laborious work on the giant loom. Even in the early 20th century, women were still considered incapable of doing sculpture "because of the physical strength" it required (Karl Scheffler). However, no one objected to women working on the huge looms. Textiles had always been a feminine domain; yarns and threads belonged in the hands of women. The belief, formulated by Jean Jacques Rousseau and others, was firmly ensconced in the upper classes: girls only reluctantly learned to read and write "but always liked to know how to use a needle" (quoted in Felix, 2010, p. 24).
Arndt stressed again and again: "I never wanted to weave," (quoted in Leßmann, Zwischen Sachlichkeit …, p. 9). But from the age of 22 onwards, she was obliged to work on abstract geometric wall hangings, tablecloths, and furniture covers. She fashioned plaid and striped fabrics in rich colors, and woven and knotted rugs, often with tiny squares. In 1925, she created her acclaimed Carpet 2 for the director`s office. Two years later, after moving from Weimar to Dessau with the Bauhaus, she designed Carpet Thost, which was no less popular. On March 4, 1927, Gertrud Arndt passed her journeywoman's examination. And from that day on she never set foot in a room with a loom again.
"EACH MUST DO THE SAME - OTHERWISE THE MARRIAGE IS INVALID": ALFRED ARNDT
Gertrud Arndt loved people. She liked to laugh. And she could be fierce: in 1924 and together with Mila Lederer, for example, she rebelled against the practice of exhibiting Bauhaus students' works without their names. When she married the Bauhaus architect Alfred Arndt (1896-1976) in 1927, she again demonstrated an assertiveness that was unusual for a woman at that time by drafting a "marriage contract." Choosing a light tone and yet weighing her words with deliberation, she demanded "complete equality between the wife and the husband" and stipulated that "each must do the same - otherwise the marriage is invalid" (quoted in Eigentlich wollte ich ja Architektin werden, 2013, pp. 62/63). Disillusionment was to set in a short time later. After marrying, Arndt moved in with her husband in Probstzella, Thuringia, where he had been working as a freelance architect since 1926. She at first concentrated on photographing her husband's buildings. But when he was appointed master and instructor at the Dessau Bauhaus finishing workshop in 1929, his 26-year-old wife felt sidelined. At least professionally. In contrast to her student days, she was largely uninvolved in the Bauhaus activities. Her Mask Portraits were started around 1930 to compensate for this sudden marginalization: "So I was at home, condemned to inactivity, so to speak. And out of boredom I started taking these photos… It was my only joy." (quoted in Leßmann, Die Maske ..., p. 275).
"SCHMIDTCHEN ... WAS THE ONLY ONE WHO KNEW WHAT I WAS DOING": PHOTOGRAPHER WITHOUT AN AUDIENCE.
Arndt had already taught herself photography during her apprenticeship in Erfurt. In the beginning she focused primarily on buildings, but shifted her attention to people during her training as a weaver and later while "a master's wife by profession." The portraits of her close friend Otti Berger are especially impressive. Arndt designed remarkable still lifes, stacked glasses to create subtle interplays of light and shadows, and documented on film striking scenes of her party-loving fellow students at the art school. She enjoyed experimenting with the techniques and perspectives typical of the time - unusual oblique views, exaggerated lower and upper views, radical cuts, sharp contrasts of light and shadow. From the start she had also always felt at ease in a photographic laboratory; when the Arndts moved into a house designed by Walter Gropius in 1929, she immediately set up a darkroom for herself in the bathroom. Surprisingly, however, she never referred to herself as a photographer and supposedly almost no one knew she was taking photographs. On the one hand, as she proudly emphasized later when a senior citizen, upon her arrival in Weimar "no one could take photographs. The only one who ... (could) was Lucia Moholy .... And I…" (quoted in Das Verborgene Museum, p. 5). On the other hand, she claimed that Joost Schmidt ("Schmidtchen"), the head of the Bauhaus advertising department, was the only one "who knew what I was doing" (quoted in Das Verborgene Museum, p. 42), other than her friend Otti Berger and her husband Alfred.
"YOU COULD CALL THAT A MASK": MASK PORTRAITS
Gertrud Arndt needed a broomstick, a few centimeters of black thread and allegedly only a few days to shoot her 43 Mask Portraits. Her old camera, dating back to her student days, did not have a self-timer. She therefore spontaneously designed a practical construction out of a broomstick and some thread. Today, these pictures are among the most frequently mentioned self-portraits of women photographers of the Weimar Republic and are often cited in the same context as the self-portraits of Marta Astfalck-Vietz, Claude Cahun, Cindy Sherman or Sophie Calles. By her own admission, Arndt did not create her mask portraits for the public. Nevertheless, in 1979 and half a century after their creation, she agreed to presenting them to a larger audience for the first time at the Museum Folkwang in Essen.
Naive girl, wicked woman, introverted widow, exuberant clown, reserved Asian, lavishly styled Spaniard - why did Arndt use all these clichés? What did these discrepant roles have in common with her own self? Was she exposing or hiding herself? Can these photographs even be considered self-portraits? Arndt's contemporary, Robert Breuer, defined self-portraits as the "indiscretions, (...) for which the artist bears full responsibility." And Arndt took full responsibility. When asked in 1993 whether her Mask Portraits revealed facets of the self or whether they reflected external clichés, she replied: "...but they're all you ... you only need to open your eyes, and you're already someone else. And if you then disguise yourself…" (quoted in Das Verborgene Museum 1994, p. 32) And: "Who are you? ... Maybe you always have a mask…Someplace you always have an expression you want… You could call that a mask, couldn't you?" (quoted in Leßmann, Zwischen Sachlichkeit..., p. 13)
In addition to the phenomenal faces she made as an apt counterattack on the bourgeois conventions of femininity, another act of protest stands out in the Mask Portraits: the numerous lushly flowing scarves, expensive lace, cheap fabric flowers, and folksy dirndls are stylistically incompatible with the ubiquitous Bauhaus demand for a steady reduction of form. Arndt, who rejected any and all dogma, seemed to have therefore especially enjoyed using all the chichi accessories in her mask disguises. She even referred to this as her "recuperation" (quoted in Leßmann, Die Maske..., p. 274).
"WHAT I WOULD HAVE TO SAY TO THE WORLD WOULD BE SO TRIVIAL": REDISCOVERY
"For whom? For what? For making money, yes, that's necessary of course" (quoted in Müller, p. 61) was the reaction of Arndt when she was rediscovered in the last third of the 20th century along with other Bauhaus artists and designers. "What I would have to say to the world would be so trivial." Arndt was visibly active as an artist for only 13 years. It seems that external circumstances and conventions were stronger. Despite her rebellious nature and despite her marriage contract. When daughter Alexandra was born in 1931, it evidently fell upon her to take care of the child. And when, after the closure of the Bauhaus in the following year, she went back to Probstzella together with Alfred Arndt, she evidently henceforth worked in the "background." In 1937, son Hugo was born, and in 1948 the family of four moved from the Soviet-occupied zone to Darmstadt, where Gertrud Arndt died on July 10, 2000 at almost 97 years of age. "Is she finding herself or is she hiding?" Sabina Leßmann asked once in view of the Mask Portraits. Gertrud Arndt left us some answers during that brief period of time when she created the portraits. The rest remains unknown.
(Translated with DeepL.com; edited by Ramona Fararo, 2023.)
Please consult the German version for additional information (pictures, sources, videos, bibliography).
Author: Annette Bußmann
If you hold the rights to one or more of the images on this page and object to its/their appearance here, please contact Fembio.
---