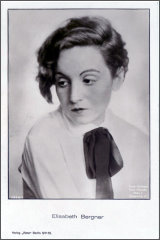 (Elisabeth Ettel)
nata il 22 agosto 1897 a Drohobycz, Galizia
morta il 12 maggio 1986 a Londra
attrice e regista austriaca-inglese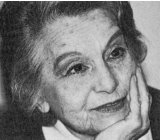 A ottantotto anni, la femme enfant nonché femme fatale dei dorati anni venti è diventata un' «incantevole anziana signora, non priva di tratti inquietanti». Da questa descrizione traspare intatto il fascino che avevo reso unica l'interpretazione dell'attrice diciannovenne a Zurigo, nel ruolo di Ofelia (accanto a Moissi), nelle vesti della Lulu di Wedekind o – il più importante dei suoi molti ruoli in panni maschili – come Rosalinde di Shakespeare. Nella vita e sulla scena ha sempre rifiutato ruoli fissi, coinvolgendo nella sua intensa vitalità uomini e donne, colleghi e spettatori, a teatro e al cinema, senza mai consentire a una prossimità che sarebbe risultata limitante: rimane sempre "la Bergner", ma inafferrabile. Molti la ritraggono, personaggi famosi le dedicano i loro versi, letterati e critici si abbandonano a enfatiche perifrasi per descrivere la sua arte e la sua personalità, i giornali le dedicano densi articoli e ritratti; ma immagini della sua vita privata sono pressoché introvabili.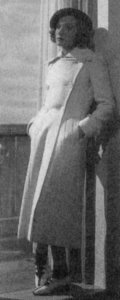 Ha vissuto intensamente, ha fatto tante cose e si è piegata raramente: non a Brecht, per esempio, ne a Shaw, e men che meno alle esigenze dei suoi numerosi amori (che l'hanno sempre seguita, ovunque lei li trascinasse). Intuizione e improvvisazione: l'esecuzione d'insieme non è per lei. Il matrimonio con Paul Czinner – regista di oltre la metà dei suoi ventidue film – è «l'amicizia più bella della sua vita».
Debutta a Innsbruck, poi la chiamano a Zurigo, a Vienna, a Monaco e nella capitale, Berlino. Dal 1924 al 1941 interpreta, oltre che opere teatrali, quasi un film all'anno (i più popolari: Der Geiger von Florenz, Ariane, Der träumende Mund). Nel 1933 è in Inghilterra per impegni cinematografici e decide di non tornare in Germania; lavora per il teatro e il cinema e, scoppiata la guerra, si trasferisce negli Stati Uniti (dove collabora con Brecht e Auden). Nonostante la scarsità di mezzi, si impegna per i perseguitati e in opere di sostegno ai bambini. Aiuta molte persone a emigrare. Tramite Albert Einstein si accosta alla Christian Science. Soltanto nel 1954 ritorna in scena a Berlino, quindi a Düsseldorf. Dal 1968 a 1983 recita in Inghilterra e in Germania anche per la televisione.
Tratto da: Un mondo di donne. Trecento ritratti celebri. A cura di Luise F. Pusch e Susanne Gretter. Il Saggiatore, 2006.
(Per (ulteriori) dettagli date un'occhiata alla versione tedesca!)
Citazioni:
Elisabeth Bergner racconta il suo debutto a Innsbruck:
Ero uno di quei talenti "poco appariscenti". Facevo insomma parte della schiera delle attrici più o meno dotate. E così dovetti masticare amaro. Molto amaro. Dovetti far anticamera con un numero imprecisato di agenti, e poi far provini sotto lo sguardo di direttori di teatri di provincia a cui non piacevo per niente.
Ero abbastanza disperata. Ma poi, poco prima di Natale, quando la stagione di prosa era già iniziata da un bel po', Leopold Turner mi ingaggiò a Innsbruck per il resto della stagione. Vale a dire per quattro mesi. Gli recitai la parte dell'elfica Rautendelein (operetta di Zöllner tratta da Hauptmann, ndt), lui commentò: "Con questa voce roca da basso non può mica interpretare una parte così." Ma mi assunse lo stesso.
E così mi ritrovai a Innsbruck. A denti stretti e con obblighi operettistici.
Col senno di poi devo dire che il fatto di non essere stata ingaggiata da un teatro importante fu una vera benedizione. Al conservatorio mi ero sempre tenuta in disparte per non essere vista, e adesso prima di entrare in scena mi capitava di essere talmente impaurita e emozionata che spesso inciampavo sul palco - senza alcun motivo. Inciampavo sui miei stessi piedi, per così dire. Soprattutto quando interpretavo pezzi classici come La sposa di Messina o Saffo, e sempre con indosso lunghe tuniche greche. In genere il pubblico si metteva a ridere. Una volta perfino applaudì. Mi chiesi a lungo se si trattasse di un applauso scaturito da un senso di pietà o, invece, di crudele compiacimento.
La cosa più bella di Innsbruck erano le rappresentazioni pomeridiane delle fiabe per bambini: Biancaneve, La Bella Addormentata, Hänsel e Gretel. Lì non mi agitavo per niente, e neppure inciampavo.
Un'altra cosa: Iniziai a scrivere lettere a agenti teatrali. Grandi agenti di fama internazionale, di cui avevo letto o sentito il nome da qualche parte. Ce n'era uno, per esempio, che si chiamava Frankfurter, e aveva per clienti tutti i più importanti cantanti d'opera del tempo. Non sapevo nemmeno se lavorasse anche con gli attori. Gli scrissi. Gli chiesi di venire a Innsbruck per constatare di persona quanto fossi brava e diversa dalle altre. Non venne. A dire il vero non mi rispose nemmeno. E la stagione era già agli sgoccioli.
Poi però, inaspettatamente, mi arrivò una lettera da Zurigo. C'era scritto che un certo dottor Reucker stava per partire per Vienna e avrebbe avuto piacere di incontrarmi a Innsbruck, all'Hotel Tirolo, ad una certa ora. Ovviamente mi feci trovare puntualmente sul posto.
[Dopo il provino, Bergner era convinta che fosse andata male. E invece poco dopo le venne offerto un contratto biennale con lo Züricher Stadttheater.] Lacrime di gioia, contentezza profonda. Finalmente si apriva il sipario sul primo atto. Tutto ciò che era accaduto fino ad allora era stato infatti solo un prologo. (Bergner 1978, p. 21-23).
Questionario:
Cosa pensa degli animali feroci? – Non ho ancora avuto il piacere di conoscerli. Non ne possiede nessuno? – Sì, un canarino. Cosa le piace? – Viaggiare, sciare, nuotare. Cosa odia? – Le donne che fumano. E allora perché Lei fuma? – Io ammiro le donne incoerenti. Cosa le piacerebbe essere se non fosse la Bergner? – Vetturina. Perché? – Mi piacciono le cose esotiche. (cit. da Völker 1990, p. 221)
Traduzione di Donatella Trevisan
Author: Swantje Koch-Kanz
If you hold the rights to one or more of the images on this page and object to its/their appearance here, please contact Fembio.
---