Biographien Erika Giovanna Klien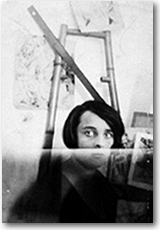 * 12/4/1900 a Borgo Valsugana in Trentino
+ 19/7/1957 a New York
artista figurativa e insegnante di discipline artistiche
massima rappresentante del cinetismo viennese
Un connubio inscindibile tra arte e vita: così si può riassumere il percorso esistenziale di Erika Giovanna Klien. Cresciuta in un ambiente familiare piccoloborghese di funzionari, Klien annullò ben presto i confini che separavano la sua produzione artistica dalla vita di ogni giorno. Suo padre le impedì, probabilmente a causa dello scarso rendimento scolastico, di realizzare il suo sogno di diventare attrice, ma nel 1919 le consentì di frequentare la Scuola d'Arte e Artigianato di Vienna, dove poté affinare le sue già notevoli doti di disegnatrice. Nell'istituto, la futura Accademia di Arti Applicate (Hochschule für Angewandte Kunst), il periodo del primo dopoguerra fu segnato da una fortissima volontà di riforma. Le lezioni degli insegnanti, tra cui molti importanti artisti, vertevano sulle correnti dell'Avanguardia europea, sul Futurismo e sul Cubismo, sul Costruttivismo e il Bauhaus. Al centro dell'impostazione pedagogica vi era il tentativo di abbattere il muro che divideva arte e artigianato.
Durante i suoi studi viennesi Erika Giovanna Klien conobbe Franz Cizek, figura carismatica della pedagogia riformatrice, che svolse un ruolo fondamentale nel percorso formativo della giovane artista. Con il suo invito a "dispiegare l'anima verso l'esterno, oggi", Cizek tentava di liberare il potenziale creativo delle sue alunne e dei suoi alunni al di là di ogni convenzione di stile. Era quindi l'insegnante giusto per un'amante del teatro con un fortissimo bisogno d'esprimersi come la Klien. La visione olistica di Cizek, che considerava le arti figurative, la letteratura, la musica, il teatro, il ballo e l'architettura come mezzi d'espressione artistica di pari valore, si sposava alla perfezione con il talento versatile di Erika Giovanna Klien. Lei scriveva poesie e le trasformava in iscrizioni e strisce fumettistiche, facendo della propria calligrafia un gesto artistico autonomo. Nella sua corrispondenza privata sostituì i segni d'interpunzione, che le risultavano fastidiosi, con trattini di sospensione.
A suo modo Erika Giovanna Klien continuò comunque a rimanere fedele alla sua prima vera passione, il teatro. Amava attirare l'attenzione, si vestiva in modo eccentrico, la sua vita privata pareva un canovaccio drammatico, pieno di turbolenze sentimentali. Inoltre, nel 1922/23 frequentò la scuola di recitazione viennese che si trovava nei pressi dell'Istituto d'arte. In quel periodo Klien lavorò come attrice non professionista, occupandosi in modo intensivo del proprio corpo e sentendosi molto attratta dalla danza. Creò un teatro di marionette con un nuovo tipo di palco, proscenio e figure, giunto fino a noi completamente intatto, per il quale scrisse anche un'opera. La sua visione innovativa del teatro, in cui gli attori vengono sostituiti da oggetti, era in piena sintonia con l'atmosfera che si respirava negli anni '20: il fascino della metropoli, l'astrazione, la meccanica, il ritmo accelerato.
Le marionette di Klien sono però anche e innanzitutto espressione del cinetismo viennese, corrente artistica fondata da Franz Cizek e incentrata sul movimento nello spazio. Obiettivo principale del cinetismo era l'educazione ritmica delle sensazioni. Erika, l'allieva più talentuosa di Cizek, fu anche l'unica a sviluppare in modo autonomo le idee del maestro, dedicandosi alla rappresentazione di processi motori iterativi: la danza, il volo degli uccelli, movimenti ritmici astratti percorrono come un filo rosso tutta l'opera figurativa dell'artista. Cizek si preoccupò fin da subito, anche nel proprio interesse, di far partecipare Erika Giovanna Klien ad importanti mostre, come ad esempio la mostra delle arti di Parigi del 1925, la mostra internazionale di scrittura artistica moderna al Museo Austriaco dell'arte e dell'industria del 1926 e la International Exhibition of Modern Art di Katherine Dreier del 1926/27 a New York, dove Klien figurava – accanto a stelle di prima grandezza come Arp, Duchamp, Kandinsky, Klee – quale unica rappresentante dell'arte moderna austriaca. Nel catalogo della mostra Klien è inoltre la sola artista della quale viene indicata anche la "scuola d'appartenza" con la dicitura "Cizek Method".
Sebbene alla Scuola d'Arte di Vienna la percentuale di donne fosse alta, la loro strada verso l'affermazione artistica era irta di difficoltà di tipo economico e sociale. In genere finivano con lo svolgere professioni legate all'insegnamento o all'artigianato, come capitò anche a Erika Giovanna Klien. Nonostante il successo ottenuto alle mostre cui aveva partecipato, dopo il diploma non riuscì ad affermarsi come artista indipendente si dedicò alla pedagogia. Al pari di Cizek, anche Klien riteneva che l'insegnamento fosse esso stesso un'attività creativa e vi dedicò molte energie, impegnandosi sia sul fronte teorico che su quello pratico. Pur lavorando nel campo della grafica commerciale, dal 1926 al 1928 insegnò presso la Elizabeth-Duncan-Schule di Klessheim (Salisburgo), un'istituto improntato agli ideali di una femminilità libera sia dal punto di vista fisico che da quello spirituale propugnati dalla ballerina Isadora Duncan. Proseguì poi con successo la sua attività pedagogica presso la Stuyvesant School di New York, e negli anni successivi insegnò in almeno sette diverse scuole d'arte americane, tra cui le prestigiose Spence School, Dalton School e Walt Whitman School. A cavallo tra il 1930 e il 1940 fece la spola contemporaneamente tra tre istituti per garantirsi entrate sufficienti a mantenersi. È proprio in questa fase che videro la luce alcune delle sue opere più importanti.
Nel 1938 Erika Giovanna Klien ottenne infine la cittadinanza americana.
I motivi che nel 1929 avevano spinto Klien a lasciare l'Austria e trasferirsi a New York furono probabilmente di varia natura. Da un lato c'era senz'altro la forte attrazione che l'artista provava per il ritmo di vita pulsante della grande metropoli internazionale e la sua speranza di potersi affermare oltreoceano. Dall'altro vi era la nascita, illegittima, di suo figlio - fatto di cui tenne sempre all'oscuro sua madre - che rendeva ancor più pressante la necessità di incrementare le sue entrate. Dopo i primi entusiasmi, la lotta quotidiana per la sopravvivenza fece cadere Erika Giovanna Klien in uno stato di profonda prostrazione, arrivando a minare la sua salute. Per una donna sola e con un figlio la vita non era certo semplice nell'America della Grande Depressione: obbligata ad insegnare per sbarcare il lunario, Klien anche in America riuscì ad esprimere il suo talento artistico soltanto a sprazzi.
Erika Giovanna Klien morì d'infarto a New York all'età di appena 57 anni. Ci ha lasciato un'ampia eredità artistica che a partire dalla metà degli anni '70 ha iniziato ad essere studiata, apprezzata e resa accessibile al pubblico in misura sempre crescente.
Traduzione di Donatella Trevisan.
Per (ulteriori) dettagli date un'occhiata alla versione tedesca!
Author: Margit Oberhammer
If you hold the rights to one or more of the images on this page and object to its/their appearance here, please contact Fembio.
---