(Ruth Keller [Pseudonym])
nasce il 25 giugno 1926 a Klagenfurt
muore il 17 ottobre 1973 a Roma
poetessa austriaca
"Ma ciò che è possible, di fatto, è la modificazione. L'effetto modificante che scaturisce da un'opera nuova ci educa a una nuova percezione, a un nuovo sentire, a una nuova coscienza." Queste parole di Ingeborg Bachmann sembrano descrivere la sua consapevolezza di sé quale scrittrice ma, insieme, anche la ricezione dei suoi testi da parte del pubblico. Poesie, prose brevi, drammi radiofonici, libretti d'opera, discorsi e saggi o testi più ampi di narrativa – tutta la sua opera ha come fine ed esito "di condurre o di trascinare con sé chi legge nelle esperienze proprie di chi scrive." Soprattutto la sua penetrante rappresentazione della soggettività femminile all'interno di una società governata da uomini riesce a creare una "nuova consapevolezza", tanto che due suoi racconti, Un passo verso Gomorra e Undine va, del 1961, possono essere annoverati tra le prime espressioni letterarie del femminismo nella Germania del dopoguerra.
Nell'opera in prosa più tarda (Malina, del 1971, Simultaneo, del 1972) e nei testi pubblicati postum (Il caso Franza e Requiem per Fanny Goldmann) Ingeborg Bachmann anticipa ancora una volta i tempi, rappresentando figure di donne che la società patriarcale vuole plasmare a propria immagine. Qui l'attenzione all'identità femminile si accompagna alla critica del tempo: "Il fascismo… inizia nel rapporto tra esseri umani. Il fascismo è la prima cosa che si manifesta nel rapporto tra un uomo e una donna."
Dopo la guerra, Ingeborg Bachmann studia filosofia, germanistica e psicologia. Da 1957 al 1963 – gli anni in cui è legata allo scrittore Max Frisch – vive tra Zurigo e Roma. Rifiuta il matrimonio in quanto "istituzione impossibile… per una donna che lavora e che pensa e che ha un proprio volere." Dalla fine del 1965 ritorna a vivere a Roma. Nonostante la salute precaria (una cura medica sbagliata la costringe per anni a dipendere dai farmaci) progetta di trasferirsi a Vienna, ma muore per le conseguenze di un incendio provocato da un incidente.
(traduzione Maria Gregorio)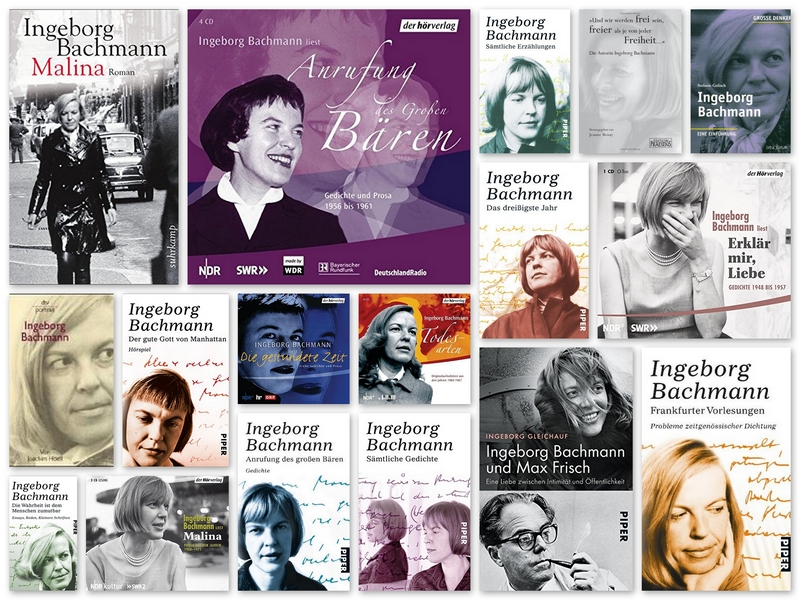 Author: Joey Horsley
Links:
Ingeborg-Bachmann-Forum Bachmann-Preis Würdigung zum 80. Geburtstag
Achberger, Karen. 1995. Understanding Ingeborg Bachmann. Columbia, S.C. : University of South Carolina Press.
Bachmann, Ingeborg. 1993. Werke in vier Bänden. Hg. von Christine Koschel, Inge von Weidenbaum und Clemens Münster. München. Serie Piper 1700.
Bachmann, Ingeborg. Wir müssen wahre Sätze finden. Gespräche und Interviews. München: Piper 1983 (3. Auflage 1991).
Bachmann, Ingeborg & Hans Werner Henze. 2004. Briefe einer Freundschaft; Hg. Hans Höller; Vorwort von Hans Werner Henze. München. Piper.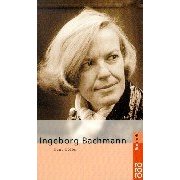 Beicken, Peter. 1988. Ingeborg Bachmann. München. Beck'sche Reihe Autorenbücher (BsR 605).
Höller, Hans. 1987. Ingeborg Bachmann. Das Werk. Von den frühesten Gedichten bis zum "Todesarten"-Zyklus. Frankfurt/M.
Höller, Hans. 1999. Ingeborg Bachmann. Reinbek bei Hamburg. rororo monographie.
Lennox, Sara. "Ingeborg Bachmann." The Literary Encyclopedia. 18 Sep. 2004. The Literary Dictionary Company. 19 June 2006.
Text + Kritik. Sonderband: Ingeborg Bachmann. 1984. Gastredaktion Sigrid Weigel. Darin: Otto Bareiss: Vita Ingeborg Bachmann, S. 180-185; Otto Bareiss: Auswahlbibliographie 1953-1983/84, S. 186-215. München.
Weigel, Sigrid. 1999. Ingeborg Bachmann: Hinterlassenschaft unter Wahrung des Briefgeheimnisses. Wien. Zsolnay.
If you hold the rights to one or more of the images on this page and object to its/their appearance here, please contact Fembio.
---