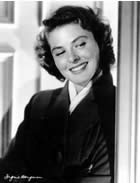 nasce il 29 agosto 1915 a Stoccolma
muore il 29 agosto 1982 a Londra
attrice svedese
In Svezia Ingrid Bergman è già una star, nel 1939, quando il produttore David O. Selznick la invita negli Stati Uniti. Lì tutti, uomini e donne, si entusiasmano della sua "naturalezza", del suo fare materno e della fedeltà al marito, il medico svedese Petter Lindström. Ingrid è Giovanna d'Arco non soltanto sullo schermo, e pertanto le si perdona anche quel tratto di lascivia che incarna nei film di Hitchock, Notorius, Il peccato di Lady Considine e Sotto il Capricorno. E in Casablanca, quando nella più famosa delle scene d'addio decide di non seguire Humphrey Bogart, nessuno sembra aspettarsi altra scelta da lei.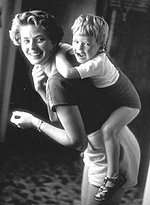 Ma la scomunica dei moralisti la colpisce puntualmente quando, nel 1949, gira in Italia Stromboli con Roberto Rossellini. Si innamora del regista italiano e per lui lascia marito e figli; nel 1950 lo sposa e con lui avrà tre figli. Girano insieme sette film, che tuttavia non riscuotono grande successo, specie negli Stati Uniti dove di fatto sono boicottati. Ingrid Bergman non è più la "star" di una volta e per parecchio tempo Rossellini le proibisce di recitare con altri registi. Nel 1957 divorzia e l'anno successivo sposa il produttore svedese Lars Schmidt, che lascerà nel 1970.
Nel frattempo l'America si è riconciliata con lei e nel gennaio 1957, quando vi ritorna per la prima volta dopo nove anni di assenza, riceve a New York un'accoglienza entusiastica; riprende a girare regolarmente film. Nel 1982 interpreta Una donna di nome Golda, ma è già molto malata e morirà di cancro nello stesso anno. Al funerale, in un angolo della chiesa si sente un violino suonare la melodia di As Time Goes By.
(traduzione Maria Gregorio)
Author: Susanne Gretter
Per la bibliografia e filmografia vedere la versione tedesca.
If you hold the rights to one or more of the images on this page and object to its/their appearance here, please contact Fembio.
---