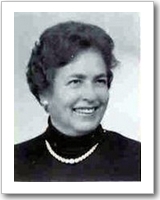 (Prof. Johanna Blum)
1. gennaio 1920, Bolzano, Sudtirolo
8 novembre 2005, Bolzano
Organista, direttrice di coro e insegnante di musica, fondatrice delle scuole musicali sudtirolesi
"Voglio suonare il pianoforte, ma deve essere un pianoforte ad alto volume", affermò decisa la piccola Johanna Blum quando scoprì il suo amore per la musica. Il padre era morto precocemente, e a Johanna pensava sua madre, che la seguì amorevolmente per tutta la vita. Il loro legame umano rimase fino alla fine il punto di riferimento più importante per entrambe.
Il talento di Johanna Blum si manifestò molto presto, permettendole di frequentare il liceo musicale. Essendo tra le migliori allieve della scuola, già all'età di 13 anni potè trascorrere otto giorni a Roma, dove incontrò anche il duce e Papa Pio IX. Ma la musica non era la sua sola passione. Avvicinatasi allo sport in seguito alle terapie motorie che le erano state prescritte per curare la poliomelite di cui soffriva, Johanna Blum si innamorò delle discipline acquatiche: il nuoto e i tuffi. Per molto tempo la sua carriera musicale e quella sportiva proseguirono di pari passo. Infatti, con la determinazione che la contraddistingueva, nel 1937 Johanna Blum - nonostante l'handicap fisico - divenne campionessa italiana di tuffi. Alla fine scelse però di fare la musicista. "C'era anche un'altra ragione che mi spingeva a ritirarmi dallo sport. Non ero certa di riuscire ad impormi a livello internazionale, per via della mia malattia. Era una consapevolezza dolorosa, ma avevo ragione." (p.60)
Così Johanna Blum proseguì gli studi musicali, stavolta a Graz e Klagenfurt, dove passò gli anni della guerra. Nel 1939 la madre, prendendo una decisione non certo facile per se stessa e per la figlia ancora minorenne, aveva infatti "optato" per la Germania. Terminati gli studi a Graz con l'esame di stato da organista, nel 1944 Johanna Blum fu incaricata di dar vita ad una scuola musicale in Sudtirolo. Così lo stesso anno iniziò a tenere i primi corsi a Bressanone. Alla fine della guerra, terminata l'occupazione tedesca e confermata l'appartenenza del Sudtirolo all'Italia, Johanna Blum si ritrovò in una specie di limbo e per un certo periodo dovette arrabattarsi con piccoli incarichi e qualche lezione di musica. Successivamente, come "rioptante", riuscì ad ottenere la cittadinanza italiana grazie al fatto che il padre era stato un ufficiale dell'Impero Austroungarico con cittadinanza polacca.
A Bolzano Johanna Blum fondò una scuola di canto privata per bambini. Quando a partire dal 1951 iniziò ad insegnare all'istituto magistrale si dette da fare anche lì, dando vita ad un coro che vinse per due volte consecutive un prestigioso concorso nazionale. Tale circostanza attirò l'attenzione del direttore del Conservatorio di Bolzano, che la assunse come insegnante: "Vincere una volta è bello, ma vincere due volte è straordinario."
Johanna Blum accolse l'incarico piena di incredulità: all'epoca in tutta Italia esistevano solo dodici Conservatori, e quindi entrare di ruolo in uno di essi era assai difficile. Ancora non pensava che più tardi ne sarebbe diventata addirittura la direttrice. Temendo che il riconoscimento del suo titolo di studio conseguito in Austria potesse tardare ad arrivare, pensò bene di iscriversi ai corsi del conservatorio. E infatti il riconoscimento sarebbe arrivato soltanto nel 1967.
"La cosa che però mi stava più a cuore e mi sembrava più importante dal punto di vista professionale era l'istituzione di scuole di musica." (p. 153) Per realizzare questo suo obiettivo, Johanna Blum scorazzò per anni attraverso tutto il Sudtirolo con la sua Topolino, impegnata in una continua opera di coordinamento, collegamento e convincimento. Voleva risvegliare l'interesse per la musica e promuoverne la conoscenza a tutti i livelli. Riteneva infatti che la musica non fosse mera materia di studio, bensì anche fondamentale ausilio di vita e accesso privilegiato e olistico all'umanità. La musica permetteva inoltre di esprimere e far crescere la propria personalità ed indentità, e quindi era ben più che un semplice passatempo.
La chiamavano la "madre delle scuole musicali", e ne andava profondamente fiera. Per lei, che si era ritirata dall'attività al Conservatorio per accudire la madre negli ultimi anni di vita, quel soprannome aveva certo un significato particolare.
Per molti anni Johanna Blum fu anche stretta collaboratrice di P. Oswald Jaeggi, e alla sua morte gli subentrò nella direzione della Kantorei Leonhard Lechner. In una recensione dell'epoca si legge: "La strana sensazione di vedere sul podio del direttore d'orchestra una donna si è trasformata subito in totale ammirazione. Aveste visto come teneva in pugno il coro, questa donna!"
Un altro ambito cui la professoressa Johanna Blum diede un notevole impulso fu quello della musica popolare: contribuì alla sua diffusione, pubblicò una raccolta di canzoni popolari, creò un archivio di spartiti e scrisse numerosi articoli per la rivista di cultura popolare "Schlern".
Johanna Blum, che era di casa nei congressi di musica in tutto il mondo, si permetteva però anche il lusso di sottrarsi alle convenzioni. Riusciva a discutere - ora in modo serio, ora facendo sfoggio del suo innato umorismo - con i testimoni di Geova così come con i frati del Convento Muri di Gries, con musicisti celebri, tra cui i suoi amici Cesar Bresgen e Zoltan Kadoly, come con le sue vicine di Auna di Sotto. Mantenne sempre vivi anche i rapporti con le vecchie compagne e i vecchi compagni di scuola, compreso il "fascista" Pierino Mitolo, uno dei leader del movimento sociale italiano.
Attivissima anche in vecchiaia, imparò ad usare Internet e la posta elettronica, e continuò così a comunicare con amici e conoscenti sparsi per tutto il mondo.
Al matrimonio e alla maternità Johanna Blum pensò soltanto per un breve periodo: "...il rammarico di dover abbandonare tutto quello che fino ad allora avevo imparato, fatto e realizzato nella mia vita divenne sempre più forte. Davvero era stato tutto per niente? Questo pensiero non mi dava tregua e così maturò in me la decisione di non compiere un tale passo." (p. 143)
Per la sua importante opera di pioniera delle scuole musicali ottene numerosi e prestigiosi riconoscimenti pubblici: oltre alla Croce al Merito del Land Tirolo (1979) e al Premio "Walther von der Vogelweide" (1973), le vennero tra gli altri attribuiti anche il distintivo d'oro dell'Associazione delle bande musicali sudtirolesi e la medaglia Lassus dell'Allgemeiner Cäcilienverband (per i suoi meriti nel campo della musica corale e da chiesa).
traduzione di Donatella Trevisan
Bibliografia:
Blum, Johanna. 2000. "Wer sich die Musik erkiest": Ein Lebensbild. Bozen. Athesia. (Tutte le citazioni del testo sono tratte da questo volume).
Author: Ulrike Spitaler
Citazione:
"Tutti questi riconoscimenti, cui ora si aggiunge anche il nostro, non bastano tuttavia a svelare l'essenza della sua opera. Qui si tratta di una cosa più grande: si tratta dell'agire di una vera e propria personalità capace di conseguire questi risultati, una personalità che è stata in grado, sempre e sempre di nuovo, di smussare contrasti a volte anche feroci, di avvicinare punti di vista tra loro estranei, soprattutto in questo crocevia di due grandi, antiche culture, che a Johanna Blum sono familiari in pari misura. Chi come lei è riuscito ad immergersi in modo così totale nell'essenza di una cultura sta sopra le parti, sta lì dove si incontrano le anime e non le spade."
(Laudatio di Cesar Bresgen, Premio "Walther von der Vogelweide", tratto da: Südtirol in Wort und Bild, quaderno 3, agosto 1973, anno XVII)
Per (ulteriori) dettagli date un'occhiata alla versione tedesca!
If you hold the rights to one or more of the images on this page and object to its/their appearance here, please contact Fembio.
---