Biographien Margarete von Tirol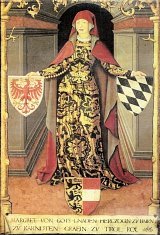 (Margarethe Maultasch, Margarete Maultasch, Margarethe von Tyrol; Margaretha Maultasch)
1318–1363
Contessa di Tirolo
Figlia di Adelaide von Braunschweig e di Enrico, duca di Carinzia e conte del Tirolo, Margarete detta Maultasch ("bocca larga") all'età di 12 anni viene data in sposa a Giovanni di Boemia. Alla morte del padre Margarete si trova a governare, giovanissima, i territori del suo casato. Ma il futuro imperatore Carlo IV, fratello di suo marito, le muove guerra. Margarete perde la Carinzia, riesce tuttavia a tenere il Tirolo stringendo un patto con la nobiltà tirolese. Nel 1341 costringe il marito alla fuga sbarrandogli l'accesso alla dimora principesca di Castel Tirolo. L'imperatore Ludovico il Bavaro, che da tempo trama per espandere la propria zona d'influenza, preme perché Margarete sposi suo figlio, Ludovico di Brandeburgo. Per rendere possibile il connubio, nonostante l'opposizione del Papa l'imperatore dichiara nullo il primo matrimonio della Maultasch.
Sono anni difficili per il Tirolo: tra il 1338 e il 1341 le cavallette distruggono più volte le campagne, nel 1344 un forte terremoto devasta la zona tra Bolzano e Merano, danneggiata poco tempo prima da un'inondazione, e quattro anni più tardi si diffonde la peste. Nel 1347 Margarete affronta da sola nel suo castello il rinnovato assalto dell'imperatore Carlo IV, fratello del primo marito, che, approfittando dell'assenza di Ludovico, tenta di impadronirsi del Tirolo. Non ci riesce, anche per l'eroica resistenza di Margarete, che non cede il castello fino all'arrivo del marito.
Ludovico muore improvvisamente nel 1361, durante un soggiorno a Monaco. Due anni più tardi muore anche Mainardo, l'unico figlio sopravvissuto di Margarete. Il 29 settembre 1363 Margarete cede definitivamente il Tirolo agli Asburgo e si ritira a Vienna. Si spegne in solitudine nel 1369, all'età di 51 anni.
Le leggende fiorite intorno alla figura di Margarete Maultasch sono innumerevoli. Dipinta come donna deforme, violenta e lussuriosa, dalla bocca gigantesca, Margarete nell'immaginario collettivo si impone come simbolo della virago famelica e vendicativa. Quasi sicuramente Margarete non ha mai messo piede in Carinzia. Eppure le leggende parlano diffusamente della sua spedizione militare, di castelli distrutti, di regioni devastate senza pietà, di violenze inaudite perpetrate senza scopo contro donne, vecchi e bambini. In Stiria e nei dintorni di Salisburgo viene descritta ricoperta da un'armatura di ferro, fortissima, che cavalca neri cavalli, il cui respiro brilla nella notte. Si nutre di carne cruda, afferra gli uomini, succhia il loro sangue oppure ci fa il bagno. Altrove si narra il seguente episodio: Margarete, vedova del secondo marito, promette la sua terra a chi dimostri di essere più potente nell'atto amoroso. Molti si presentano per superare la prova, ma non riescono a soddisfarla. Parecchi nobili si rifiutano di partecipare alla gara, perché Margarete è troppo brutta e deforme. Anche sulla sua fine le mistificazioni grottesche abbondano: ormai sazia di uomini, dopo inaudite lussurie rivolge il suo amore a un mulo, per il quale fa costruire un grande letto. Viene poi schiacciata dalla bestia e termina così miseramente la propria vita. D'altronde, non si tratta di una novità. Fin dall'antichità, infatti, alle donne che gestiscono un potere viene costantemente attribuita una vita sessuale sfrenata, è una specie di topos letterario. E così anche nel caso di Margarete la storiografia riprenderà con insistenza l'intreccio potere/deformità/lussuria.
Secondo il volgo corrente, il soprannome "Maultasch" deriverebbe dalla bocca larga e informe e dalla mascella pendente di Margarete. In realtà l'unico ritratto di Margarete a lei contemporaneo che possediamo è il sigillo che accompagna il documento di cessione del Tirolo agli Asburgo e che riporta una figura femminile flessuosa e aggraziata, di cui però non riusciamo a distinguere la fisionomia. Anche nelle fonti scritte del suo tempo Margarete non appare mai come deforme, tutt'altro. Johann von Winterthur, morto nel 1348, la definisce pulchra nimis, Heinrich von Herford, morto nel 1370, la descrive come tam pulchra, tam generosa.
Ancora oggi la vicenda di Margarete Maultasch, soprattutto a causa dell'intrico ormai sedimentato tra storia e mito, si sottrae a ogni forma di chiarificazione definitiva. Margarete, diventata nel tempo, anche etimologicamente, "mostro", rimane comunque l'emblema di un'alterità e di una diversità irriducibili.
"Liebes langer Mangel ist maines Herzen Angel" , cioè "La lunga mancanza d'amore è una spina nel mio cuore" (frase incisa nella coppa d'argento che Ludovico di Brandeburgo regalò a Margarete come dono di nozze).
Author: Barbara Ricci und Donatella Trevisan
BIBLIOGRAFIA ESSENZIALE
G.NEGRO-B.RICCI-S.ANTONELLO, La spina nel cuore. La figura di Margarete Maultasch fra Otto e Novecento, Bolzano 1998 AA.VV., Il sogno di un principe. Mainardo II. La nascita del Tirolo.Catalogo della mostra 1995 A. BAUM, Margarete Maultasch. Erbin zwischen den Machten, Graz 1994 F.BRZOSKA, Margarete, Grafin von Tirol. In: Der Schlern 1982 M.FERRANDI, L'Alto Adige nella storia, Bolzano 1955 O. von LUTTEROTTI, Angebliche Portrats der Margarete Maultasch. In: Veroffentlichungen des Museum Ferdinandeum, Innsbruck 31 (1951) G. RIEDMANN, Literatur in Sudtirol. Von 1919 bis heute. Zwischen Realitat und Fiktion. In: AA.VV., Wort im Gebirge, Innsbruck Wien 1989 J.RIEDMANN, Mittelalter. In: Geschichte des Landes Tirol, Bd.1, Bozen-Innsbruck-Wien 1990 H. WIESER, Der Brautbecher der Margarete Maultasch, Schlernschriften nr. 234, Innsbruck 1966
MARGARETE MAULTASCH NELLA LEGGENDA E NELLA LETTERATURA
I. ZINGERLE, Die Sagen von Margarethe der Maultasch, Innsbruck, 1863 R. GREINZ, Der Hirt von Zenoberg, 1922 L.FEUCHTWANGER, Die haessliche Herzogin Margarete Maultasch, 1923 H. von SCHULLERN, Boccaccio auf Schloss Tirol, 1932 P. DEJAKO, Maultasche, in "Der Schlern", 1947 J.A. SCHULER, Die Graefin von Tirol, 1955 F. WIBMER-PEDIT, Margarete Maultasch, 1966 S.FREIBERG, Die Maultasch, 1975
Per (ulteriori) dettagli date un'occhiata alla versione tedesca!
If you hold the rights to one or more of the images on this page and object to its/their appearance here, please contact Fembio.
---