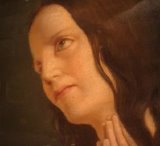 (Maria Theresia von Mörl)
Nata il 15 ottobre 1812 a Caldaro, Alto Adige/Italia
Morta l'11 gennaio 1868 a Caldaro/Alto Adige/Italia
Stigmatizzata (dal 1812 portatrice delle stigmate di Cristo)
Solo per vederla, nel corso di un'unica estate a Caldaro, piccolo centro dedito alla viticultura a sud di Bolzano, arrivarono ben 40.000 pellegrine e pellegrini. Avevano affrontato strade disastrate, si erano dovuti arrangiare alla bell'è meglio con il vitto e con l'alloggio, ma nessun sacrificio sembrava loro eccessivo dinnanzi alla possibilità di posare lo sguardo su Maria von Mörl, la giovane di nobili origini che con gli occhi rivolti al cielo e le mani affusolate congiunte levitava sopra il suo letto. In un'epoca in cui Protestantesimo e Modernismo rischiavano di far vacillare le fondamenta religiose del sacro Tirolo, lei contribuì a riavvicinare molti fedeli agli antichi valori del Cattolicesimo. Nel clima di generale lacerazione e di profonda crisi spirituale dovuto alla guerra e all'Illuminismo, la vergine estatica rappresentava un punto di riferimento per molti.
Non è poi un caso che nello stesso periodo anche altre mistiche stigmatizzate tirolesi facessero parlare di sé. Pochi anni prima nessuno avrebbe prestato loro attenzione, perché la società non aveva bisogno di loro.
Nessuna delle altre donne divenne tuttavia tanto famosa quanto Maria von Mörl e nessuna ricevette visitatori tanto illustri. Il pubblicista Josef Görres nella sua opera matura "Über christliche Mystik" le dedicò ben 30 pagine, Clemens von Brentano era un suo assiduo frequentatore e uno dei suoi ammiratori più devoti. Diversi esponenti della casa imperiale austriaca e vari membri della famiglia reale italiana vennero a porgerle i loro omaggi. Il Papa inviò il suo segretario, e giunsero anche innumerevoli vescovi dall'Europa, dall'Inghilterra e dagli Stati Uniti.
Maria von Mörl nacque nel mese di ottobre del 1812, come secondogenita di Maria Katharina Sölva e di Joseph Ignaz von Mörl del casato di Falzes, Mühlen e Sichelburg. Con ogni probabilità il matrimonio era stato combinato. La madre diciassettenne era di estrazione borghese, mentre il padre, venti anni appena compiuti, era il rampollo di una nobile famiglia tirolese. Quando Maria a 10 anni fece la comunione per la prima volta, "era talmente ebbra di fede e d'amore che, appena stretta la particola tra le labbra, perse i sensi e cadde a terra." Così ce la descrive la sua prima biografa Maria von Buol nel libretto "Herrgottskind".
La madre di Maria continuò a fare figli al ritmo di uno ogni anno o quasi. Morì durante il puerperio successivo al tredicesimo parto. Maria aveva allora appena 13 anni, ma poiché era la figlia più grande, dovette occuparsi dei fratelli e della casa. Suo padre preferiva andare a caccia.
Tre dei fratelli Mörl morirono durante i primi anni di vita, altri tre entrarono in convento. Ad eccezione di un fratello che beneficiò dell'eredità e si sposò, tutti gli altri non si sposarono mai ed ebbero bisogno di cure per tutta la vita. Anche Maria era piuttosto cagionevole di salute sin dalla prima infanzia. Inoltre diversi biografi raccontano che spesso il padre, quando la sera tornava a casa alticcio, la buttava fuori dal letto e la picchiava senza motivo. Tutti sono però concordi nell'affermare che lei lo perdonò.
A 17 anni Maria von Mörl venne affidata alla guida spirituale di un confessore che si occupò quasi esclusivamente di lei. Si trattava di Padre Johannes Kapistran Soyers, una figura controversa che si prese cura della sua anima fino alla morte sopraggiunta nel 1865.
Per lungo tempo fu il solo capace di mandarla in estasi e farla poi ritornare in sé. Le ordinava di flagellarsi e la frustava di persona fino a che il sangue schizzava sui muri. Poiché durante l'estasi pareva che fosse anche sotto l'influsso del demonio, il martirio, secondo la concezione mistica del tempo, non era affatto ingiustificato. Come spiega la teologa Nicole Priesching, la flagellazione e la sofferenza costituivano il mezzo per diventare una cosa solo con Cristo, ma anche per espiare le colpe del padre e dell'umanità in generale.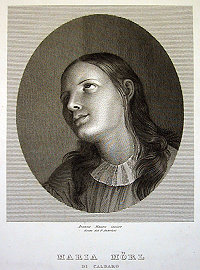 Più volte fu sottoposta a riti di esorcismo, ad esempio dopo che le furono trovati addosso peli di cavallo, unghie e spilli o dopo il suo tentativo fallito di buttarsi dalla finestra. Il diavolo svolgeva un ruolo importante nel piano di guarigione: Satana mette infatti a dura prova gli uomini, i quali, superando le difficoltà, si avvicinano progressivamente alla salvezza.
"La Santa Comunione l'ha turbata molto. Soffriva e si tormentava perché in quella stessa notte era stato commesso un reato. Il suo desiderio di macerarsi si è fatto più acuto. È stata nuovamente istruita ad obbedirmi, affinché io continuassi a martoriarla, cosa che avverrà senza attentare alla sua castità, in nome di Dio sulla corona", così annota il confessore nel suo diario il 10 novembre 1833.
Indubbiamente vale la pena di analizzare le sofferenze di Maria von Mörl. L'abuso fisico da parte del padre forse era di tipo sessuale e i suoi attacchi estatici (isterici) potevano quindi essere la conseguenza di una sottomissione sessuale e di una costrizione a compiere atti sessuali, come postulato da Janet e Freud in merito all'insorgenza dei fenomeni di isteria.
A rafforzare questa ipotesi contribuisce un dato: il 90% dei 600 stigmatizzati a livello mondiale sono donne.
Solo dopo la morte del padre Maria von Mörl si ritirò in convento, anche se già da anni faceva parte dell'ordine secolare delle terziarie francescane. Da quel momento in poi si isolò completamente. Non mise quasi più piede fuori dal convento delle terziarie a Caldaro che la ospitava e non scambiò mai una parola con i visitatori e le visitatrici che la venivano a trovare.
Morì l'11 gennaio 1868 all'età di 56 anni, nel 36. anno della sua "visione estatica", come riportano le cronache delle sue consorelle.
Maria aveva sempre pregato affinché le sue stigmate scomparissero al momento della morte. L'8 gennaio, tre giorni prima del suo decesso, sulla pelle delicata si vedevano ormai solo delle cicatrici. Al momento della morte erano scomparse anche quelle.
C'è una domanda a cui non è mai stata data risposta, e forse non è nemmeno necessario darla: Cos'è l'isteria e cos'è il misticismo? Può un'isterica essere anche mistica e può una mstica essere isterica?
Traduzione: Donatella Trevisan
Per (ulteriori) dettagli date un'occhiata alla versione tedesca!
Author: Astrid Kofler
If you hold the rights to one or more of the images on this page and object to its/their appearance here, please contact Fembio.
---