Fembio Specials Famous Women Poets Julia de Burgos
Fembio Special: Famous Women Poets
Julia de Burgos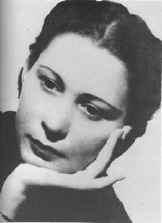 (Julia Constanze Burgos García)
born 17 February 1914 in Carolina, Puerto Rico
died 6 July 1953 in New York, NY
Puerto Rican poet
95th birthday 17 February 2009
Biography • Literature & Sources
Biography
It is often difficult to distinguish between the myth "de Burgos" and the reality of the woman born Julia Constanze Burgos García. Legends remain—and an oeuvre of over 200 poems. Her life began in a barrio, but as the first of thirteen children she was given the chance to go to school. Julia de Burgos loved the landscape of her homeland, especially the Río Grande de Loíza, that in a poem of the same name she calls "My wellspring, my river / since the maternal petal lifted me to the world."
At a young age she learned to love literature. She is beautiful, precocious, sensitive, and has a facility for languages. By age 19 she has already completed a university degree, and soon thereafter she joins the "daughters of freedom", then the Puerto Rican nationalist party. She becomes a teacher, then a writer. In 1938 she publishes her first collection of poems, which she promotes herself by traveling across the island giving readings and trying to sell the slim volume. A second collection follows only a year later. The third appears posthumously in 1954.
Julia marries young, but dissolves the bond after three years. When she meets the Dominican revolutionary Juan Isidro Jimeses Grullón, she finds a great passion, a love of which she sings in many of her later poems. She follows him to Cuba in 1939, and eventually to New York. But this relationship also falls apart.
After a second sojourn in Cuba, de Burgos returns to New York alone. As a poet, she has many admirers, but she feels isolated in its concrete canyons and suffers from bouts of depression. Her life ends at age 39 in that "tragic horizon of stone." An alcoholic, she collapses on the street, is taken to the hospital where she dies of pneumonia. Friends are finally able to trace her to an anonymous paupers' grave and have her remains returned to Carolina in Puerto Rico.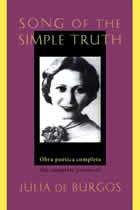 Author: Margaret E. Ward
Literature & Sources
Chabrán, Myrtha. 1984. "Exiles", in Between Women. Ed. Carol Asher, Louise DeSalvo & Sara Ruddick. Boston, MA. Beacon.
de Burgos, Julia. 1997. Song of the Simple Truth. Obra completa poética—the complete poems. Ed., transl. and introd. by Jack Agüeros. Willimantic, CT. Curbstone.
Fernandez, Ronald, Serafín Méndez Méndez & Gail Cueto. 1998. Puerto Rico—Past and Present. Westport CT. Greenwood
Martínez Masdeu, Edgar. 1993. Cronología de Julia de Burgos. Cuadernos del Congreso Internacional Julia de Burgos: 3. San Juan, Puerto Rico. Ateneo Puertorriqueno.
Rodríguez Pagán, Juan Antonio. 2000. Julia en blanco y negro. San Juan, Puerto Rico. Sociedad Histórica de Puerto Rico.
Springfield, Consuelo López. 1994. "'I am the Life, the Strength, the Woman': Feminism in Julia de Burgos' Autobiographical Poetry", Callallo 17.3 (1994), S. 701-14.
Vicioso, Sherezada. 1994. "Julia de Burgos: Our Julia", Callaloo 17.3 (1994), S. 674-83.
Zavala-Martínez, Iris. 1989. "A Critical Inquiry into the Life and Work of Julia de Burgos", in: The Psychosocial Development of Puerto Rican Women. Hg. Cynthia García Coll & María de Lourdes Mattei. New York. Praeger.
If you hold the rights to one or more of the images on this page and object to its/their appearance here, please contact Fembio.
---