Biographies Adelheid Amalie Fürstin von Gallitzin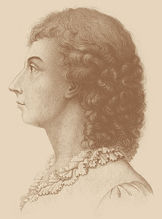 (née Countess von Schmettau)
born August 28, 1748 in Berlin/Germany
died April 27, 1806 in Münster/Germany
German writer and salonnière
275th birthday on August 28, 2023
Biography
After the death of her father, Amalie was placed in a convent school by her mother, who had been unable to bond with her children. Only partially educated and still quite naïve at the age of 13, Amalie left the convent and returned to Berlin where she was then schooled in Greek mythology, elegant French conversation, dance and music as preparation for the tiresome duties of a lady-in-waiting at the Prussian court.
The quiet and shy girl was ridiculed and felt unhappy in the superficial world of a court rife with scheming and subterfuge. She therefore accepted the marriage proposal of the extremely rich and educated – Voltaire and the Encyclopedists were among his friends – Russian Prince Dimitri Gallitzin. Her wedding night came as a shock and she fled in tears; upon being swiftly brought back with reference to "marital duties," she felt disgust for her husband and the couple failed to develop a rapport. After the birth of a daughter and a son, the prince, by then ambassador to The Hague, agreed to a divorce.
Amalie blossomed into a beautiful woman with a thirst for knowledge and a hunger for books. She wanted to learn in order to teach, and withdrew to a village with her children. Contrary to the customs of the time, she educated the children herself. Both son and daughter were schooled in the same subjects. Although they led a modest spartan life with emphasis on athletic activity, her aim with them and with all her subsequent students was to shape them into an elite. The children were unable to cope with her demands; the constant criticism and punishments made them feel inadequate and impeded their further emotional development as well.
Her personal tutor was Frans Hemsterhuis, a well-known councilor of state and philosopher who visited almost daily and wrote to her regularly. She was respected, admired, and even adored by many others as well.
She called upon the Vicar-General Franz Friedrich Wilhelm von Fürstenberg, the founder of the University of Münster, to learn about the education reform he had implemented in the Münster diocese. She had translated his 1776 edict on education into French. A spontaneous attraction developed between these two extraordinary people and Amalie moved into an apartment in Münster, where she remained for 27 years until her death. With scientists, scholars and politicians as guests, her salon was not dissimilar to an academy. Friedrich Heinrich Jacobi, Goethe's "soul brother," stopped by while on the way to Wolfenbüttel to visit Lessing. The two of them discussed literature during that first visit and Jacobi remained her friend and advisor.
Because Amalie so vigorously claimed her own further education and personal development, and because she remained vulnerable and easily upset due to her troubled childhood yet could also be offensive and domineering, she was not initially greeted with enthusiasm in Göttingen as a university student (1781) or in Weimar as a participant in Goethe's circle (1785). The poet wrote of his first impressions to Frau von Stein in Kochberg: "... we are not yet getting anywhere with Gallitzin. I don't know, she does not fit in. Things are going better with the men (Hemsterhuis and Fürstenberg)." Only later did he conclude: "She has a precious soul. I am not surprised that she attracts people so ..."
Her unconventional appearance in simple, casual clothes and with cropped hair, as well as her athletic activities (she ran and jumped around with the children; she rode; she swam in rivers) provoked the ladies in particular and led to pointed remarks. Amalie, unperturbed by the gossip, once again sought out a quiet retreat and rented a farmhouse in Angelmodde near Münster. "A few hours of solitude every day are necessary for my happiness and peace of mind." She also committed herself to helping ordinary people, especially children, in order to "educate and inspire" them.
Amalie developed plans for women's education in 1783. "It is not as difficult as one would think to start a revolution in women's education ...," she wrote to Hemsterhuis.
With Münster occupied by the Prussians in 1802, Amalie remained in the background, but found herself at the center of the passive resistance.
She was repeatedly plagued by psychological crises and physical pain as she constantly exhausted herself. She died in April 1806 "and was buried, as she had wished, in Angelmodde, in the place where they bury the poor."
(Text from 1997; translated with DeepL.com; edited by Ramona Fararo, 2023)
Please consult the German version for additional information (pictures, sources, videos, bibliography).
Author: Adelheid Steinfeldt
Quotes
A few hours of solitude every day are necessary for my happiness and peace of mind.
It is not as difficult as one would think to start a revolution in women's education ..
If you hold the rights to one or more of the images on this page and object to its/their appearance here, please contact Fembio.
---