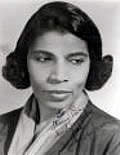 born February 27, 1897, Philadelphia, Pennsylvania
died April 8, 1993, Portland, Oregon
US-American singer
120th birthday on February 27th, 2017
Biography • Quotes • Literature & Sources
Biography
In 1955, toward the end of her long career, Marian Anderson became the first African-American to perform as a regular member of the New York Metropolitan Opera (as Ulrica in Un Ballo in Maschera). She had already achieved international recognition and adoration for her talent as a recitalist and for the warmth, grace, and dignity that she embodied professionally and personally. Marian won first prize in the New York Philharmonic voice competition in 1925, and was immediately signed by a concert manager, but it was not until the considerable success of her European tours that the American public took great notice of her. She toured extensively, including Japan, Israel, and a trip to India and the Far East sponsored by the State Department, sang at two presidential inaugurations, and won numerous honors and awards before she retired in 1965. She died of congenital heart failure in 1993.
As Marian expresses in her autobiography, My Lord, What a Morning, religion and family were two important factors shaping her life and career. She remembers a home full of love and joy while she was growing up in Philadelphia. The family was not well-off financially, and after her father John Anderson died when Marian was only ten, her mother Annie went to work cleaning and doing laundry to support her three daughters. Her unceasing hard work and sacrifice in the interests of her children had a great influence on Marian, who was determined to give something back to her mother. Beginning with the very first $5 she earned singing, Marian did, in fact, give much of her earnings to her family. One of her most important and proud memories is that of finally calling her mother's employer and informing her that Annie Anderson would not be returning to work. Annie influenced Marian's career more directly as well. After Marian's New York City debut was poorly attended and received, she withdrew from music in a period of depression and self-doubt. Marian gives special credit for her recovery to her mother's comfort and support.
The Union Baptist Church in Philadelphia, to which her father had belonged, gave Marian her start as a singer in the choir, and continued to support her throughout her early career. When Marian could not afford lessons with a professional voice teacher, Giuseppe Boghetti, the church gave a concert to raise the money for her lessons. Her early career as a soloist grew from her performances at the invitation of other churches and church groups who had heard her sing at her church in Philadelphia.
As an artist, Marian never ceased to study and strive for improvement. After observing a black woman playing piano, the child Marian was inspired to teach herself to play enough to accompany herself. Though she never received formal musical training, due mainly to obstacles of financial and racial nature, Marian continued to pursue her own musical education. Vocal and language training were the reasons for her first trips to Europe. Interestingly, though she always worked for perfection, she was too self-conscious and considerate to practice if she felt others around her might be disturbed! Racism in the United States unfortunately also played a large role in her life and career. Marian was encouraged by her family and admirers to attend a music high school in Philadelphia, but she was refused because of her race.
On her frequent tours of the United States, Marian experienced racial prejudice on a daily basis; she was often denied access to lodging or dining facilities. Perhaps the most famous incident of her career is tinged by the hatred of racism. When the Daughters of the American Revolution (DAR) refused to allow Marian as a black woman to sing in Constitution Hall in Washington D.C., Eleanor Roosevelt resigned from the organization in protest.
Later, at the invitation of the Secretary of the Interior, Marian sang at the Lincoln Memorial for Easter Sunday, April 9, 1939, for an audience of 75,000. Marian herself, though disturbed and saddened by racial inequalities in her country, did not see a role for herself as an active, aggressive opponent of racism. Rather, she preferred to educate and enlighten her listeners through the example of her own life and actions. She became a great advocate and role model for African-American musicians. She never seemed to give up hope for the future of both her people and her country.
Author: Katherine E Horsley
Quotes
I cannot stress too strongly how significant a role the audience plays in any concert… Of course you sing to and for all, but there may be one person who is unlike the other ninety-nine. This person, you sense, wants to be brought back into the fold and you can help bring him back. And so as you sing you have to be so deeply convinced of what you are doing that the person for whom you are singing will be convinced.
Each singer has his own way of learning a song. I like to hear the melody first, to get something from the music before I have begun serious work on the words. Then I read the poem apart from the music; I want to know what it is about. I want to know something about the way in which the song was written. I try to saturate myself in everything that relates to it. When I put words and music together I try to reach deeply into the mood. If I concentrate, and if there is nothing in the song to create unexpected difficulties, the task is not hard.
On the Daughters of the American Revolution (DAR) incident: I particularly did not want to say anything about the D.A.R. As I have made clear, I did not feel that I was designed for hand-to-hand combat.(Marian Anderson, My Lord, What a Morning)
Literature & Sources
Anderson, Marian. 1992 [1956]. My Lord, what a Morning: An Autobiography. Madison, WI. The University of Wisconsin Press.
Patterson, Charles. 1988. Marian Anderson. New York. Franklin Watts.
If you hold the rights to one or more of the images on this page and object to its/their appearance here, please contact Fembio.
---