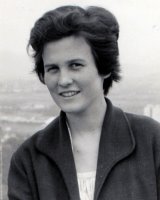 (Andreina Ardizzone Emeri)
nata il 1. febbraio 1936 a Bolzano, Sudtirolo/Italia
morta il 30 luglio 1985 durante un viaggio a Capo Nord, Norvegia
femminista, avvocata e politica sudtirolese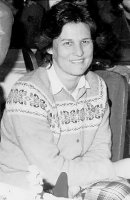 Andreina Emeri fu una protagonista di spicco degli anni 70 e 80 in Sudtirolo. Sospinte dalla ventata di cambiamento e di emancipazione scaturita dal 68 e dal movimento studentesco, le donne iniziarono ad organizzarsi e a formare gruppi. Nel 1971, Andreina Emeri fu tra le fondatrici del 'Gruppo Alessandra Kollontaj' di Bolzano, che fino alla sua morte non smise mai di animare. Si trattava di un 'collettivo', che in poche parole voleva dire che non esistevano scale gerarchiche e che le decisioni venivano prese sempre in comune. Il 'Kollontaj' si riuniva ogni giovedì, puntualmente alle otto e mezza. Gli incontri si svolgevano spesso a casa di Andreina Emeri, dove i suoi figli più grandi badavano ai piccoli delle altre, dove si mangiava e beveva, dove era possibile scambiarsi idee, opinioni ed esperienze senza essere disturbate.
Autocoscienza e rivendicazione del riconoscimento pubblico e giuridico dei diritti delle donne divennero ben presto due concetti indissolubili. Le donne facevano sentire la loro voce, si attivavano politicamente, scendevano in piazza, scuotevano l'opinione pubblica e mietevano notevoli successi. Le manifestazioni pubbliche non miravano soltanto all'introduzione di nuove leggi, ma avevano anche lo scopo di rendere visibile la profonda esigenza di autodeterminazione delle donne.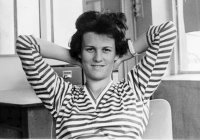 Intorno alla figura di Andreina Emeri ruotarono molte delle più importanti iniziative femministe in Sudtirolo. Dall'esperienza del collettivo delle donne 'Kollontaj' scaturì ad esempio direttamente la creazione, nel 1973, del consultorio AIED (Associazione Italiana per L'Educazione Demografica), di cui Andreina Emeri divenne presidente e rappresentante nazionale. Nell'ambito del consultorio, mise a disposizione le sue competenze di avvocata fornendo consulenze giuridiche gratuite alle utenti del centro.
***
Nel 1954, a diciotto anni, Andreina Emeri si iscrive a Roma alla Facoltà di Giurisprudenza. L'anno dopo sposa - contro la volontà dei genitori - l'avvocato Claudio Emeri, di molti anni più anziano di lei. Con lui si trasferisce a Milano, dove prosegue gli studi e collabora all'attività del marito. Nel 1957 i due tornano a Bolzano, e il 14 agosto Andreina dá alla luce il loro primo figlio, Andrea. Oltre a coltivare forti interessi intellettuali e professionali, Andreina nutriva infatti il profondo desiderio di creare una famiglia e vivere l'esperienza della maternità. Le nuove responsabilità non le impediscono però di concludere gli studi, superare l'esame di stato e lavorare nello studio legale del marito. Nel 1960 nascono i due gemelli Gian Claudio e Michele, nel 1963 la figlia Valentina.
Gli ideali, la forza interiore e l'energia fattiva di Andreina Emeri impregnarono fortemente la sua vita privata e la sua famiglia. "Crescevamo in un mondo che in realtà non esisteva", racconta la figlia Valentina in un'intervista. Anche la sua attività di avvocata era segnata dall'impegno sociale, in particolare nel settore del diritto della famiglia e del lavoro. Rappresentante legale di sindacati e associazioni di tutela degli inquilini, Andreina Emeri - che era una delle prime avvocate donne del Sudtirolo - divenne presto uno stabile punto di riferimento per tutte le sudtirolesi bisognose di aiuto legale.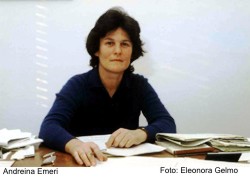 A partire dal 1983 Andreina Emeri affiancò al suo impegno come attivista per i diritti delle donne anche la presenza politica nelle istituzioni. Candidata alle elezioni provinciali con la "Lista Alternativa per l'Altro Sudtirolo", venne eletta in consiglio e riuscì a far sì che le tematiche legate alla condizione delle donne fossero trattate e discusse a livello politico. "Si faceva paladina delle esigenze delle donne con assoluto impegno, caparbietà e capacità di imporsi, senza mai diventare scorretta. Per questo anche i suoi avversari la rispettavano." Così recita uno dei tanti messaggi di cordoglio seguiti alla sua scomparsa.
Andreina Ardizzone Emeri morì inaspettatamente il 30 luglio 1985 durante un viaggio in Norvegia.
Traduzione: Donatella Trevisan
Author: Ingrid Facchinelli
Bibliografia:
Andreina, scritti e ricordi / Schriften und Erinnerungen, Andreina Emeri 1936 – 1985, Hrsg. Ingrid Facchinelli, Edi Rabini, Eigenverlag: Fondazione Alexander Langer Stiftung (www.alexanderlanger.org)
Per (ulteriori) dettagli date un'occhiata alla versione tedesca!
If you hold the rights to one or more of the images on this page and object to its/their appearance here, please contact Fembio.
---