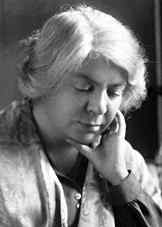 nasce il 27 settembre 1871 a Nuoro
muore il 15 agosto 1936 a Roma
scrittrice italiana
150. anniversario il 27 settembre 2021
E Dio prometteva una buona annata, o per lo meno faceva ricoprir di fiori tutti i mandorli e i peschi della valle; e questa, fra due file di colline bianche, con lontananze cerule di monti ad occidente e di mare ad oriente, coperta di vegetazione primaverile, d'acque, di macchie, di fiori, dava l'idea di una culla gonfia di veli verdi, di nastri azzurri, col mormorio del fiume monotono come quello di un bambino che s'addormentava.
Descrizioni della natura pregnanti come questa, tratta dal suo romanzo preferito "Canne al vento", pubblicato nel 1913, sono una caratteristica distintiva della scrittrice sarda Grazia Maria Cosima Damiana Deledda.
Deledda divenne famosa per i suoi racconti ambientati nell'entroterra sardo, e più precisamente nella zona intorno a Nuoro, una piccola cittadina ai piedi del Monte Ortobene. Nota come Barbagia, questa terra montuosa e inospitale, dal clima rigido, in cui domina incontrastata la natura selvaggia, è segnata da paesini quasi inaccessibili e una popolazione orgogliosa e testarda, le cui umane vicende Deledda narra con grande maestria.
Grazia Deledda nacque a Nuoro il 27 settembre 1871, quinta di sette fratelli e sorelle. Suo padre, sindaco della città e diplomato in legge, era un agiato e austero imprenditore dedito al commercio di sughero, carbone e formaggio, che però scriveva anche poesie. La madre – analfabeta come all'epoca quasi tutte le donne sarde – si occupava della casa e della famiglia. Era una donna riservata, dal carattere taciturno e quasi enigmatico, come si legge in "Cosima", romanzo autobiografico di Deledda.
Grazia era una ragazza estroversa e piena di talento, dotata di una capacità d'apprendimento elastica e rapida, colma di curiosità e determinazione. Aveva imparato a leggere e scrivere ancor prima di iniziare la scuola, che tuttavia frequentò per soli 4 anni. A casa sua si parlava esclusivamente il dialetto sardo, ma privatamente Grazia imparò l'italiano, il francese e il latino. Iniziò presto ad occuparsi di letteratura e ad immergersi nella lettura. Leggeva tutto quel che le capitava tra le mani, dalla Bibbia ai romanzi italiani ai classici della letteratura straniera.
All'età di 17 anni pubblicò la sua prima novella, "Sangue Sardo", in un giornale romano. A Nuoro l'iniziativa suscitò vasta indignazione, perché contravveniva alla norma non scritta che prevedeva che gli esseri di sesso femminile dovessero dedicarsi esclusivamente alle faccende domestiche. Anche i suoi parenti la osteggiavano, poiché temevano che nessun uomo avrebbe mai sposato una donna che scriveva, ricoprendo di disonore la famiglia e tutto il paese.
Queste reazioni ostili portarono Grazia a coltivare per lungo tempo la sua passione per la scrittura di nascosto. Pur vivendo in una condizione economicamente agiata, la vita della sua famiglia fu costellata da drammi e avvenimenti tragici: un fratello divenne alcolizzato e interruppe gli studi di medicina, un altro si perse nel mondo del crimine, suo padre morì nel 1892 per un infarto e quattro anni dopo morì anche sua sorella Vincenza.
Nonostante il fatto che a Nuoro a cavallo del secolo vi fosse un ambiente culturale assai vivace e il Caffè Tettamanzi fosse regolarmente frequentato da uomini illustri, la vita delle donne era relegata tra le mura domestiche, lontano dal mondo. L'unica distrazione che permetteva di uscire dalla grigia quotidianità erano le feste paesane e il carnevale, occasioni in cui si poteva ballare e cantare.
Nel 1899 Grazia Deledda si trasferì nel capoluogo sardo, Cagliari, dove sperava di trovare un ambiente letterario a lei più consono. Erano gli anni della Belle Époque, e il sindaco voleva fare di Cagliari una cittadina mondana; c'erano cantieri ovunque e si respirava un'atmosfera aperta e vivace. Ospitata da Maria Manca, editrice della rivista "La donna sarda", Grazia conobbe Palmiro Madesani, un funzionario delle finanze italiano, che nel 1900 divenne suo marito.
Con Palmiro si trasferì a Roma, dove rimase fino alla morte. Condusse una vita appartata, dedita alla famiglia – ebbe due figli, Franz e Sardus – e all'attività letteraria. Suo marito, che sosteneva e appoggiava il suo lavoro di scrittrice, divenne il suo collaboratore più stretto. Deledda non partecipò – se non marginalmente - al dibattito politico, sociale e letterario del suo tempo. Si concentrò invece sulla Sardegna, la sua amata isola che voleva rendere famosa in tutto il mondo. E non certo raccontandone gli eventi storici, bensì descrivendo minuziosamente il cosmo senza tempo delle stagioni con i loro mutamenti, delle vicende che smuovono i cuori delle persone e degli oggetti di uso quotidiano.
Nel 1908 partecipò al primo congresso delle donne italiano, organizzato dalla pedagogista Maria Montessori. Nel romanzo "Cosima" (1937 postumo) cosí descrive se stessa:
Piccola di statura, con la testa piuttosto grossa, le estremità minuscole, con tutte le caratteristiche fisiche sedentarie delle donne della sua razza, forse d'origine libica, con lo stesso profilo un po' camuso, i denti selvaggi e il labbro superiore molto allungato: aveva però una carnagione bianca e vellutata, bellissimi capelli neri lievemente ondulati, e gli occhi grandi a mandorla, di un nero dorato e a volte verdognolo, con la grande pupilla appunto delle donne di razza camitica, che un poeta latino chiamò "doppia pupilla" di un fascino passionale irresistibile.
"La Deledda", come la chiamano benevolmente le abitanti e gli abitanti dell'isola, che si beano del suo successo, scrisse complessivamente 350 novelle, 30 racconti, 8 favole, 35 romanzi e un numero sconfinato di lettere.
Il suo libro più importante è il già citato "Canne al vento", che continua ad essere pubblicato e ripubblicato, non solo in italiano. Nel romanzo descrive la vita triste e laboriosa di una famiglia caduta in povertà nel brullo entroterra sardo. La storia delle tre sorelle Ruth, Noemi e Esther Pintor e del servo Efir ci regala uno spaccato fedele del carattere arcaico e sensuale della Sardegna, con la sua natura animata da esseri fantastici e forze magiche.
Deledda è fino ad oggi l'unica scrittrice italiana ad aver vinto il Premio Nobel per la letteratura, la seconda donna dopo Selma Lagerlöf (1909). Il premio le fu attribuito nel 1926 con la seguente motivazione: "Per la sua potenza di scrittrice, sostenuta da un alto ideale, che ritrae in forme plastiche la vita quale è nella sua appartata isola natale e che con profondità e con calore tratta problemi di generale interesse umano."
Grazia Deledda morì per un tumore all'età di 64 anni, il 15 agosto del 1936, a Roma. È sepolta in un sarcofago nella Chiesa della Madonna della Solitudine ai piedi del Monte Ortobene. La sua casa natale a tre piani nel centro di Nuoro è divenuta un Museo ("Museu deleddiano"), e la via in cui si trova è oggi intitolata alla scrittrice. Nel parco letterario "Grazia Deledda" di Galtellì vengono regolarmente organizzate passeggiate attraverso i luoghi che fanno da sfondo a "Canne al vento".
Di seguito un elenco delle sue opere più importanti:
Racconti sardi (1895)
Elias Portolu (1903)
Cenere (1904)
Nostalgie (1905)
L'edera (1906),
l vecchio della montagna"(1906)
Canne al vento (1913)
Naufraghi in porto (1920) La madre (1920)
La fuga in Egitto (1925)
Cosima (1937)

(Testo dal 2020; traduzione Donatella Trevisan 2021)
Per immagini, bibliografia e links vedere la versione tedesca.
Author: Heidi Hintner und Ingrid Windisch
If you hold the rights to one or more of the images on this page and object to its/their appearance here, please contact Fembio.
---