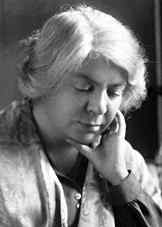 nasce il 27 settembre 1871 a Nuoro
muore il 15 agosto 1936 a Roma
scrittrice italiana
75. anniversario della morte il 15 agosto 2011
"Il plico del manoscritto è accuratamente involto in tela e carta; con una rete di spaghi che deve resistere al lungo viaggio di terra e di mare; ed è anche raccomandato: tutte spese che Cosima non può sopportare col suo scarno bilancio personale… Ma poiché è necessario andare avanti a tutti i costi, ecco la scrittrice, la poetessa, la creatura delle nuvole scende in cantina e ruba un litro d'olio." Con queste parole Grazie Deledda, unica scrittrice italiana insignita del premio Nobel per la letteratura (1926), descrive nel romanzo autobiografico Cosima (1937) i difficile esordi della sua eccezionale carriera letteraria.
Compone i primi versi a dodici anni, suscitando l'entusiasmo dell'insegnante, che subito intuisce per quella bambina un singolare avvenire di poetessa. A diciassette anni, il primo racconto; dopo di allora, scrive, scrive, scrive… fino all'ultimo giorno: trecentocinquanta novelle, trenta racconti, otto fiabe, quindici schizzi, tre romanzi. Scrivere è la sua vita; la lingua è la sua patria. I critici rimproverano a Deledda, posseduta dalla scrittura, una certa monotonia nella scelta dei temi, una qualche decadimento nella creatività artistica, ma lei non si lascia fuorviare.
Nei suoi testi è sempre presente la morte, oscura dea del destino, forza femminile estrema, incoercibile. L'energia vitale più intensa, la sessualità, vi appare spesso come forza letale a cui sono parimenti consegnati uomini e donne; ma, a differenza degli uomini, le figure femminili affermano la passione nella sua interezza e assolutezza.
Dedita soltanto alla famiglia e allo scrivere, dal 1900 Grazia Deledda vive a Roma con il marito, impiegato delle finanze, e i due figli. Muore di cancro a sessantaquattro anni. La sorella racconta della sua fine, attesa e accolta con devota serenità.
(Traduzione Maria Gregorio)
Per immagini, bibliografia e links vedere la versione tedesca.
Author: Roswitha Wohlgenannt
If you hold the rights to one or more of the images on this page and object to its/their appearance here, please contact Fembio.
---