Fembio Specials Women from Vienna Adelheid Reinbold
Fembio Special: Women from Vienna
Adelheid Reinbold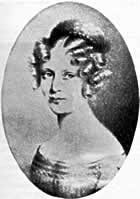 (Pseudonym: Franz Berthold)
German Writer
bon January 15, 1800 in Hannover
died February 14, 1839 in Dresden
Biography • Literature & Sources
Biography
From the recollections and acknowledgements of Adelheid Reinbold's contemporaries emerges virtually the ideal image of a woman: talented and cultured, politically engaged (liberal-progressive), charming and cheerful, self-confident yet modest, and on top of all that young, beautiful and slender. The shadow over this image was that she apparently had to suffer malicious gossip: from her letters and novellas one can surmise she experienced a tragic love affair. "Endowed with a masculine power in her talent, she was nevertheless truly feminine in her nature" – such was the judgment of virtually all who expressed their sadness at the sudden death of Adelheid Reinbold.
She had just begun her literary career, and her early death is probably the reason that she has remained so completely unknown to us. Only the "Idyll-Novella" Irrwisch-Fritze, (Will o' the Wisp Fritze) – according to Ludwig Tieck a "masterful portrait . . . so truly German . . . so simple, naive, mischievous, the events commonplace and yet marvellous" – was reprinted in Heyse's Deutscher Novellenschatz (1871; German Novella-Anthology). Her other works, especially König Sebastian (King Sebastian), are praised by her contemporaries for their "rare combination of strength, passion and tenderness;" the fact that "the woman is the hero," however, was criticized.
We know little about her life. She grew up in a respectable but impoverished civil servant's family, the oldest of twelve children. Her parents were apparently not up to this responsibility, however, and throughout her life Adelheid sacrificed her own needs to care for her siblings. As a governess in Vienna she became aquainted with the literary and political life of the time. She was unsuccessful in this occupation, however; conditions of dependency clearly did not agree with her "free spirit." She decided to try the "fashionable foolishness of scribbling for magazines" and wrote literary criticism, novellas, dramas, a novel, and poems.
Like so many female authors of the day, she wrote under a male pseudonym, Franz Berthold. In Dresden she was introduced into the Tieck household and was soon treated and loved as though she were a member of the family. Tieck published the majority of her works. Just as she seemed on the threshhold of success, and to the horror of her friends, Adelheid died suddenly of diphtheria.
"It is difficult to estimate what literature may have lost in her" (Tieck). It would definitely be a worthy project to rediscover her works, which though they belong to the realistic style incorporate romantic elements in a charming way.
Translated by Rebecca van Dyck and Joey Horsley.
Author: Hilde Fieguth
Literature & Sources
Berthold, Franz [= Adelheid Reinbold]. 1836/7. Novellen und Erzählungen, eingeführt von Ludwig Tieck. 2 Bde. Bunzlau. Appun's Buchhandlung.
Berthold, Franz [= Adelheid Reinbold]. 1839. König Sebastian, oder Wunderbare Rettung und Untergang. Hg. Ludwig Tieck. Dresden & Leipzig. Arnoldische Buchhandlung.
Berthold, Franz [= Adelheid Reinbold]. 1842. Gesammelte Novellen. Hg. Ludwig Tieck. Leipzig. Brockhaus.
Fieguth, Hilde. 1991. "Adelheid Reinbold [Franz Berthold]. (1800-1839): 'Ein wahres Talent, das zu den schönsten Hoffnungen berechtigte'", in: Schroeder, Hiltrud. Hg. 1991. Sophie & Co.: Bedeutende Frauen Hannovers. Hannover. Fackelträger. S. 101-122.
Reinbold, Adelheid. 1871 (1839). "Irrwisch-Fritze: Idyll-Novelle", in: Heyse, Paul & Hermann Kurz. Hg. 1871-1876. Deutscher Novellenschatz. 24 Bde. München. Oldenbourg. 1871, Bd. IV.
Tieck, Ludwig. 1848. Kritische Schriften, Bd. 2. S. 389ff (Forewords to works of Adelheid Reinbold he edited). Leipzig. Brockhaus.
Wetzel, Johannes. 1910. Adelheid Reinbold, die Schülerin Tiecks. Diss. phil. Leipzig.
If you hold the rights to one or more of the images on this page and object to its/their appearance here, please contact Fembio.
---