Fembio Specials Women from Vienna Amalie Joachim
Fembio Special: Women from Vienna
Amalie Joachim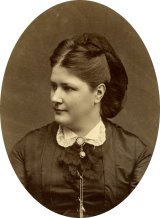 (Amalie Schneeweiß [Geburtsname]; Amalie Weiss [Künstlername])
*10 May 1839 in Marburg an der Drau
† 3 February 1899 in Berlin
Contralto soloist
Biography • Literature & Sources
Biography
Amalie Joachim née Schneeweiß hailed from Marburg an der Drau, at that time part of Steiermark, now Slovenia. Her father died when she was young. Hence even as a child she had to provide for her mother and sister with her sewing and singing. At age 14 she appeared on stage for the first time. Her stage career as Amalie Weiss took her from Troppau via Hermannstadt in Siebenbürgen (now Romania) to the Vienna Kärntnertor Theater (1854-62). There, however, she was cast only in small roles for eight long years. Her mother and sister became ill, and she incurred debts to pay for the cost of their care and eventually burials.
The chance of a lifetime came with an engagement at the Royal Court Opera in Hanover, at the time one of the leading German musical theaters. Here she experienced her breakthrough. But on 13 December 1862 she appeared for the first time in concert together with the famous violinist Joseph Joachim, then concert master in Hanover. She sang Leonore's aria from Beethoven's opera Fidelio; he played the Beethoven Violin Concerto. Two months later the two were engaged. She was 24 and he was 32 years old. Their friends were enthusiastic, especially Johannes Brahms. Joachim's family reacted differently. They were up in arms against this alliance. The bride was not of Jewish background like Joachim (who to be sure had had himself baptized in Hanover), and on top of that she was a "stage performer".
The wedding in the Schlosskirche (Palace Church) on 10 June 1863 was like an act of state. The Queen of Hanover, princesses and ladies of high society were all in attendance. For Amaile Joachim marriage meant departure from the stage. But in the second half of the 19th century the emergence of vocal performance in concert and oratorio settings opened new professional opportunities for women which were not considered morally or socially objectionable. Thus she was able to go on performing, insofar as her rapidly expanding family permitted—she had six children—and earned in this way a significant reputation as a performer of oratorio and song.
The divorce of the artist-couple in 1884 produced a virtual scandal. Amalie Joachim had great difficulty landing performance engagements. One of the few who stood up for her was Johannes Brahms. Eventually she succeeded in establishing a new career as an interpreter of Schubert, Schumann and Brahms, in particular. She also championed songs by women composers such as Clara Schumann and Clara Faisst. Up to her death Amalie Joachim was open to all new developments. She involved herself on behalf of H. Wolf, R. Strauss and G. Mahler and developed programs on the history of the German Lied with which she toured as far as the United States. In addition, Amalie Joachim founded a school for voice in Berlin, in which she collaborated with the breathing therapists Clara Schlaffhorst and Hedwig Andersen.
(trans. Joey Horsley)
For additional information please consult the German version.
Author: Beatrix Borchard
Literature & Sources
Literature
Borchard, Beatrix (2007): Stimme und Geige. Amalie und Joseph Joachim. Biographie und Interpretationsgeschichte. Mit CD-Rom. Wien. Böhlau (Wiener Veröffentlichungen zur Musikgeschichte, 5). ISBN 978-3-205-77629-1.
If you hold the rights to one or more of the images on this page and object to its/their appearance here, please contact Fembio.
---