Biographies Muriel Hazel Wright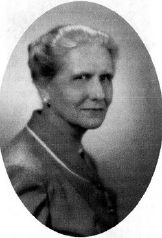 (Dr. Muriel Hazel Wright)
Born March 31, 1889, near Lehigh, Choctaw Nation (later Oklahoma)
Died Feb. 27, 1975, Oklahoma City.
US-American historian
40. anniversary of death
Biography • Literature & Sources
Biography
Muriel Wright, the daughter of a half-Choctaw father and a mother of Scottish and English descent, achieved prominence as a historian of the state of Oklahoma, in particular of its Indian heritage. She also played a central role in efforts of the Choctaw to receive a just settlement from the government for their tribal lands. In 1971 Wright was named the outstanding Indian woman of the 20th century by the North American Indian Women´s Association, one among many honors she received for her accomplishments.
Education was very important in Wright´s family; Muriel´s grandfather had been a graduate of Union Theological Seminary in New York as well as chief of the Choctaw nation, her father was a physician, and her mother a college graduate and Presbyterian missionary. When Muriel was old enough to enroll in school the family moved from their farm to a town in the region where she attended elementary school for seven years. Returning to the farm in 1902, Muriel and her sister were further tutored by their mother. Muriel attended Wheaton Seminary (now Wheaton College) in Massachusetts for two years, excelling in her studies. In 1912 she graduated from the newly formed East Central State Normal School in Ada, Oklahoma and began a career in teaching and school administration in her home state.
After 1924, Wright devoted her career chiefly to research and writing about the Oklahoma Indians. For over 50 years she worked as contributor and then editor for The Chronicles of Oklahoma, the quarterly journal of the Oklahoma Historical Society; her editorship of the journal (1955-73) brought Wright national recognition for the quality, originality and importance of the material published, including her own research. She also co-authored a 4-volume history of Oklahoma, and wrote three widely used texts of Oklahoma history as well as the distinguished reference work A Guide to the Indian Tribes of Oklahoma (1951).
Wright was also active on behalf of the Choctaw tribe, serving as a representative on its councils and working on the various economic matters involved in the transfer of tribal properties to private hands in the years following Oklahoma´s statehood (1907), and fighting for just recompense for the widespread plunder of Indian territory. She helped initiate and carry out a statewide program to identify and preserve historical sites, as for example the Choctaw Council House in Tuskahoma. Wright continued to write and plan projects until her death from a stroke in her 86th year.
Author: Joey Horsley
Literature & Sources
Arrington, Ruth. 1980. "Muriel Hazel Wright," in Notable American Women: The Modern Period. Hg. Barbara Sicherman, Carol Hurd Green, Irene Kantrov & Harriet Walker. Cambridge, MA; London. The Belknap Press of Harvard UP.
Gridley, Marion E. Hg. 1960 [1936]. Indians of Today. Third Edition. Chicago. Towertown.
If you hold the rights to one or more of the images on this page and object to its/their appearance here, please contact Fembio.
---