(Maria Fassnauer)
nata il 28 febbraio 1879 a Ridanna/Sudtirolo
morta il 4 dicembre 1917 a Ridanna/Sudtirolo
»Donna gigante« sudtirolese; a suo tempo la donna (probabilmente) più alta del mondo
Da piccola Maria Faßnauer, figlia di contadini sudtirolesi, era una bambina assolutamente normale. A tre anni però iniziò a crescere a dismisura fino a raggiungere, appena quindicenne, l'incredibile altezza di 2 metri e 27 centimetri. I media tirolesi non tardarono a scoprire la ghiotta notizia e a darla in pasto all'opinione pubblica. La »donna più alta di tutto il Tirolo« divenne così diffuso argomento di conversazione. Finiti gli studi, Maria Faßnauer iniziò a lavorare come contadina. Il business dei baracconi da fiera si era però accorto di lei, e i genitori subivano costanti pressioni da parte di »agenti dello spettacolo« ansiosi di esporre la giovane ragazza come attrazione nelle sagre e nelle fiere paesane. I due coniugi non cedettero tuttavia mai alle lusinghe finanziarie dei questuanti, anche se la famiglia era povera e avrebbe avuto assoluto bisogno di soldi.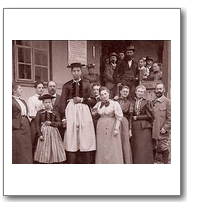 Nel 1906 fu Maria Faßnauer stessa a farsi infine convincere, e così iniziò – accompagnata da sua sorella – un tour di ben sette anni attraverso l'intero continente europeo. Vienna, Berlino, Amburgo, Londra, Manchester: Maria posò come attrazione in ogni genere di fiera e mercato, dal Kohlmarkt di Vienna all'Oktoberfest di Monaco. Partecipò come »oggetto d'esposizione« anche alla Mostra Universale di Bruxelles. Ovunque articoli di giornale preannunciavano l'imminente arrivo della »femmina più alta che sia mai esistita«, per stuzzicare la curiosità dei lettori e far accorrere il pubblico. Maria intanto risparmiava sui suoi guadagni per aiutare i genitori. Per il vestiario spendeva molto poco, visto che durante le sue esibizioni portava sempre un costume tirolese abbinato al tradizionale cappello maschile che doveva farla apparire ancora più alta e grottesca.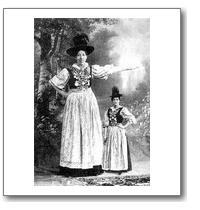 Nonostante fosse sempre sotto le luci dei riflettori, Maria conduceva una vita molto solitaria e isolata. Per evitare perdite finanziarie, i suoi »agenti« non le permettevano infatti di farsi vedere in pubblico se non durante gli spettacoli. Alla giovane e religiosa donna, che nelle sue lettere ai genitori confessava di sentirsi sola ed provare un'immensa nostalgia di casa, era soltanto concesso recarsi ogni tanto in chiesa a pregare.
Uno dei capitoli del libro di Inga Hosp »La gigantessa del Tirolo« reca il titolo »Un mostro per milioni«. Già: un mostro da esibire. Ogni volta che il banditore con abile voce da mercante intonava la rituale formula »Venghino signori, venghino! Vedano con i propri occhi Mariedl, la gigantessa del Tirolo!«, Maria stringeva i denti ed entrava in scena. Faceva fatica a stare in piedi per ore e ore, le sue gambe erano devastate dalle ulcere. Ma chi avrebbe mai pagato per vedere una gigantessa seduta? »Si dice infatti mettere in piedi un'esposizione, e non mettere seduta una donna esposta. Messo in piedi lo spettacolo, il fenomeno da baraccone è tuttavia davvero esposto. È cioè esposto al pubblico ludibrio. Che vi sia »ludo« e anche »brio« è l'aspetto più tremendo di tutta la faccenda.« (Inga Hosp)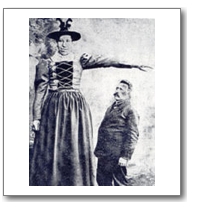 Nel 1913 Maria Faßnauer decise di interrompere la sua carriera di fenomeno da baraccone e fece ritorno a Ridanna. Estremamente provata sia nel corpo che nell'anima, trascorse i suoi ultimi anni di vita nel maso dei genitori, dove morì il 4 dicembre del 1917. Aveva solo 38 anni.
L'usanza di presentare persone con caratteristiche fisiche inusuali come attrazione per un pubblico sempre in cerca di sensazioni forti non appartiene solo al passato. Ancora oggi le persone »diverse« vengono spesso messe in mostra all'interno di talk shows e su internet, come animali da zoo.
Traduzione di Donatella Trevisan
Author: Barbara Stocker
Letteratura
Schneider, Samantha & Inga Hosp. 2001. Die Riesin von Tirol: Abnormitäten, Kuriositäten, Schaustellungen. Bolzano. Raetia.
Per (ulteriori) dettagli date un'occhiata alla versione tedesca!
If you hold the rights to one or more of the images on this page and object to its/their appearance here, please contact Fembio.
---