Fembio Specials Women from North and South Tyrol and the Trentino Johanna Blum
Fembio Special: Women from North and South Tyrol and the Trentino
Johanna Blum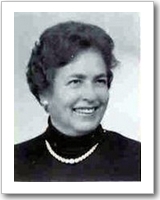 (Prof. Johanna Blum)
Born 1 January 1920 in Bolzano, South Tyrol, Italy
Died 8 November 2005 in Bolzano
Organist, choral director and music educator from South Tyrol, "Mother of the music schools"
Biography • Literature & Sources
Biography
"I want to play the piano, but it has to be a loud piano," said little Johanna Blum when she discovered her love for music as a child. After the early death of her father she grew up under the care of her mother, a tie which remained lifelong her most important human connection.
Her talent was recognized at an early age, and Johanna attended a high school for music. By the time she was 13 she was allowed, as one of the five best music students in the school, to spend eight days in Rome, where she met the "Duce" and Pope Pius IX. In the same period her athletic ambition and passion for swimming and high diving evolved, influenced by the motor skills training she received because she suffered from polio. For a long time she pursued both possible careers. Despite or – given Johanna Blum's persevering temperament – perhaps precisely because of her walking disability she became the Italian champion diver off the high board for 1937. Soon thereafter, however, she made a final decision in favor of music. "I wanted to withdraw from competitive swimming for another reason as well. Because of my disability I had doubts about whether I would be able to hold my own in an international field. This insight was painful, but correct" (60).
She continued her study of music, begun in Bolzano, in Graz and Klagenfurt. She spent the war years there, at times with her mother, who, in a difficult decision, had opted for Germany in 1939 for herself and her minor daughter. After completing her musical studies in Graz with a Staatsprüfung (certification) in organ Johanna Blum received an offer from South Tyrol in 1944 to develop a school of music. She began that same year in Brixen with the first courses. After the end of the war, when following the German occupation the political situation shifted again and South Tyrol was reclaimed as part of Italy, Johanna Blum was forced to make ends meet with small jobs and a few music lessons. As an "Optantin" (optee for Germany), and holding Polish citizenship because of her father, who had been an Austrian army officer, she was able to gain Italian citizenship only late. In Bolzano Johanna Blum founded a private singing school for children. From 1951 on she taught at the teacher training institute (and later also instructed kindergarten teachers); there she built up and led a chorus that won first prize at a national competition two times in a row. This caught the attention of the director of the Bolzano Conservatory, who hired Johanna Blum to teach there: "Vincere una volta è bello, ma vincere due volte è straordinario." (Winning once is fine, winning twice is extraordinary.)
This professional opportunity had not been expected by Johanna Blum, for at that time there were only twelve music conservatories in all Italy and it was extremely difficult to land a position in one of them (in 1980-81 she would take over as director of the Bolzano Conservatory). In the meantime she began a renewed course of study there in music herself, since she feared that official recognition of her Austrian exam qualification might be delayed; indeed, this recognition did not come until 1967.
"The thing that seemed important to me in my professional life and that I cared most about was starting and developing music schools" (153). And over the course of her career Johanna Blum travelled to every corner of South Tyrol in her little Fiat Topolino to advance her life's project to initiate and advance the German music school in South Tyrol. She was tireless in her efforts as coordinator and talked endlessly with people to stimulate and foster an interest in music. Her dedicated work on behalf of the South Tyrolean music schools makes her position with regard to music very clear: she believed that music provides support through life and offers a holistic approach to the human being; it plays a major role in the development of personality and identity—and is definitely much more than a mere pastime.
She was referred to as the "mother of the music schools," a title that pleased her immensely and must have had a special meaning for a woman who had given up her teaching activities at the conservatory in order to care for her own mother during her last years of life.
After the death of her long-time colleague P. Oswald Jaeggi she took over his Kantorei Leonhard Lechner. A review from the time commented: "The first, unfamiliar sight of a woman on the conductor's podium soon gave way to admiration. One had but to observe how firmly this woman had the chorus under control!" Professor Johanna Blum left an imprint on musical life in additional ways as well: through her cultivation of folk song, her edition and publication of a song book, her collection of song scores and numerous publications in the South Tyrolean cultural journal Der Schlern.
Johanna Blum, who felt at home as a lecturer at music conventions and symposia around the world, also allowed herself to be unconventional. She could be just as serious or humorous in her discussions with Jehova's Witnesses as with the clerics of Cloister Muri, her famous musician friends (such as Cesar Bresgen and Zoltan Kadoly), or her neighbors in Unterinn. And she maintained lifelong friendships with her earlier schoolmates, among them the once prominent local Fascist Pietro Mitolo. She took up email and the internet and corresponded even at an advanced age throughout the world.
Johanna Blum considered marriage and a family only briefly: "My potential regret at having to give up everything that I had learned, done and accomplished in my life grew ever stronger. Should this all have been in vain? These thoughts tormented me, and my decision against such a step ripened." (143)
There was no lack of formal recognition of her dedication to the growth of the German music school: she received the Verdienstkreuz (Medal of Honor) of Tyrol, 1979; the "Walther-von-der-Vogelweide Prize," 1973; the Gold Badge of Meritorious Service of the Organization of South Tyrolean Bands; and the Lassus-Medal of the Allgemeine Cäcilien Organization for her meritorious contributions to church and choral music, among many other awards.
trans. Joey Horsley
Author: Ulrike Spitaler
Literature & Sources
Literature: Blum, Johanna. 2000. "Wer sich die Musik erkiest": Ein Lebensbild. Bozen. Athesia. (All quotations in the text above are taken from this book.)
For more information see the German version!
If you hold the rights to one or more of the images on this page and object to its/their appearance here, please contact Fembio.
---