Fembio Specials Women from North and South Tyrol and the Trentino Maria Faßnauer
Fembio Special: Women from North and South Tyrol and the Trentino
Maria Faßnauer
(Maria Fassnauer)
Born 28 February 1879 in Ridnaun (South Tyrol)
Died 4 December 1917 in Ridnaun (South Tyrol)
South Tyrolean showwoman; (presumably) tallest woman of her time
Biography
Maria Faßnauer, the daughter of a farming family, was just like other little children. But when she was three she began to grow tremendously and by 15 had reached a height of 2.27 meters (7 and a half feet). Soon she was "discovered:" the Tyrolean media reported over and over about the "tallest female person of Tyrol." After finishing school Maria did farm work until she caught the attention of side-show operators. They pressured her parents constantly and offered to pay the family richly for permission to put the young girl on display at fairs and festivals. But although her parents urgently needed money, they adamantly refused all offers.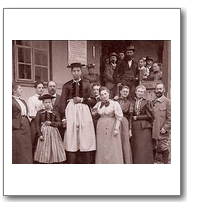 In 1906 Maria Faßnauer yielded to the constant stream of propositions and began a seven-year tour through all of Europe, accompanied by her sister. Vienna, Berlin, Hamburg, London, Manchester – Maria was a star attraction at fairs and festivals, whether at the Kohlmarkt in Vienna, the Oktoberfest in Munich or the World's Fair in Brussels. Newspaper advertisements were aimed at awakening curiosity about the "tallest woman who ever lived." She saved the money she earned to give to her parents, investing little in clothing; in all her appearances she wore a traditional peasant costume and Tyrolean hat, designed to make her appear even taller and more grotesque.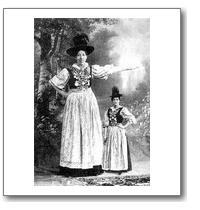 Despite being in the limelight Maria Faßnauer led an isolated life. The side-show operators did not allow her to show herself in public outside of her performances – that would have reduced their profits. A deeply religious woman whose letters to her parents are full of laments about her loneliness and homesickness, Maria would betake herself solely to churches, in order to pray.
One chapter in Inga Hosp's book »Die Riesin von Tirol« (The Giant Woman of Tyrol) bears the title "Monster for Millions." Maria Faßnauer had to endure it when she heard: "Come one, come all! Come and see Mariedl, the giant woman of Tyrol!" It was hard for her to stand for such a long time, and she suffered from ulcerated legs, but:
"No entrepreneur wants to exhibit a sitting giant." (Inga Hosp)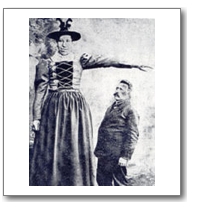 In 1913 Maria Faßnauer gave up her life as the "Monster for Millions" and returned to Ridnaun. Emotionally and physically damaged, she spent her last years on her parents' farm, where she died, only 38 years old, on 4 December 1917.
The practice of offering up a person with unusual physical characteristics to a gaping public as an attraction is not limited to bygone times. Even today, in talk shows and on the Internet, such people are put on display like animals in the zoo.
(trans. Joey Horsley)
For more information see the German version!
Author: Barbara Stocker
If you hold the rights to one or more of the images on this page and object to its/their appearance here, please contact Fembio.
---