Fembio Specials Women from North and South Tyrol and the Trentino Monika Hauser
Fembio Special: Women from North and South Tyrol and the Trentino
Monika Hauser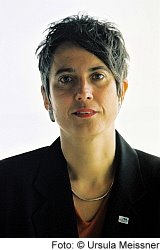 (Dr. Monika Hauser)
born May 24, 1959 in Thal (Switzerland)
German doctor, founder of medica mondiale
Biography
How does a person find the issue that will occupy her for her entire life? For Monika Hauser, born in Switzerland in 1959 to South Tyrolean parents, it was through conversations and books: conversations about abuse and violence experienced by girls and women and about World War II, and books about National Socialism and the Shoah. Empathy with the persecuted and outrage at injustice become the motor that would propel Hauser.
After completing Gymnasium, or college preparatory high school, she studied medicine in Innsbruck, earned her doctorate in 1984 and worked for half a year as an intern in gynecology and general surgery in Schlanders, South Tyrol, where she advocated for more sensitive treatment of the female patients. At the end of 1985 she passed the state qualification examination at the University of Bologna; five months later she gained her license to practice medicine in Germany and moved to Cologne. Beginning in 1988 she held an internship in the women's division of a clinic, where she worked for five years. During this time the extent to which women's illnesses reflect their life experiences became clear to her. Her experiences at the clinic caused her such distress that she interrupted her training in 1992 and gave up her position.
On 26 November 1992 an article appeared in Stern magazine about the mass rapes that were perpetrated during the war in Bosnia. Monika Hauser was horrified and furious that the victims should be abused a second time through photographs and drastic language. She educated herself about the situation and traveled to Zagreb, where among other things she visited the Zagreb women's lobby, just then in the process of starting a "Center for Female Victims of War." For an entire week Hauser spoke with refugee women in Zagreb.
She decided to coordinate gynecological and psychological assistance and create a protected space for women and their children, regardless of their nationality. She chose Zenica in central Bosnia – at that time some 120,000 refugees from the Serbian-occupied regions of Bosnia had gathered there. 70 per cent of them were women, many of whom had been raped.
At Christmastime, 1992, Hauser applied for funds in Germany to support the planned therapy center. Back in Zenica, she developed contacts, rented buildings, informed the media. Ambulatory treatment space, an operating room and residence space for 20 women were set up. A team – female doctors, nurses, psychologists, psychiatrists, a secretary, a house manager – was put together. In the meantime, the conflict's front was drawing ever closer.
In Cologne friends were working on logistics. To get money and material together Hauser traveled to Germany. Tasks were delegated there, and 25 tons of goods (foodstuffs, sanitary articles, equipment for surgery and for the laboratory, furniture, computer technology) were obtained and transported to Bosnia. On 4 April 1993 Medica Zenica was officially opened. Many women were given medical and psychological care in the course of time.
The war was approaching; many fled to Zenica following massacres, and the town was fired upon. Medica Zenica was registered as a Bosnian association and via a Green Card of the UNHCR became a partner organization of the United Nations.
In May 1993 Hauser went to Germany. She returned to Zenica with a jeep and a satellite telephone system paid for by the German Foreign Office. Medica colleagues went on dangerous missions to bring rape survivors (this time vicitms of the Croatians!) to the Medica center. From June 1993 on the roads leading into the city were blocked; food and water grew scarce, there was no electricity and infectious diseases began to spread.
In Cologne the organization Medica e.V. (an officially registered association) was founded and later renamed medica mondiale. The goal of future work would be to support women's projects in war-torn and crisis regions the world over.
Medica Zenica grew: medica 2, a supervised residential project, operated from July 1993 on; Medica 3 was planned. Supervision, continuing education and psychological training were provided to co-workers.
Monika Hauser, constantly on the go despite being pregnant, lost her baby in December 1993, the same day that she was named "Woman of the Year" by the ARD newscast "Tagesthemen." On 30 December she gave an ARD interview in Vitez that resulted in 750,000 DM in donations. After that she returned to Germany; from then on she would no longer work primarily in Bosnia.
She continued her medical specialization training in a Cologne hospital. During the winter of 1995/96 overwork and inadequate self-reflection took their toll: Monika Hauser collapsed. For three months she worked on processing her experiences in therapy, learned relaxation techniques, took time off. After this crisis she became pregnant again, and on 26 August 1996 her son Luca was born. She continued her work for medica mondiale during her time as a parent. In 1997 Medica Zenica was officially separated from medica mondiale and became independent following a drawn-out trial, during which the responsibility was gradually transferred to Bosnia.
Monika Hauser completed her medical training as a specialist in gynecology and obstetrics and gave her notice in the hospital. Because of the outbreak of war she traveled in April 1999 to Kosovo and Albania, and the project medica mondiale Kosova began. In 2000 she took on the political management of medica mondiale. She was responsible for public relations, gave lectures and concerned herself with the training of Medica co-workers. In 2008 she was honored for her dedicated service with the Alternative Nobel Prize (Right Livelihood Award).
trans. Joey Horsley
For additional information please consult the German version.
Author: Almut Nitzsche
If you hold the rights to one or more of the images on this page and object to its/their appearance here, please contact Fembio.
---