nata l'8 settembre 1896 a Chybi presso Cracovia
morta il 3 maggio 2000 a Bolzano
Figlia della Monarchia Danubiana, dopo la morte del padre la giovane May si trasferì a Pola dai fratelli di sua madre che vi erano stazionati come ufficiali della marina. A Pola visse nell'atmosfera di eleganza che caratterizzò gli ultimi anni dell'Impero austro-ungarico, e l'eleganza l'avrebbe segnata per tutta la vita.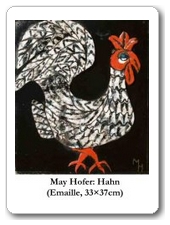 Spinta dalla volontà di realizzare qualcosa con le sole proprie forze, May durante la prima Guerra Mondiale si trasferì a Vienna, dove per tre anni frequentò l'Accademia d'Arte Applicata. Seguì i corsi di Rosalie Rothansls (tessuti) e di Eduard Wimmer-Wisgrills (disegni di moda). E' qui che conobbe Anton Hofer, rinomato pittore e architetto dell'Accademia, che sarebbe diventato suo marito. Quando nel 1919 i due si sposarono, Hofer decise di tornare a Bolzano, la sua città natale. La guerra era appena finita e Bolzano gli sembrò più sicura di Vienna. May lo seguì a malincuore, avrebbe preferito rimanere nella metropoli austriaca. In effetti, i ristretti orizzonti della vita provinciale e la concezione molto tradizionale dell'arte in Alto Adige saranno per lei un continuo motivo di frustrazione.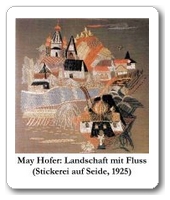 Per una parentesi di alcuni anni la coppia, insieme alla famiglia Valier, gestì un albergo a Rimini Miramare progettato da Anton Hofer. Dopo il ritorno a Bolzano May Hofer operò nell'atelier di Sophie & Emmanuel Fohn in via Leonardo da Vinci, dove in precedenza avevano lavorato anche i fratelli Stolz. Dopo la fine della Seconda Guerra Mondiale, May Hofer, sempre alla ricerca del nuovo, fece ritorno all'Accademia d'Arte applicata di Vienna, questa volta come ospite dell'ateneo. Frequentò il corso di ceramica a smalto del professor Nedbal e, grazie alle lezioni dell'ucraina Marika Nedbal-Dolnizka, che con Nedbal era sposata, imparò la tecnica russa dello smalto a rete.
In quel periodo riaffiorarono in lei lontani ricordi della sua infanzia, accompagnati da una nostalgia struggente per l'Estremo Oriente e per un amore impossibile disperso per sempre nelle sterminate pianure innevate della Russia. Sull'onda di quelle emozioni realizzò una serie di mosaici intessuti, le cosiddette textures di Limoges e Cloisonné. Le sue opere ricordavano le favole pittoresche di Marc Chagall, i miti di antiche religioni, l'oro e lo smalto di scintillanti icone bizantine.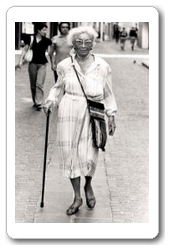 A partire dal 1964 l'artista partecipò a numerose mostre in Italia e all'estero. Soprattutto i suoi pannelli composti da mosaici intessuti suscitarono grande ammirazione. Si trattava di opere di grande impatto, come "Dorf meiner Heimat – Villaggio della mia terra" (1950), che ricorda il suo paese natale, "Hahn kündigt den Morgen an – il gallo che annuncia la mattina" (1961) e "Versunkene Stadt – Città sommersa" (1968), composizione acquistata dalla Cassa di Risparmio di Bolzano. Il Museo d'Arte Applicata di Vienna acquistò invece il suo "Ciclo della Creazione", un mosaico intessuto in tre parti dalle dimensioni di 65 x 65 cm (1969). L'8 luglio del 1988 May Hofer fu insignita della Croce d'Onore della Repubblica Austriaca come riconoscimento dei suoi meriti in ambito scientifico e artistico.
Negli ultimi anni May Hofer realizzò diverse opere in smalto tra cui i tabernacoli dello Jesuheim a Cornaiano e della Casa di Riposo a Castelrotto, per la quale creò anche una Pietà, nonché il quadro in smalto dal titolo "Der gute Hirte - Il buon pastore" per lo Schwesternheim di Fiè. I suoi tappeti-quadro "Der Turm von Babel - La torre di Babele" (1995), "Der Fund der Dame von Elche – Il ritrovamento della Dama von Elche" (1990) e "Die Königin von Saba – La regina di Saba" (1990), realizzati nel suo ultimi periodo creativo, suscitarono grande attenzione.
May Hofer morì il 3 maggio 2000 a Bolzano all'età di 103 anni .
Traduzione: Claudia Messner e Donatella Trevisan
Per (ulteriori) dettagli date un'occhiata alla versione tedesca!
Author: Sylvia Hofer
If you hold the rights to one or more of the images on this page and object to its/their appearance here, please contact Fembio.
---