Fembio Specials Famous Women from Hanover, Germany Caroline von Brandenburg-Ansbach
Fembio Special: Famous Women from Hanover, Germany
Caroline von Brandenburg-Ansbach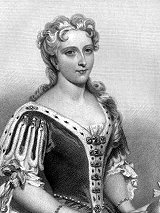 (Wilhelmina Charlotte Caroline von Brandenburg-Ansbach, Queen Consort of England and Ireland, Kurfürstin von Hannover; Caroline of Anspach; Caroline of Brandenburg)
Born 1 March 1683 in Ansbach
Died 1 December 1937 in London
Queen Consort of England, wife of George II
Biography • Quotes • Weblinks • Literature & Sources
Biography
Caroline von Brandenburg-Ansbach, the first Hannoverian on the English throne, must have been an impressive person. Although only »Queen Consort«, she had a major influence on English politics and earned much respect for herself and the Guelph Dynasty, which was at first quite unpopular in England.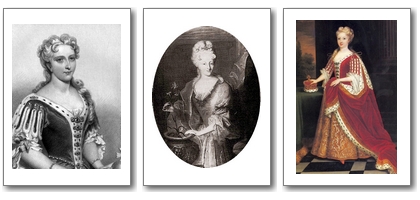 Born in 1683 in Ansbach in central Franconia as a princess from a side branch of the House of Hohenzollern, she came to Berlin as a 13-year-old orphan, and received there an excellent education from her godmother, the open-minded Electress Sophie Charlotte. In Berlin she met among others the philosopher Leibniz, with whom she later, as English Queen, maintained a lively correspondence.
She was intelligent and charming, blond, blue-eyed and chubby, in short an exceptionally desireable match, and at age 22 she was married to Georg August in Herrenhausen. He was the grandson of Electress Sophie of Hannover, who herself was in line to inherit the English throne. The union was unusual – although often the victim of his uncontrolled rages, Caroline always remained loyal to her husband, even when he wrote long love letters to her, the wife he admired ("in my heart nothing is hidden from you"), in which he let her share in the details of his extramarital affairs. She fulfilled her dynastic obligations in exemplary fashion: between 1707 and 1724 she bore nine children, of whom seven survived.
The turning point in her life came in 1714 when Georg August's father was called to the English throne to become George I; that made Caroline the first lady of the land, since the King had left his divorced wife Sophie Dorothea, the unfortunate "princess of Ahlden" in Germany. Caroline devoted herself to her new task with alacrity.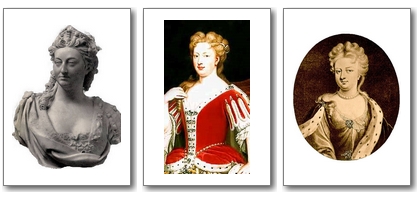 She became fluent in English, in contrast to her husband and father-in-law, who were barely competent in the language of the country they ruled. Her diplomatic tact was especially important. She endeavored to mediate a conflict between George I and his son that went on for years and at times resulted in the banishment of the crown prince and his wife from St. James Palace in London; in 1720, with the help of Prime Minister Robert Walpole, she was able to bring about a reconciliation between the two.
George I died in 1727, little mourned by his subjects, and Caroline, by then 44, was crowned Queen as her husband became King. She was able to keep her confidant Walpole on as Prime Minister, and with him she shaped English policy for the next ten years, a time in which the nation was kept out of the various European conflicts and expanded its trade and colonial influence in North America and India.
Although her rather dull husband had no sympathy for her intellectual interests, she supported literary men (such as Voltaire) and artists, in particular – together with her highly musical daughter Anna – the composer Händel. Especially important was her role as patroness of the English garden, a landscape style which evolved during the 18th century; for her various residences (Richmond Lodge, Kensington Gardens and Hampton Court) she commissioned extensive structural development and redesign of the magnificent gardens from the well-known architect William Kent among others.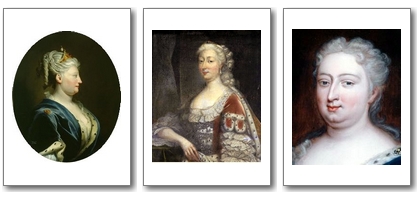 She knew how to prevail in private matters as well. She had the King's relations with his mistresses more or less under her observation; for example, Henrietta Howard, for years the »maitresse en titre,« was at the same time her lady-in-waiting. And in the competition against the incompetent Frederick Louis, her first-born, she also maintained the upper hand: whenever George II was on one of his frequent long visits in Hanover he named Caroline as regent rather than his unloved son, much to the latter's embitterment.
In death Caroline was as disciplined as in life. She suffered in secret for years from terrible abdominal pains, probably the after-effects of an umbilical rupture during the birth of her last child. She died at age 54, after doctors had performed a hopeless operation (without anaesthetic!). George II mourned deeply and long; he survived his queen by 23 years. They lie side by side in Westminster Abbey.
trans. Joey Horsley
Author: Andrea Schweers
Quotes
You may strut, dapper George, but 'twill all be in vain,
We all know 'tis Queen Caroline, not you, that reign.

(Popular verse)
Oh, my lord! If this woman should die, what a scene of confusion will here be! Who can tell into what hands the king will fall?

(Sir Robert Walpole, in Lord Hervey's Memoirs)
The queen loved reading, and the conversation of men of wit and learning. But she dared not indulge herself so much as she wished to do in this pleasure for fear of the king, who often rebuked her for dabbling in all that lettered nonsense (as he called it).

(Lord Hervey's Memoirs)
Links
1 Encyclopedia.com: Caroline of Ansbach Research. Searches for lexicon and newspaper articles, etc. (For complete articles temporary access is required.)
2 Explore-Parliament.net: Queen Caroline (1683-1737).
3 Find A Grave Memorial: Caroline of Brandenburg-Ansbach (1683-1737).
4 George Stuart Historical Figures: Queen Caroline von Anspach.
5 John I of Brandenburg, Margrave of Brandenburg – Albrecht Alcibiades of Brandenburg-Kulmbach. Site with genealogical information.
6 Leibnitiana: Caroline of Ansbach (1683-1737). Text (engl.) concerning Caroline's friendship with Gottfried Wilhelm Leibniz.
7 Leibniz to Princess Caroline of Anspach (18 March 1705). Letter (engl.).
8 Royal Collection: Caroline of Ansbach. Artworks of the Royal Collection acquired by Caroline.
9 WorldCat: Caroline of England. Literature before 1900. Compiled by Almut Nitzsche for fembio.org. (WorldCat lists some titles more than once; additional searching may be necessary.)
Links last checked on 16 June 2017 (AN).
Literature & Sources
Sources (Internet)
1 Britannica Online Encyclopedia: Caroline of Brandenburg-Ansbach, or Karoline von Brandenburg-Ansbach (queen of Great Britain).
2 Morley, James: Richmond Lodge & the early development of Richmond Gardens (no longer available, 2017-11-16).
3 Kensington Gardens – The Queen's gardens. The Royal Parks, Department of Culture, Media, and Sport (no longer available, 2017-11-16).
4 Wikipedia: Caroline von Brandenburg-Ansbach.
5 Wikipedia (engl.): Caroline of Brandenburg-Ansbach.
Sources (print media)

Panzer, Marita A. (2001): Englands Königinnen. Von den Tudors zu den Windsors. Regensburg. Pustet. ISBN 3-7917-1749-9. ( Amazon | Eurobuch | WorldCat)
Quennell, Peter (1940): Caroline of England. An Augustan portrait. New York. Viking Press. ( Amazon | Eurobuch | WorldCat)
Additional reading
Arkell, Ruby Lillian (1939): Caroline of Ansbach, George the Second's queen. London, New York [etc.]. Oxford University Press. ( Amazon | Eurobuch | WorldCat)
Borman, Tracy (2007): Henrietta Howard. King's mistress, queen's servant. London. Jonathan Cape. ISBN 978-0-224-07606-7. ( Amazon | Eurobuch | WorldCat)
Greenwood, Alice Drayton (1909): Lives of the Hanoverian queens of England. London. George Bell and Sons. ( Amazon | Eurobuch | WorldCat)
López-Vidriero, María Luisa (2005): The polished cornerstone of the temple. Queenly libraries of the enlightenment. London. British Library (The Panizzi lectures, 2004). ISBN 0-7123-4907-3. ( Amazon | Eurobuch | WorldCat)
Mitchell, Laurel Drushel (1985): Path to a throne. A reappraisal of Caroline of Ansbach. Thesis (M.A.). Northwestern State University of Louisiana. (WorldCat)
Plaidy, Jean (1968): Queen in waiting. (=Caroline, the queen). New York. Putnam, 1985 (The Georgian Saga Series, 2). ISBN 9780399131011. ( Amazon | Eurobuch | WorldCat)
Van Der Kiste, John (1997): King George II and Queen Caroline. Stroud. Sutton. ISBN 0-7509-1321-5. ( Amazon | Eurobuch | WorldCat)
Wilkins, W. H. (1901): Caroline, the illustrious Queen-Consort of George II. and sometime Queen-Regent a study of her life and time,. London, New York [etc.]. Longmans Green. ( Amazon | Eurobuch | WorldCat)
For older literature see the WorldCat-weblink!
If you hold the rights to one or more of the images on this page and object to its/their appearance here, please contact Fembio.
---