Fembio Specials Famous Women from Hanover, Germany Mary Wigman
Fembio Special: Famous Women from Hanover, Germany
Mary Wigman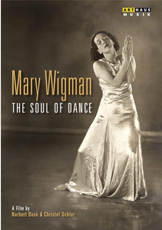 born on November 13, 1886 in Hannover
died on September 18, 1973 in Berlin
German dancer, choreographer and dance educator
50th anniversary of her death, September 18, 2023
Biography • Quotes • Literature & Sources
Biography
In the fall of 1919, Mary Wigman (whose actual name was Karoline Sofie Marie Wiegmann) was celebrated in Hamburg for the first time by a German audience as a new and truly great dancer. She was nearly 33 years old, and in the subsequent years she would establish herself internationally as the creator and agent of an original form of art: expressionist dance. In 1910 she left Hannover, where she had grown up, hoping to be able to fulfill a part of her hitherto vague desire for independence and artistry at the School of Rhythmic Gymnastics in Hellerau near Dresden. She successfully completed her training, however she was dissatisfied with visions of a grand art of movement originating in one's own rhythm and impulse.
She finally experienced the truth at Rudolf von Laban's "School of Art" on Monte Verità in 1913: "It was as if I had come home! […] this wonderful feeling I stood there with, suddenly happy and blissful to be under the dictatorship of a drum rhythm." Her entire life, Mary Wigman endured illness, emotional crises and poverty for the sake of this feeling of fulfillment.
Her sense of mission was as extensive as her artistic genius and her professional discipline. "I wanted more! And I hurled myself into acquiring the choreographic technique for free dance that did not even exist yet," she said in retrospect.
Her uncompromising tenacity, which she demonstrated in her artistic endeavors and creations, were contrary to her attitude towards the Nazi regime. In the beginning, she admired the mass choreographic character of the military deployments of the Third Reich—Wigman was acutely aware of the will and the expenditure required to organize productions of this kind. She was protected and influenced by her relationship with Hanns Benkert, who would later become one of the leading armaments industrialists of the Nazi war economy.
However, after Benkert left her in 1941, as a representative of "degenerative art" she suffered repression, though minor in comparison with her persecuted colleagues and students: She lost her dancing school in Dresden, her work was curtailed and obstructed. But she never made a political statement on these years, even after the end of the war, which she experienced in Leipzig.
When in 1949 another ideology tried to use her fame and her art, she withdrew and moved to West Berlin, where she died not two months before her 87th birthday in 1973. Her legacy is an art of dancing that is no longer "new", but whose influence can still be felt.
(edited for FemBio by Luise F. Pusch translated by Rebecca van Dyck)
Author: Katharina Möller-Weitz
Quotes
Neu ist, wie sie den Raum schafft und beherrscht. Mit wenigen klaren Bewegungen gibt sie die Dimensionen an. Es scheint, als ob sie den Raum, in dem sie tanzt, aus der Leere herausreißt. (Deutsche Allgemeine Zeitung, 20er Jahre)
Mary Wigman … was, during the 1920s and '30s, the most highly regarded modern dancer and choreographer in Central Europe and one of the principal reasons for the ascendancy there of MODERN DANCE over classical ballet until the end of World War II. (The Academic American Encyclopedia (Electronic Version). 1996. Danbury, CT. Grolier)
[…] Darauf tanzte die Frau den wilden Tanz der Lust, der alle Fesseln sprengte und alle Grenzen überschritt. Der König verhüllte sein Haupt: "Dafür mußt du sterben, Weib!" Und die Sklavinnen brachten den schwarzen Schleier des Todes. Aber die Tänzerin achtete seiner nicht und tanzte über ihn hinweg den Tanz des Leides […] (Tanzgedicht zu "Die sieben Tänze des Lebens" von Mary Wigman, 1921)
Ich sehe sie noch vor mir, wie sie plötzlich vom äußersten Ende des gelben Saals auf mich zuraste, zwei Paukenschlegel ergriff und auf mich losging. Vor Schreck rutschte ich blitzschnell unter den schützenden Flügel und harrte des Donnerwetters. Mary hämmerte mit den Paukenschlegeln auf den Flügel ein, raste dann tobend wieder weg, kam erneut zurück und fiel mit dramatischer Geste vor mir auf die Knie, ich saß derweil noch immer unter dem Flügel. Mit liebkosender Stimme flehte sie: "Madonna, verzeih mir". (Aleida Montijn (1908-89), Komponistin und zeitweise Klavierbegleiterin Mary Wigmans, in ihren Erinnerungen (1988))
Welch ein Wahnsinn … Als einzige Frau unter Männern! Männer, die nur das eine kennen, das Kommando, dem blindlings gefolgt wird. Jeder Einwand, jeder Zweifel beiseite geschoben, als lästig, ja als fragwürdig in der Grundhaltung angesehen. (Mary Wigman) Männer! – die 100prozentigen – mein Gott, man kann sie lieben, aber man müßte sie hassen! Und man braucht sich nicht zu wundern, daß Krieg über der Erde ist. (Mary Wigman)
Literature & Sources
Partsch-Bergsohn, Isa & Harold Bergsohn. 2003. The Makers of Modern Dance in Germany: Rudolf Laban, Mary Wigman, Kurt Jooss. Princeton, NJ. Princeton Book Company Publ.
Fritsch-Vivie, Gabriele. 1999. Mary Wigman in Selbstzeugnissen und Bilddokumenten. Reinbek bei Hamburg. rororo monographie.
Karina, Lilian & Marion Kant. 1996. Tanz unterm Hakenkreuz: Eine Dokumentation. Berlin. Henschel.
Klein, Gabriele. 1994. Frauen Körper Tanz: Eine Zivilisationsgeschichte des Tanzes. München. Heyne.
Loesch, Ilse. 1990. Mit Leib und Seele: Erlebte Vergangenheit des Ausdruckstanzes. Berlin. Henschel.
Lorenz, Karl. 1994. Wege nach Hellerau: Auf den Spuren der Rhythmik. Kleine sächsische Bibliothek 5. Dresden. Hellerau Verlag.
Montijn, Aleida. 1988. Nachrichten an K.G.: Erinnerungen einer Komponistin. Kassel. Bärenreiter.
Müller, Hedwig. 1986. Mary Wigman: Leben und Werk der großen Tänzerin. Weinheim; Berlin. Beltz.
Sorell, Walter. 1986. Mary Wigman. Wilhelmshaven. Heinrichshofen.
Partsch-Bergsohn, Isa & Harold Bergsohn. 2003. The Makers of Modern Dance in Germany: Rudolf Laban, Mary Wigman, Kurt Jooss. Princeton, NJ. Princeton Book Company Publ.
Wangenheim, Annette von. 2003. Tanz unterm Hakenkreuz. TV-Dokumentarfilm, 45 min. Köln. WDR.
Wiegel, Rosemarie. 1991. "Mary Wigman (1886-1973: Eine Frau, die ihre Schritte selbst bestimmte", in: Hiltrud Schroeder. Hg. Sophie & Co.: Bedeutende Frauen Hannovers. Hannover. Fackelträger. S. 173-185.
If you hold the rights to one or more of the images on this page and object to its/their appearance here, please contact Fembio.
---