Fembio Specials Famous Women from Hanover, Germany Sophie Charlotte Königin in Preußen
Fembio Special: Famous Women from Hanover, Germany
Sophie Charlotte Königin in Preußen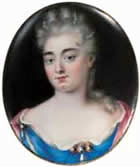 Sophia Charlotte Queen of Prussia
born on October 30, 1668 in Iburg near Osnabrück
died on February 1, 1705 in Hannover
300th anniversary of her death on February 1, 2005
Biography • Literature & Sources
Biography
She was left with little time to pursue her diverse interests. Sophia Charlotte died of pneumonia in Hannover on February 1, 1705 at the age of only 36. She had originally planned to celebrate Carnival with her family there. She calmly explained to the priest who had been called that she did not need him—she was prepared for death.
Sophia's mother, Sophia of the Palatinate and later Electress of Hannover, had great things planned for her only girl. A beautiful, well-educated daughter was a trump on the European marriage market. In line with the spirit of high baroque ideals, the little princess was taught bienséance (propriety), contenance (manners) and gravité (dignity), one spoke only French with her, and she received the same education as her three older brothers.
The effort was worthwhile: Frederick III, later to become the first "King in Prussia" and son of Frederick William, the Great Elector, and Louise Henrietta of Orange, was chosen to marry Sophia Charlotte. Just sixteen years old, in 1684 she moved to Berlin to be with him. In 1688 Frederick III succeeded his father. That same year Frederick William I, heir to the throne, was born. He would later be known as the "Soldier King" and father Frederick the Great. Now twenty, Sophia Charlotte began leading her own life. She established contact with Gottfried Wilhelm von Leibniz, a friend of her mother, and John Toland; she systematically pushed forward the construction of the Lutzenburg Castle, which was later christened "Castle Charlottenburg" after her; and she founded the Berlin Academy of Science.
Sophia Charlotte's highly regarded and cherished ladies in waiting came together here with the famous thinkers of the time. An alternative world emerged counter to the soldierly pleasures of the king, in which discussions took place about the most recent discoveries and concepts. Personal meetings led to the lively and fruitful exchange of correspondence. It is alleged that Leibniz' Theodicy was decisively influenced by the conversations the philosopher had with the queen at Lutzenburg and their exchange of letters.
Unfortunately, Sophia's spouse destroyed great portions of her correspondence because he feared they contained negative information about him. Perhaps not without good reason. In a letter dated June 11, 1703 Sophia wrote to Leibniz: "I relax while telling you of the joyless lassitude I endure in Berlin. […] Please show my letter to no one, as I am writing to you as a friend, with no reservations."
(Text from 2004; translated by Rebecca van Dyck)
Author: Britta Quebbemann
Literature & Sources

Bartoschek, Gerd. Hg. 1999. Sophie Charlotte und ihr Schloß. Ein Musenhof des Barock in Brandenburg-Preußen. New York. Prestel. Doebner, Richard. Hg. 1905.
Briefe der Königin Sophie Charlotte von Preußen und der Kurfürstin Sophie von Hannover an hannoversche Diplomaten. Leipzig. Hirzel.
Ghayegh-Pisheh, Kohra. 2000. Sophie Charlotte von Preußen: Eine Königin und ihre Zeit. Stuttgart. ibidem-Verlag.
Leibniz, Gottfried Wilhelm von. 1877. Correspondenz von Leibniz mit Sophie Charlotte, geb. Prinzessin von Braunschweig-Lüneburg, verm. Kurfürstin von Brandenburg, vom 18. Januar 1701 bis 1. Februar 1705 Königin von Preußen. Hannover. Klindworth.
Senn, Rolf Thomas. 2000. Sophie Charlotte von Preußen. Biographie. Weimar. Böhlau.
Varnhagen von Ense, Karl August. 1837. Leben der Königin von Preußen Sophie Charlotte. Berlin. Duncker & Humblot.
If you hold the rights to one or more of the images on this page and object to its/their appearance here, please contact Fembio.
---