Fembio Specials Famous Women from Hanover, Germany Grethe Jürgens
Fembio Special: Famous Women from Hanover, Germany
Grethe Jürgens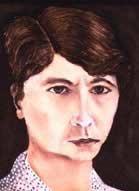 born on February 15, 1899 in Holzhausen near Osnabrück
died on May 8, 1981 in Hannover
German painter and graphic artist
Biography • Quotes • Literature & Sources
Biography
Author: Renate Rochner und Luise F. Pusch
Quotes
It appears to me to be a barbarian view of art not to consider it to be an obligation, but rather merely a means to greater comfort and greater pleasure. Art, a kind of intellectual whipped cream, is plopped onto the cultural pudding. Art is the coat one adorns and warms oneself with, or it is only a decorative splodge of color on the wall. In reality, one would gain much more if one could decide on a completely different view of art—namely taking an active part instead of only enjoying it. (Grethe Jürgens)
Literature & Sources
"Der stärkste Ausdruck unserer Tage": Neue Sachlichkeit in Hannover. 9.12.2001 - 10.3.2002. Ausstellungskatalog. Hg. Christian Fuhrmeister. Hildesheim; Zürich; New York. Olms.
Grethe Jürgens und Gerta Overbeck. 1982. Arbeiten der zwanziger Jahre. Ausstellungskatalog Bonner Kunstverein.
Meskimmon, Marsha. 1999. "We Weren't Modern Enough: Women Artists and the Limits of German Modernism. Weimar and Now: German Cultural Criticism, 25. Berkeley, CA. University of California Press.
Müller-Pieper, Renate. 1991. "Grete Jürgens (1899-1981): Unbeirrbare Künstlerin und eigenständige Frau", in: Hiltrud Schroeder. Hg. Sophie & Co.: Bedeutende Frauen Hannovers. Hannover. Fackelträger. S. 187-199.
Scholz, Heike. 1999. Am Rande des Blickfeldes: Grethe Jürgens – eine Künstlerin der zwanziger Jahre in Hannover. Dissertation, Marburg.
Seiler, Harald. 1976. Grete Jürgens. Göttingen. Musterschmidt.
This Fem-Biography was sponsored by the city of Hanover.
If you hold the rights to one or more of the images on this page and object to its/their appearance here, please contact Fembio.
---