Fembio Specials Women Artists - an Exhibition by Almut Nitzsche and FemBio e.V Angelika Hoerle
Fembio Special: Women Artists - an Exhibition by Almut Nitzsche and FemBio e.V
Angelika Hoerle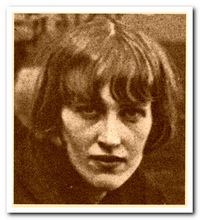 (née Margaretha Angelika Fick)
born November 20, 1899 in Cologne/Germany
died September 9, 1923 in Cologne/Germany
German fashion designer, painter and graphic artist
100th anniversary of her death on September 9, 2023
Biography
Angelika Hoerle was one of the many women artists of the Weimar Republic whose work was long ignored by art historians. But this progressive artist, who died at a young age, is now viewed as the shooting star of the Dada scene with even a novel and a piece of music based on her eventful life.
"PAINTING IS THE BALANCE BETWEEN HEAVEN AND HELL": EARLY DISPUTES
In contrast to the majority of her better-known colleagues, Angelika Hoerle grew up in a household of modest financial means. Father Richard Fick, a gaunt cabinetmaker who sympathized with the Social Democratic Party (SPD), supported the family while mother Anna Maria Fick (née Kraft) was responsible for managing the home and caring for the four children. The traditional couple eyed the development of their youngest and in their view most stubborn child with suspicion, especially after the beautiful, tall Angelika decided to become an artist. She allegedly announced this intent at the age of twelve.
Young Angelika eagerly awaited and attended every major art event in her native city. Among these had been the sensational picture shows and lectures at the avant-garde art center Gereonsclub, founded by Olga Oppenheimer and Emmy Worringer, the Sonderbund exhibition (1912), which was lauded internationally, but scorned by Cologne's traditionalist, conservative elite or the pre-war exhibition and milestone of art history, the Werkbund. However, while Marta Hegemann, a famous contemporary in Cologne, believed that "painting is the balance between heaven and hell" (quoted in Euler-Schmidt, 1990, p. 6), Angelika's parents saw only its dark side and refused to allow her to train as an artist.
"I NO LONGER HAVE A DAUGHTER": FAREWELL AND NEW BEGINNING
In 1915, Angelika agreed to begin an apprenticeship as a milliner and thus received the warm blessing from a relieved father. Soon after and amid the horrors of a world war supported by the SPD, Angelika began to frequent socially critical revolutionary circles, and this resulted in the first cracks in her relationship with parents, who were much more conventional. To be sure, mother Anna Maria Fick had laid the foundation for her daughter's enthusiasm for the arts by stretching the finances of the working-class family and pursuing bourgeois pastimes such as piano lessons and musical and literary soirées. Angelika had also seen their own simple home host many a heated, trade-union inspired discussion of the social injustices that angered her mother. Revolutionary ideas, however, whether in art or politics, were strictly forbidden in the Fick household.
The definitive break occurred when Angelika married the painter Heinrich Hoerle (1895-1936) in 1919. Her father avowed: "I no longer have a daughter" (quoted in Herzogenrath 1981, p. 291), as the son-in-law was deemed an unworldly, opinionated and useless loser. The parents only reneged on this vow a few weeks before Angelika Hoerle's early death from tuberculosis. However, her siblings, in particular Willy, six years older and with a bizarre sense of humor and a similar enthusiasm for painting and avant-garde art circles, remained faithful to their youngest sister.
"... THE OLD ART IS DEAD": ARTISTIC AND POLITICAL ACTIVITIES 1918 – 1919
Little is known about Angelika Hoerle's artistic beginnings. What is certain is that she must have quickly gone public with her earliest work – unfortunately only 35 works, mostly drawings as well as linoleum and woodcuts in notably reduced linear structure, have survived. In fact, already in 1918, a year before she began to shout "Dilettantes arise, the old art is dead" ("Dilettanten erhebt Euch (...) die alte Kunst ist tot" in Die Schammade, 1920) together with the Cologne Dada artists Johannes Theodor Baargeld, Max Ernst, Luise Straus-Ernst, Franz Wilhelm Seiwert, Heinrich Hoerle, Anton Räderscheidt and - later - Jean Arp, the 18-year old was said to have enjoyed "a certain reputation as an artist" (quoted in Herzogenrath 1981, p. 291). It is not possible, hoeever, to reconstruct the basis for this reputation .
Among the earliest known works of her pre-Dada period are two remarkably expressive woodcuts with simple lines included in Lebendige (1919). This portfolio of portraits was produced together with Peter Abelen, Anton Räderscheidt, and Franz Wilhelm Seiwert as a collective work typical of the time and was dedicated to several murdered left-wing activists. Hoerle produced one portrait each of the Russian-born Eugen Leviné (1883-1919), a leader in the "Räterepublik" (Bavarian workers' councils republic) and officially executed for high treason, and the murdered French socialist Jean Jaurès (1859-1914). She was also active at this time in Cologne's Society of the Arts, which, as an artists' association similar to the better-known Workers' Council for Art in Berlin, was constituted after the November Revolution and dedicated to the cause of democratizing the cultural sector.
Angelika Hoerle was deeply appalled by the ravages of the First World War, the uncompromising quashing of the socialist councils republic, and the discrimination against women that - despite the innovative Weimar constitution - continued unabated on a daily basis. She sought recompense in the writings of Adelheid Popp, Clara Zetkin and Rosa Luxemburg and soon became a member of the Kalltalgemeinschaft (1919-1921), a group of artists and writers including Carl Oskar Jatho, Käthe Jatho-Zimmermann, Otto Freundlich, Marta Hegemann and Franz Wilhelm Seiwert that had been searching for new paths in art and life beginning in 1919 in Simonskall in the Eifel region.
Hoerle was also involved in community efforts to help those in need. For example, in 1921/22 she set up with her husband Heinrich and Franz W. Seiwert the Local Committee of Cologne after the appeal for action to protest the famine in Russia was issued To all Artists and Intellectuals (in the USPD newspaper Sozialistische Republik, reprinted in: Backes 1981, p. 296).
"GERMAN MASTER OF THE DADAISTS": DAD'ANGELIKA
Barely twenty years old, Angelika Hoerle was crowned "German master of the Dadaists" by the Rheinische Zeitung (Feb. 19, 1920, reprinted in: Backes 1981, p. 100). Within Cologne's Dada circles, "Dad'Angelika" as she was called (Hegemann 1965, quoted in Euler-Schmidt 1990, p. 83) was herself quite a sensation, as aside from her extraordinary graphic talent she was always to be found "at the forefront" (Herzogenrath 1981, p. 292), despite being a woman (and one of only a few) in this Dada minority (along with Marta Hegemann and Luise Straus-Ernst). In 1919 she was one of the initiators of the first Dada exhibition in Cologne: Section D, in Room 5 in the Kunstverein.
The exhibition, staged as a bourgeois scare by artists with a reputation for being "worse than the communists" (quoted in Artinger 1998, p. 62), became the talk of the town as the Dadaists ridiculed both established artists such as Paul Cézanne and competing Dadaists in Berlin such as George Grosz (the "Kurfürsten-Dammdadaismus" of the "gern-einmal-Lustmörder" George in Bulletin D, 1920; reprinted in: Backes 1981, p. 105). An entire page in the catalog of this divisive exhibition was devoted to Hoerle's three-breasted female entitled Reiterin (1919). In all probability Hoerle's woman rider was a mocking reference to Franz von Stuck's pompous bronze Amazon, an enormous sculpture first heaved onto an ostentatious stone pedestal at the Cologne Werkbund exhibition in 1914 and later quietly banished to the inner courtyard of the Wallraf-Richartz Museum in Cologne. In February of the following year she again caused quite a stir when Cologne's Dada magazine Die Schammade splashed her fantastical architectural construction, reminiscent of the utopian buildings of Berlin's Gläserne Kette (Crystal Chain), across the cover of its first issue.
Angelika and Heinrich Hoerle's attic apartment at Bachemer Strasse 243, the "quietest and most forlorn corner on the outskirts" of Cologne-Lindenthal, was dark, sparsely furnished and often freezing cold due to a lack of money. Yet the many Europeans who met there fondly referred to it as their "Dadaists' Home" (Rheinische Zeitung, February 19, 1920; reprinted in: Backes 1981, p. 100). The apartment also served as the headquarters for Heinrich Hoerle's Schloemilch-Verlag, whose publications included the extravagant magazine Die Schammade with its international staff of Dadaists (Francis Picabia, André Breton, Paul Eluard, and Tristan Tzara, among others).
"... WE REJECT THE ... DADAIST HARLEQUINADE": GROUP STUPID
Beginning in 1920, Angelika Hoerle also assumed a central intellectual and artistic role within STUPID. The group included Angelika's husband, her brother Willy, Marta Hegemann, Anton Räderscheidt, and Franz W. Seiwert and had been founded in protest after disputes with fellow Dadaists Max Ernst and Johannes Theodor Baargeld. The name of the Dada-offshoot was itself an allusion to what was seen as the obvious vapidity of the world; the group announced: "we reject the allegedly anti-bourgeois, Dadaist harlequinade performed for the amusement of the bourgeois because we must make visible not the bankruptcy of the bourgeoisie, but the creative will of the masses" (letter Franz W. Seiwert, 1919, quoted in Backes 1981, p. 30).
STUPID installed a permanent exhibition in Hegemann's and Räderscheidt's residential studio on Hildeboldplatz and launched Stupid 1, the group's first in-house publication, in November 1920. The issue featured a reproduction of Angelika Hoerle's only surviving oil painting, a landscape in somber tones. In addition, Hoerle was involved in the same year in the collective monthly exhibition at the graphic arts gallery Van den Berg & Co. in Düsseldorf. The couple's meagre finances meant they also needed to resort to designing patterns for wallpaper and neckties.
"... TO BECOME SO SIMPLE THAT EVERYONE CAN UNDERSTAND US": ABC - A PICTURE BOOK
Although most of Hoerle's works cannot be deciphered without solid background knowledge, she rejected the linear perspective preferred by academics and concentrated on developing a reduced visual language that could be understood by all. Only four images in her unfinished abstract woodcut series abc - ein Bilderbuch mit 25 Schnitten (abc - a picture book with 25 woodcuts, 1920) have survived. Each image, dominated by flat black-and-white contrasts, was devoted to a letter of the alphabet with its own catchy motif - a house, a lamp, or a fish. She left no written comments on this work. Franz W. Seiwert, as the STUPID spokesperson, had emphasized that all members of the group wanted to try "beyond all garrulous intellectuality… to become as simple as possible, so that everyone can understand us" (quoted in Backes 1981, p. 30). After all, their images were in the service of "the exploited," with whom they felt solidarity and to whom they ultimately belonged.
"HEAD WITH WHEEL AND CAR HORN": SURREALIST ANTICIPATIONS
Katherine Dreier (1877-1952), an American art collector and patron of the modernists, arrived in Cologne in 1922 and, visibly impressed by Angelika Hoerle's artistic potential, bought three of her works. Dreier was the first to laud her as the "comet of the Cologne Dada scene" and this accolade has remained. As early as the 1980s, however, Wulf Herzogenrath rightly warned that Dada as the sole category did not suffice to describe the work of this prolific artist; the majority of her surviving art is actually pre-Surrealist.
Hoerle was already rummaging around in the world of dreams and the unconscious in her search for pictorial motifs by around 1921, which was three years before André Breton wrote his Manifesto of Surrealism. She paired, added, and dissected or fused objects, body parts, and landscapes into completely new kinds of entities. Of these pioneering works long overlooked by art historians, one of the most prominent is the drawing Kopf mit Rad und Autohupe (Head with Wheel and Car Horn,1922) that was purchased by Katherine Dreier. Hoerle took separate objects in free association – an articulated doll head, a car wheel and horn, and a hand frozen into the shape of a dead tree – and synthesized them in a drawing which anticipates motifs later popular with the Surrealists.
"OUR PALACES WERE THE ATELIERS": MATRON SAINT HEGEMANN
"I believed the world needed to stand still" (quoted in Euler-Schmidt 1990, p. 83), Marta Hegemann confessed when she learned of Angelika Hoerle's death in 1923. The two had been close friends since 1912, when Hoerle was 13 years old. Hegemann, five years older, had provided key support to Hoerle: she organized the millinery apprenticeship in 1915 and she encouraged Angelika in artistic matters as the parents had forbidden drawing lessons for their daughter. She helped her discover her own style, sharing with her a love for gender-sensitive themes and symbolic drawings. "Our palaces were the ateliers" (quoted in Euler-Schmidt, 1990, p. 36), Hegemann stated when summing up those years. She dedicated her - presumably - only portrait not to her then husband Anton Räderscheidt, but to her friend. The watercolor was painted in 1924 (now lost, fig. in Euler-Schmidt 1990, p. 37) and showed Hoerle as a perfectly attired grande dame striding on high heels through a city park with a cat on a leash. According to Hegemann expert Catharina Berents, it is to be interpreted as a pictorial riddle full of metaphors of freedom (Euler-Schmidt 1990, pp. 49ff.).
Heinrich Hoerle is said to have "fled" from his wife (quoted by Herzogenrath 1981, p. 292) when doctors confirmed her diagnosis of tuberculosis in 1922 – not imagining that, after surviving TB in childhood, he himself would ultimately succumb to the lung disease at the age of 41. Marta Hegemann, however, remained faithfully at Angelika's side. She considered Angelika to be artistically superior to her husband Heinrich and had long been annoyed by the man whose envy of his wife's success evoked not his admiration but sarcasm. Like "an evil principle strangely forced into clothing" Heinrich had seemed a "shadowy" apparition next to Angelika, "the angelic girl" (quoted in Euler-Schmidt 1990, p. 36).
"NO ONE WHO KNEW HER FORGETS HER": RESURRECTION
After her death, Angelika Hoerle was forced into a role reversal by art historiography. Now it was she who had to dwell in the shadow of her husband. Her friend Marta believed that "no one who knew her forgets her" (Hegemann 1965, quoted by Euler-Schmidt 1990, p. 83); she was mistaken. Former comrades-in-arms, among them historiographically highly influential artists such as Max Ernst or Jean Arp, could not or would not remember Hoerle's key position. It was not until 1967 when Angelika Hoerle's great-niece Angelika Littlefield came across Hoerle's oeuvre in her great-uncle Willy Fick's garden shed that she was gradually rediscovered and finally accorded the status in art history that she deserved.
(Text from 2017; translated with DeepL.com; edited by Ramona Fararo, 2023)
Please consult the German version for additional information (pictures, sources, videos, bibliography).
Author: Annette Bußmann
If you hold the rights to one or more of the images on this page and object to its/their appearance here, please contact Fembio.
---