Fembio Specials Women Artists - an Exhibition by Almut Nitzsche and FemBio e.V Emily Carr
Fembio Special: Women Artists - an Exhibition by Almut Nitzsche and FemBio e.V
Emily Carr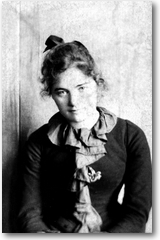 born December 13, 1871 in Victoria, British Columbia, Canada
died March 2, 1945 in Victoria
Canadian painter and writer
150th birthday on December 13, 2021
Biography
"Her paintings were all damn good. I don't think there's anything like them in Canada; their power, feeling, design and execution are unique [...]." (Lawren Harris (1885-1970), Canadian painter)
Emily Carr grew up in the patriarchal, devout colonial society of Victoria, embodied by her authoritarian father. In her childhood, she admired him until a "traumatic sexual accident" occurred. Her conflicted relationship with her father continued in her rebellion against the conservative role of women. She refused to marry, but had a gift for friendships - especially with women.
Her greatest wish was to become a painter - in the eyes of her four older sisters, not a meaningful life task for a woman. So - after the early death of her parents - she left the mental confines of Victoria at the age of eighteen to study painting in San Francisco and London. But she was always felt homesick for the forests of Canada and the unbound life in nature. In London she suffered from depression and became seriously ill. After a year and a half in a British sanatorium, she returned home.
At last she could ride through the woods again in "gentleman's seat," accompanied only by her sheepdog. For many years she traveled the Pacific Coast and British Columbia with sketchpad and tent. She lived and painted in remote Indian settlements because she felt a close bond with the Indian population, who gave her the honorary name "Klee Wyck" - the smiling one. In many pictures Carr documented the life of the Indians in and with nature, their customs and their art. But neither with these works nor with her later expressive landscape paintings did she have success. She hardly painted for 13 years and kept her head above water during the war and post-war period by running a boarding house, a pottery and by breeding dogs.
It was not until 1927 that she was "discovered" and had her first successful exhibition in Ottawa, which gave her new impetus to paint and travel. When she could no longer do this after a stroke, she began to write. Her first book "Klee Wyck" about her travels and her life with the Indians was a great success, followed by five more, mainly autobiographical books. Through her readings on Canadian radio, Emily Carr became popular and today is considered one of the most important female artists of her country.
(Text from 1995, translated in 2021 with www.DeepL.com/Translator (free version); translation edited by Luise F. Pusch)
Numerous pictures, links, and detailed literature references can be found on the German Emily Carr page (click top right).
Author: Renate Rochner
If you hold the rights to one or more of the images on this page and object to its/their appearance here, please contact Fembio.
---