Fembio Specials European Jewish Women Hilde Domin
Fembio Special: European Jewish Women
Hilde Domin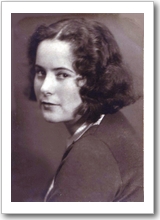 (Dr. Hilde Palm, geborene Löwenstein [eigentlicher Name])
Hilde Domin (Dr. Hilde Palm, née Löwenstein)
Born 27 July 1909 in Köln/Cologne
Died 22 February 2006 in Heidelberg
German lyric poet, author, translator
Biography • Quotes • Literature & Sources
Biography
She later described her life as a "linguistic odyssey," a journey from one language to the next. But her native German remained her constant home throughout the years of exile. Raised in a Jewish family in Köln (Cologne), Hilde Löwenstein first studied law, then philosophy and political science in Heidelberg, Köln and Berlin. Because of her Jewish background and her socialist involvement she decided at 23 to leave Germany at the end of 1932 and continue her studies in Italy. In 1935 she received her doctorate in Florence in political science; in 1936 she married her fellow student, the art historian Erwin Walter Palm (1910-1988). The couple survived "literally on language": Dr. Hilde Palm taught language courses and translated the scholarly writings of her husband. In the spring of 1939 the Palms fled by way of Paris to Great Britain, and on to Santo Domingo in the summer of 1940. Hilde Palm translated and taught language courses; her husband gained a professorship in art history and established himself as a specialist in Portuguese and Spanish colonial art. Hilde Palm's father died in 1940 in American exile, her mother in 1951. At this point she began to write in German, and that was her salvation, the "alternative to suicide." And it was the beginning of the couple's return in the early 1950's, which took them via New York, Madrid and Frankfurt/M. to Heidelberg, where Palm obtained a professorship in 1960. From then on Hilde Palm took the name of the place where she had become a poet. As Hilde Domin she published several volumes of poetry, including "Nur eine Rose als Stütze" (1959; Only a Rose for Support), "Rückkehr der Schiffe" (1962; Return of the Ships), "Ich will dich" (1970; I Want You). She also published autobiographical texts, a novel, and essays on poetological, sociological and literary theoretical topics, as well as carrying on an "almost sisterly correspondence" with the German-Jewish poet Nelly Sachs, still in Swedish exile. Hilde Domin held to a concept of poetry that is politically committed and dialogical, poetry whose magic resides in its simplicity. When giving readings she would read each poem twice over. Her poems were translated into more than 20 languages, and she was honored with international prizes.
(trans. Joey Horsley)

Author: Sonja Hilzinger
Quotes
Besser ein Messer als ein Wort. Ein Messer kann stumpf sein. Ein Messer trifft oft am Herzen vorbei. Nicht das Wort.

Better a knife than a word. A knife can be dull. A knife often misses the heart. Not the word.

(Hilde Domin)
Literature & Sources
For additional information please consult the German version.
If you hold the rights to one or more of the images on this page and object to its/their appearance here, please contact Fembio.
---