Fembio Specials European Jewish Women Kate Steinitz
Fembio Special: European Jewish Women
Kate Steinitz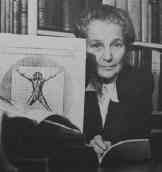 (Kate (Käthe) Steinitz, geb. Traumann)
Born 2. August 1889 in Beuthen, Upper Silesia (now Bytom, Poland)
Died 7. April 1975 in Los Angeles, California
German-American painter, photographer and expert on Leonardo da Vinci
Biography • Literature & Sources
Biography
When Kate Steinitz moved with her family in 1917 to the north German provincial capital Hanover (called by Theodor Lessing the "palest of all cities"), she looked around for artistic bright spots. Within a few years she had succeeded in turning the city into a mecca of the world-wide avant-garde, thus giving it an international place in modern art. The guestbook of the Steinitz family provides vivid evidence of this.
Kate (at first called Käte or Käthe) Traumann was born on August 2, 1889 in Beuthen in Upper Silesia (today Bytom, Poland). In Berlin, where the family had resettled, she received the education typical at the time for a girl of the upper middle class, and was also allowed to attend drawing classes with Käthe Kollwitz and later the "Malschule für Frauen" (Women's Painting School) of Lovis Corinth. In 1913, after returning from a study visit in Paris, she married Dr. Ernst Steinitz. At the outbreak of war in 1914 the physician was called up and deployed to Hanover.
In the following years Kate Steinitz painted pictures chiefly of her three daughters for "home use." But soon her paintings and photographs were being exhibited in Hanover and other cities, even in New York.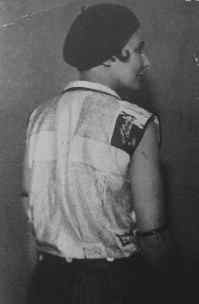 Together with Kurt Schwitters, the Hanover Dadaist, she authored and illustrated the children's book Die Märchen vom Paradies (The Fairy Tales of Paradise). For its publication and on the spur of the moment the two artists founded their own publishing house. Kate Steinitz had discovered her talent as a publicist. Not least in order to help her household budget, she began to write for the newspaper. Her articles in the Hannoverscher Kurier and in various journals of the Berlin publisher Ullstein appeared under her own name as well as under the names "Annette Nobody" and "Mia Meyer." She wrote about many topics; as a "woman driver" she especially liked to write about automobiles.
In 1933 all these activities met a sudden end. Dr. Steinitz lost his position at the hospital as well as his authorization to receive payments from medical insurance plans; thus the family was deprived of its means of support. The couple considered themselves freethinkers, but according to the National Socialist definition they nonetheless fell under the Nuremberg racial laws. When Kate Steinitz was expelled from the Reichsschrifttumskammer (Reich Literary Organization) and forbidden to publish in 1935, the family decided to emigrate to the United States.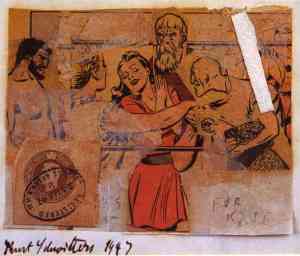 After the death of her husband in 1942 Kate Steinitz had to support herself, working first as a free-lance journalist and graphic artist and at organizing art exhibitions. She became a U.S. citizen in 1944 and moved to Los Angeles in 1945, where she took a position at the Leonardo da Vinci Library of Dr. Elmer Belt. As she said of herself, she had not been "spoiled by any formal education" and could therefore develop into an expert on Da Vinci. In the following years she was able to expand the library into a Leonardo collection unique in the world and to publish catalogs highly prized among experts. In 1969 she was accorded the highest honor that can befall a Da Vinci specialist, an invitation to deliver the annual festival lecture in Vinci, Italy. It goes without saying that she spoke Italian, one of five languages she knew.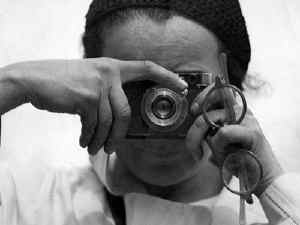 The Los Angeles County Museum celebrated Kate Steinitz's eightieth birthday on August 2, 1969 with an exhibition of her own works and those from her art collection. She died in Los Angeles on April 7, 1975.
trans. Joey Horsley
Author: Barbara Fleischer
Literature & Sources
Kate Steinitz. Eine Dokumentation. 3.10.-5.11.1989, Sprengel-Museum Hannover. Ausstellung und Katalog: Dietmar Elger. Hannover 1989.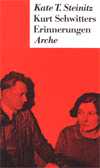 Kate Steinitz, Librarian, Artist, Scholar; Being a Thirteen-Part Tribute to One Whose Verve Has Enlivened Some Eight Decades on Two Continents. In: Wilson Libr. Bull. 44(5).1970, p. 512-537.
Schwitters, Kurt und Kate Steinitz: Die Märchen vom Paradies. Hannover 1979.
Steinitz, Kate: Kurt Schwitters, Erinnerungen aus den Jahren 1918-1930. Zürich 1987.
Steinitz, Kate Trauman: Kurt Schwitters, a portrait from life. Berkeley 1968. (Based on an earlier, briefer publication in German: Erinnerungen und Gespräche mit Kurt Schwitters, Zürich 1963).
If you hold the rights to one or more of the images on this page and object to its/their appearance here, please contact Fembio.
---