Fembio Specials European Jewish Women Hannah Arendt
Fembio Special: European Jewish Women
Hannah Arendt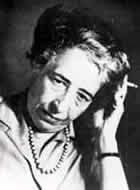 born on 14-October-1906 in Hanover
died on 4-December-1975 in New York
German-American political philosopher
Biography • Quotes • Literature & Sources
Biography
Hannah Arendt caused a stir in 1961 with her reportage about the Eichmann trial in Jerusalem. Her book Eichmann in Jerusalem: A Report on the Banality of Evil breaks with the notion that evil is the result of some demonically driven will-power. Eichmann appears simply as a bureaucrat who served as a cog in the machinery of extermination.
There is a plaque in the Linden section of Hanover on the house at number 2 Am Marktplatz which reads as follows: The German-Jewish historian and political philosopher Hannah Arendt was born here on October 14, 1906. She fled National Socialism and left Germany in 1933. Her scholarly work is devoted to the study of the origins of totalitarianism and anti-semitism. She died on December 4, 1975 in New York.

Author: Sibylle Duda
Quotes
Our personal problem was not, in fact, what our enemies were doing, but rather what our friends did…. It was as though an empty space existed around one…. (Hannah Arendt to a friend concerning her departure from Germany)
Literature & Sources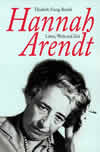 The Hannah Arendt Papers at the Library of Congress (Website)
Young-Bruehl. Elisabeth. 1982. Hannah Arendt: For love of the world. New Haven. London. Yale University Press.
Arendt, Hannah. 1981 [1959]. Rahel Varnhagen: Lebensgeschichte einer deutschen Jüdin aus der Romantik. München. Serie Piper 230.
Arendt, Hannah. 2000 [1964]. Eichmann in Jerusalem: Ein Bericht von der Banalität des Bösen. Aus d. Engl. von Brigitte Granzow. Mit einem Essay v. Hans Mommsen. München. Serie Piper 308.
Arendt, Hannah. 2002 [1951/56 (dt.)]. Elemente und Ursprünge totaler Herrschaft: Antisemitismus – Imperialismus – Totale Herrschaft. München. Serie Piper.
Duda, Sibylle. 1991. "Hannah Arendt (1906-1975): "Freundschaft ist die Grundlage aller Menschllichkeit", in: Hiltrud Schroeder. Hg. 1991. Sophie & Co.: Bedeutende Frauen Hannovers. Hannover. Fackelträger. S. 215-225.
Heuer, Wolfgang. 1987. Hannah Arendt in Selbstzeugnissen und Bilddokumenten. Reinbek bei Hamburg. rororo monographie 379.
Im Vertrauen: Hannah Arendt - Mary McCarthy: Briefwechsel 1949-1975. Hg. u. Einf. Carol Brightman. Aus d. am. Engl. von Ursula Ludz & Hans Moll. München 1995. Serie Piper 02475.
Young-Brühl, Elisabeth. 1991 [1982]. Hannah Arendt: Leben, Werk und Zeit. Frankfurt/M. Fischer TB.
This Fem-Biography was sponsored by the city of Hanover.
If you hold the rights to one or more of the images on this page and object to its/their appearance here, please contact Fembio.
---